Support Detroit HEROES Tech Program
$545
of $50,000 goal
Raised by
2
people in 8 months



Making It Happen Foundation (MIHF) was founded eighteen years ago by a distinguished board of Directors who all reside in the city of Detroit. Our mission is to improve and sustain innovative, youth-centered technology and music programs within urban school districts and community based organizations. We cultivate partnerships that inspire the development of programs and initiatives to close the digital divide by introducing career trainings, social norm change models, community and cultural engagement for both youth and Detroit residents.

Youth and young adults who reside in the City of Detroit, also those who may or may not attend Detroit Public and Charter schools will benefit from funds raised through our gift giving campaign. There is a growing demand for non-traditional creative service certifications, digital media and music technology specialists. However, trainings and certifications for specialized creative trainings are far and few in urban communities. We are seeking to raise $50,000 with your support to continue our mission to cultivate and growth a new creative professional pool of individuals, with  tools and resources to become world class creative professionals, that  will contribute to innovative practices, creative content, best practice models and economic sustainability.



2018 HEROES Tech Program pose with certificates from Berklee College of Music - The Art of Music Production and Songwriting program.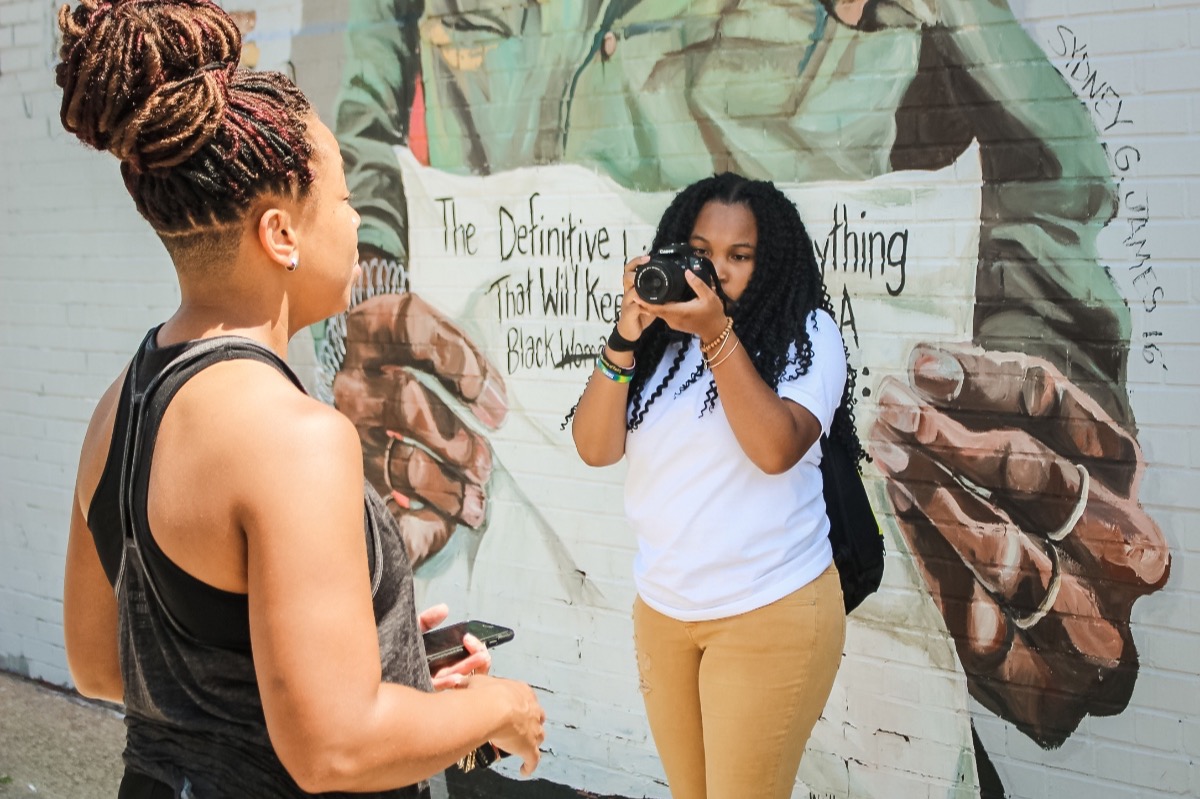 Student photography course - Capturing Detroit murals and muralist Sydney James.



Students learning mixing and sound engineering. - Mix Studio


The Need - Program Expansion
Ability to service additional underserved students across Metro Detroit. 

Hardware and Software Purchases - Technology and software updates occur daily and the costs for digital media and music production are increasing. We need to stay ahead of the curve  with new equipment, technology tools and software to ensure our students are receiving trainings and certifications within the industry standards.

Retaining World Class Instructors - We aim to enhance our current  training and learning spaces for our instructors and students by developing a new media lab for teaching and learning. Funds may also be used for instructor stipends.

Music Project Mix and Mastering - Mix and mastering are the final steps of audio post-production. The purpose of mastering is to balance sonic elements of a stereo mix and optimize playback across all systems and media formats. We have partnered with an award winning studio (Mix One Factory) to finalize students projects and assist with the final phase of our Detroit Voices Unlimited compilation album. Funds are needed to complete this process. 

Detroit Voices Unlimited Exhibition - Monies raised will be used to produce an interactive Photo Voice, music centered exhibit to highlight student music compositions and photography skills. 



HEROES Tech Program equipment.



Students getting prepped to record vocals - Mix One Studio




Student showcases music production skills.


The Solution
Equipping youth and young adults with resources, tools and access to industry level career placements.

Supporting HEROES Tech Academy - Will help our students reach opportunities and elevated economic stability by receiving certifications from Berklee College of Music and Michigan State University. Support will also allow our students to learn digital media and creative content development with Adobe Creative Services, music production, sound design and music engineering with Ableton and Logic, also current technology trends in Artificial Intelligence, Machine Learning, Coding and Design Thinking. 

HEROES Tech Academy Program Success - 100 percent of students completed Berklee College of Music The Art of Music Production and Songwriting courses and Ableton Live certifications.

Program Partnerships with the following organizations:
Grow Detroit's Young Talent Program
Michigan State University
Coursera
Berklee College of Music
Michigan State University School of Music
New Paradigm for Education
Detroit Employment Solution Corporation
Mix One Studio


Celebrity engagement vocal coaching.


Grammy award winning producer Kevin "DJ Head" Bell Mixing and Engineering Instructor


Students learning the art of song writing - Instructor Mahogany Jones




Go Fund Me HEROES Tech Program Trailer 

Levels of Support

Participants of the HEROES Tech Program are comprised of songwriters, producers, composers, musicians and content creators. Your support of our fundraising campaign. will allow you to receive the following content and program swag. 

Energizer Level: $1000 - $5000
Energizer level will help retain creative professionals as instructors for the program, also assist with recruitment and expansion for a year long school based program.

What will you receive?
HEROES Detroit Voices Unlimited Compilation Album (Digital Copy)
Customized HEROES/Give Lyrics Tee Shirt
HEROES Coffee Mug
VIP Invite to HEROES Tech Program Demo Day 
Name listed in Demo Day Program

Gadgeteers Level: $500+ -$1000 
Gadgeteers level will help to purchase additional  music technology software/ hardware and digital media tools and update HEROES media /technology lab.

What will you receive?
HEROES Detroit Voices Unlimited Compilation Album (Digital Copy)
Customized HEROES/Give Lyrics Tee Shirt
VIP Invite to HEROES Tech Program Demo Day
Name listed in HEROES Demo Day Program Booklet

Masterminds: $250+ - $500 
Mastermind level will help introduce student to the world of machine learning. design thinking, coding, virtual reality and artificial  intelligence. Funds will be used to offset costs to mix and master student produce music
compositions, online courses, and tech conference registration fees for selected students.

What will you receive?
HEROES Detroit Voices Unlimited Compilation Album (Digital Copy)
Customized HEROES/Give Lyrics Tee Shirt
VIP Invite to HEROES Tech Program Demo Day

Blasters: $20 - $250
Blaster level will help support production of Detroit Voices Unlimited Demo Day and Exhibition, marketing and online communication efforts. Your support will help increase program visibility through various media outlets, social media, digital ads and content development.

What will you receive?
HEROES Detroit Voices Unlimited Compilation Album (Digital Copy)
Invite to HEROES Tech Program Demo Day






Check out year one of HEROES Music Technology Program
HEROES Sound Academy Phase I - T-Mobile and Celebrity Engagement Project




On behalf of the Making It Happen Foundation of Detroit, we thank you for your support and donation.



+ Read More