HELPtheBoys&GirlsClubOnStandingRock
The Boys & Girls Club of the Grand River Area is a
501 C 3 non-profit organization that has been in existence since 1999. It has been a safe and positive place for children and youth over the many years. It has helped and touched the lives of over 2,000 native children and youth in the small community of McLaughlin, SD on the Standing Rock Indian Reservation. .
Continued support and funding is needed for programs and services that the club provides to its members. Programs such as; youth leadership, tutoring, mentoring, diabetes prevention, and others.
According to recent studies, children who are unsupervised after school are not only in danger of becoming victims of crimes or accidents; they are also at risk in other less dramatic but equally troubling ways. These children are at risk of falling behind academically, socially, and emotionally. They are at higher risk than other children and youth of substance abuse and gang involvement. Programs such as the Boys & Girls Club keep kids safe and inspire them to learn in a supportive environment.
Since April 2016 some of us Standing Rock Youth who are Boys & Girls Club members have been actively involved with the Rezpect Our Water campaign that has been a platform for the Standing Rock Youth's voice for the opposition of the Dakota Access Pipeline.
In May, Tariq Brown Otter, William Brown OtterJr., Adam Palaniuk and other Oceti Sakowin Youth participated in the #RunForYourLife 500 mile run from Cannon Ball, ND to the US Army Corps of Engineers district office in Omaha, Nebraska to hand deliver a petition demanding the stop of the Dakota Access Pipeline that is proposed to be built less than a half a mile from the Standing Rock Reservation boundary.
In July there was a call placed for youth to relay run almost 2,000 miles from Cannon Ball, ND to Washington, DC to deliver the www.change.org/rezpectourwater petition to the US Army Corps of Engineers Headquarters. Once again Tariq Brown Otter, William Brown Otter Jr., and Adam Palaniuk answered the call. Annalee Yellow Hammer who's is also a long time Boys & Girls Club member and whose letter is on the change.org/rezpectourwater petition also joined the relay run this time. 
We, four youth credit the Boys & Girls Club of the Grand River Area with helping empower us in becoming the youth that we are today. We are all active in our school extra-curricular activities and communities. We are reaching out to ask for your support so that the Boys & Girls Club can continue to keep its doors open and serve the native children and youth who enjoy having this one of a kind place here on Standing Rock.
Respectfully,
Tariq Brown Otter
William Brown Otter Jr.
Adam Palaniuk
Annalee Yellow Hammer
Please see the links below for more information on our Standing Rock Sioux Tribe's fight against the Dakota Access Pipeline!
www.rezpectourwater.com
www.change.org/rezpectourwater
www.standingrock.org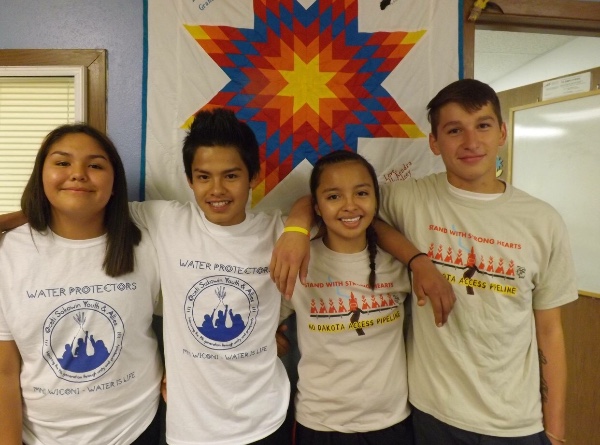 Organizer
Marcella Yellow Hammer
Organizer
McLaughlin, SD