Subero Family Hurricane Relief Fund
We come with some very unfortunate news regarding our siblings and god children. The Subero family have lost their home and business, Beyond Vitality Nature Camp, on the beautiful Nature Island, which has suffered much loss.
Sara and Stephan along with our niece, Skyla, 5 and nephew Sadiel, 18 months live in the Commonwealth of Dominica. During the night of September 18th and into the early hours of September 19th, 2017, the eye of Hurricane Maria ran its path through the entire island of Dominica. It was a category 1 hurricane which then grew to a category 5 (technically a cat 7 if they existed on the scale) within just 15 hours with sustained wind speeds of 220mph (355kph)! This unexpected catastrophic storm devasted the entire island, with 95% of all homes either damaged or completely destroyed.  
Although Sara, Stephan, Skyla and Sadiel have survived, it is going to be a long road to recovery. The family suffered significant loss, with only one building on the property left standing and it is full of mud and water as a result of a landslide. As nothing is considered liveable, until they were evacuated by helicopter, they had been sleeping in their car with the children. Nearly all of the buildings' contents were either swept up by the hurricane or completely destroyed.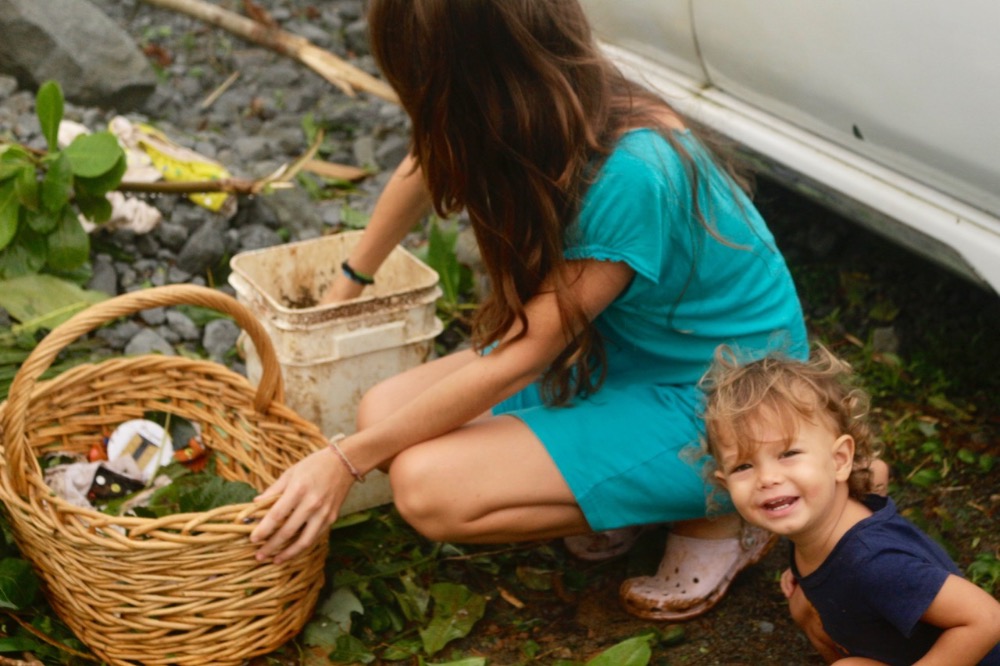 The Subero family not only lost their home but they lost their livelihood as well. They own Beyond Vitality Nature Camp, a small off grid eco lodge and homestead that caters to nature lovers. They now find themselves in a position of deciding how to move on, as the beautiful rainforest, their homestead and  surrounding them was also destroyed.
Your funds will not only be used for immediate emergency relief items, but just as importantly for long-term development to allow them the opportunity to start rebuilding.  Also, 10% of the funds raised will personally be given back to Castle Bruce, their community just down the road from the Nature Camp and which as well was devastated. 
Thank you and as Sara would say: "One Love"
Daniel Ouellette, brother of Sara
Shivonne Subero, sister of Stephan
A video of what remains in our hearts. Material things can be replaced, life cannot. The rainforest will grow back and they will rebuild. The universe was watching over them:
A compilation of articles featuring The Subero family and hurricane Maria:
https://www.thestar.com/news/canada/2017/09/25/hurricane-maria-survivor-returns-home-to-ontario.html
https://www.myespanolanow.com/14400/former-sturgeon-falls-woman-family-trapped-hurricane-maria-rescued/
http://www.trinidadexpress.com/20170924/news/hurricane-victims-found-living-in-car
https://www.thestar.com/news/gta/2017/09/20/mother-desperate-for-news-of-daughter-after-hurricane-maria-strikes-caribbean-islands.html
http://ttwhistleblower.com/missing-dominica-hurricane-maria-trini-family-rescued-car/
http://ici.radio-canada.ca/nouvelle/1058178/ouragan-maria-ouellette-subero-dominique
http://ici.radio-canada.ca/nouvelle/1058004/lontarienne-sara-ouellette-subero-est-saine-et-sauve-et-de-retour-au-canada
http://ici.radio-canada.ca/nouvelle/1057389/lontarienne-sara-ouellette-subero-et-sa-famille-ont-survecu-a-maria-en-dominique
https://www.mynorthbaynow.com/23660/update-2-former-sturgeon-falls-woman-family-need-help-hurricane-maria-slams-dominica
https://www.waterloochronicle.ca/news-story/7577197--everything-we-had-was-destroyed-ontario-family-rides-out-hurricane-maria-in-their-car/
http://www.metronews.ca/news/canada/2017/09/20/mother-desperate-for-news-after-hurricane-maria-strikes-.html
https://www.mynorthbaynow.com/23657/former-sturgeon-falls-woman-family-alright-hurricane-maria-hits-dominica/
http://www.1torontofocus.com/2017/09/25/hurricane-maria-survivor-returns-home-to-ontario/
http://www.westnipissing.com/maria-turns-caribbean-paradise-into-a-nightmare-for-a-local-family.html
http://ttwhistleblower.com/missing-dominica-hurricane-maria-trini-family-rescued-car/
https://actualidad.rt.com/actualidad/251171-familia-sobrevivio-vehiculo-paso-maria
http://ellatinodigital.com/251171-familia-sobrevivio-vehiculo-paso-maria/
https://www.aporrea.org/internacionales/n315022.htm
http://rnv.gob.ve/fuerza-de-tarea-humanitaria-venezolana-rescato-a-familia-en-dominica/
Organizer
Lynn Cockburn-Ouellette 
Organizer
Sturgeon Falls, ON