Help Simon fight to live and play basketball
OUR STORY
Simon is the son every parent dreams of having - loving, kind, and full of spunk.
Before our son Simon could talk, he could shoot baskets. As an unsteady toddler, Simon spent hours a day sinking baskets in his Little Tikes basketball hoop. As he's gotten older, the height of the hoop has gone up, the distance to the basket has gotten farther, and the degree of difficulty continues to increase.
When people see Simon, now 6 years old, sink a basket, they do a double take. Their immediate thought is usually, "Did I just see that? Maybe it was a fluke?" Then they see Simon hit shot after shot and their jaws just drop.
Not only does he have amazing skills, but every basket also brings him such joy. You can see it in the light in his eyes, the smile on his face, and his little celebration dance where his little legs get pumping whenever he makes a basket.
During the pandemic, he started wanting to shoot 100 baskets. We got one of those scoreboards where you flip the numbers over, like gym teachers use, to help keep track because that's a lot! Sometimes he makes 10 baskets in a row before he even has a miss. It's amazing. He truly has a gift.
In a normal situation, we would be excited to see where Simon's skills and love for basketball could take him. We would have him in a kids league, wonder about high school and college ball, and even daydream about the NBA. But this isn't a normal situation. We don't get to dream those dreams because of a disease like Alzheimer's in children.
Simon has Sanfilippo Syndrome, a genetic degenerative brain disorder in children caused by a single missing enzyme. It's the worst disease you've never heard of. It's like Alzheimer's, but in children. It's 100% fatal and there currently is no FDA-approved treatment or cure.
We first noticed some developmental delays when Simon was a toddler and began looking for answers. We visited so many doctors and specialists to get answers. Little did we know the devastation that lay ahead.
Because Simon lacks this single enzyme, toxic storage material is building up in his brain every second and damaging it. As the degeneration rapidly progresses, Simon will stop being able to shoot baskets, stop walking, stop talking, stop being able to feed himself. He'll develop movement disorders and seizures, suffer severe dementia, endure a lot of pain and suffering, and then he'll die. All in the coming years.
Today, Simon is still a happy and active little boy who loves sinking baskets. But that will all go away without a treatment or a cure.
People often say, "Wow, he's going to be in the NBA some day!" or "Wow, he's a little Steph Curry!" when they see Simon shooting baskets. And it breaks our hearts to know that Simon's remarkable basketball skills will go unrealized because of Sanfilippo. He won't even get the chance to explore what could be possible.
We are eternally grateful that Simon had the opportunity to participate in a clinical trial in 2019. However, we've learned over the past couple years that it's likely that a combination of continuous therapies will be necessary to increase the length and quality of his life. We appreciate that the clinical trial's therapy might have held off some of the horrible effects of Sanfilippo, for a time. At this point however, Simon seems to have plateaued in his overall development, and we have noticed some troubling signs. We are fearful of regression, so we are working daily to maintain his current skills for as long as possible. We must continue fighting for additional research and treatment options for Simon before it's too late.
And there is good news on that front. There is new research that could help Simon. So, we're working with Cure Sanfilippo Foundation to share Simon's story and talents as a way to help raise money for this critical research. Research that could make a treatment available that allows Simon to live, to thrive, and to someday play on a basketball team. To escape pain and suffering.
Cure Sanfilippo Foundation has identified and begun funding two new research pathways that could benefit Simon and other children with Sanfilippo. The first is a new therapeutic approach using CLR01 "molecular tweezers" that has shown promise in pre-clinical results in both Alzheimer's disease and Sanfilippo Syndrome. This therapy could reduce neuroinflammation and actually improve cognitive function for children with Sanfilippo. The second is a new stem-cell therapy project that has the potential to replace the missing enzyme for Sanfilippo Syndrome and could result in halting disease progression and bring neurorestorative benefits. With continued positive results, we would like to move both of these projects toward a clinical trial for children.
But they need funding! Our goal is to raise $1 million dollars to help fund these research projects and give Simon a chance at growing up, a chance at life. We can't just sit back and accept that he's going to fade away and die, not when there is something that could help him.
This campaign for his LIFE is as urgent as it gets. It's now or never for Simon.
There is no guarantee that these research projects will result in a successful therapy that Simon can someday receive. But these are our best chances. And without funding, his future is certain. Continued research is our only hope.
Please, please help our son.
There are three things we're asking you to do. A campaign like this can grow quickly if supported and if shared with the masses. We can reach this goal if it goes viral!
Please donate what you are able. All donations go to Cure Sanfilippo Foundation (Tax ID: 46-4322131) to fund the clinical trial and may be tax deductible.
Most importantly, please share HelpSimon.com with everyone you know via social media and email so it keeps spreading.
Please leverage any avenue you have to make this go viral. Click "Contact" under the "Organizer & Beneficiary" section below to email us ideas and suggestions.
Give Simon a chance at LIFE, to let his love of basketball continue and develop.
Simon can LIVE. Simon can get that chance at LIFE, and it will be thanks to you. But it has to be now.
Our deepest thanks. Words can't even express how incredibly grateful we are.
Alina, Jeremy, and Simon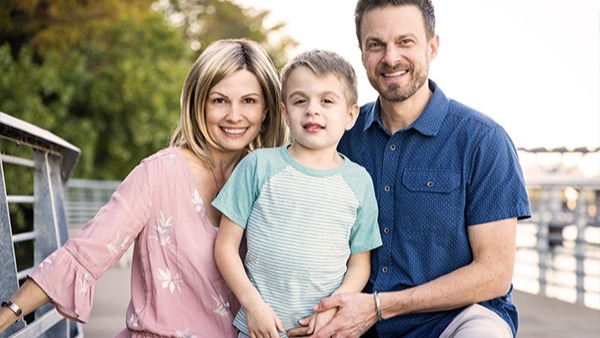 Follow the latest:
**Donations are tax deductible.**
Tax ID Number: 46-4322131
Other ways to donate:
-- By check: Cure Sanfilippo Foundation, PO Box 6901, Columbia, SC 29260. (Include "Help Simon" in the memo.)
Special thanks to the artists who graciously dedicated their time and talent:
- - - - - - - - - - - - - - - - - - - - - - - - - - - -
WHERE IS YOUR MONEY GOING?
Every dollar goes to Cure Sanfilippo Foundation, a 501(c)(3) nonprofit organization helping fund promising research to bring about an FDA_approved therapy for Sanfilippo Syndrome that can give Simon and other children a chance at life. Donations may be tax deductible. 100% of the funds raised here will go toward research. Because Sanfilippo's toxic effects are building up in Simon's body every day, we are trying to fund this research as soon as possible. It could help Simon and so many other children a chance at a better life, today and for generations to come. ***Any donations received above the goal will go directly to Cure Sanfilippo Foundation for additional research projects in need of funding***
WHY SO MUCH MONEY?
In rare diseases, large pharmaceutical companies have little interest because they don't see ways to make a profit. The truth is that it is left up to parents to drive and fund the research for treatments and a cure. This will help fund two new research pathways that could benefit Simon and other children with Sanfilippo. Without funding, these projects will be delayed and children with Sanfilippo can't wait. They need a treatment now.
TIME IS OF THE ESSENCE
Children's cognitive abilities are completely taken away quickly once they begin regressing. In time, children regress back to an infantile state, likely never to return. This rapidly-progressive neurodegenerative disease eventually takes over completely. Simon is 6 years old. We don't want to lose our son. This needs to happen now.