Sometimes the most unassuming of people can be our biggest inspiration. This is how I feel about my housekeeper, Carmen. She's honest, hardworking, loyal and optimistic. But recently, she has needed help, and thanks to the generosity of so many of you, she has received it.
In the middle of June, Carmen's 18-year-old son, Angel, was the victim of a gang shooting. He and a friend had been walking back from a talk on how to get into the College of Medicine at the local university, when three guys attacked them in the dark.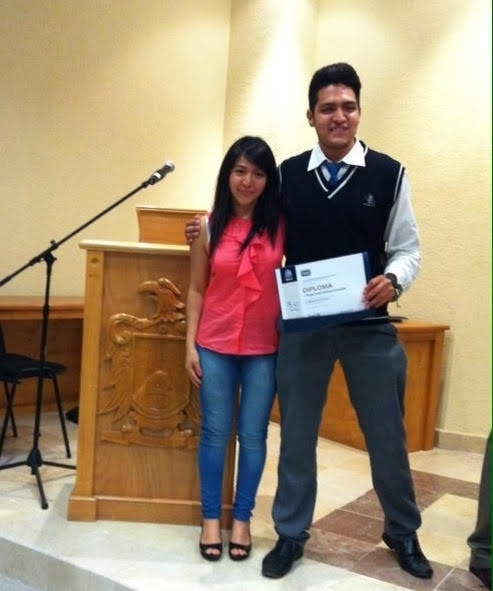 (This is Angel, my housekeeper's son, standing with his sister after he received an award for having the third highest score on his college chemistry exam. This was May 25, 2016 -- just 3 weeks before the gang attack.)
As the thugs began pistol-whipping Carmen's son's friend, Carmen's son charged the one with the pistol in an attempt to save him. That was when the gunman turned around and shot Carmen's son in the stomach. His pancreas and liver were damaged in the process.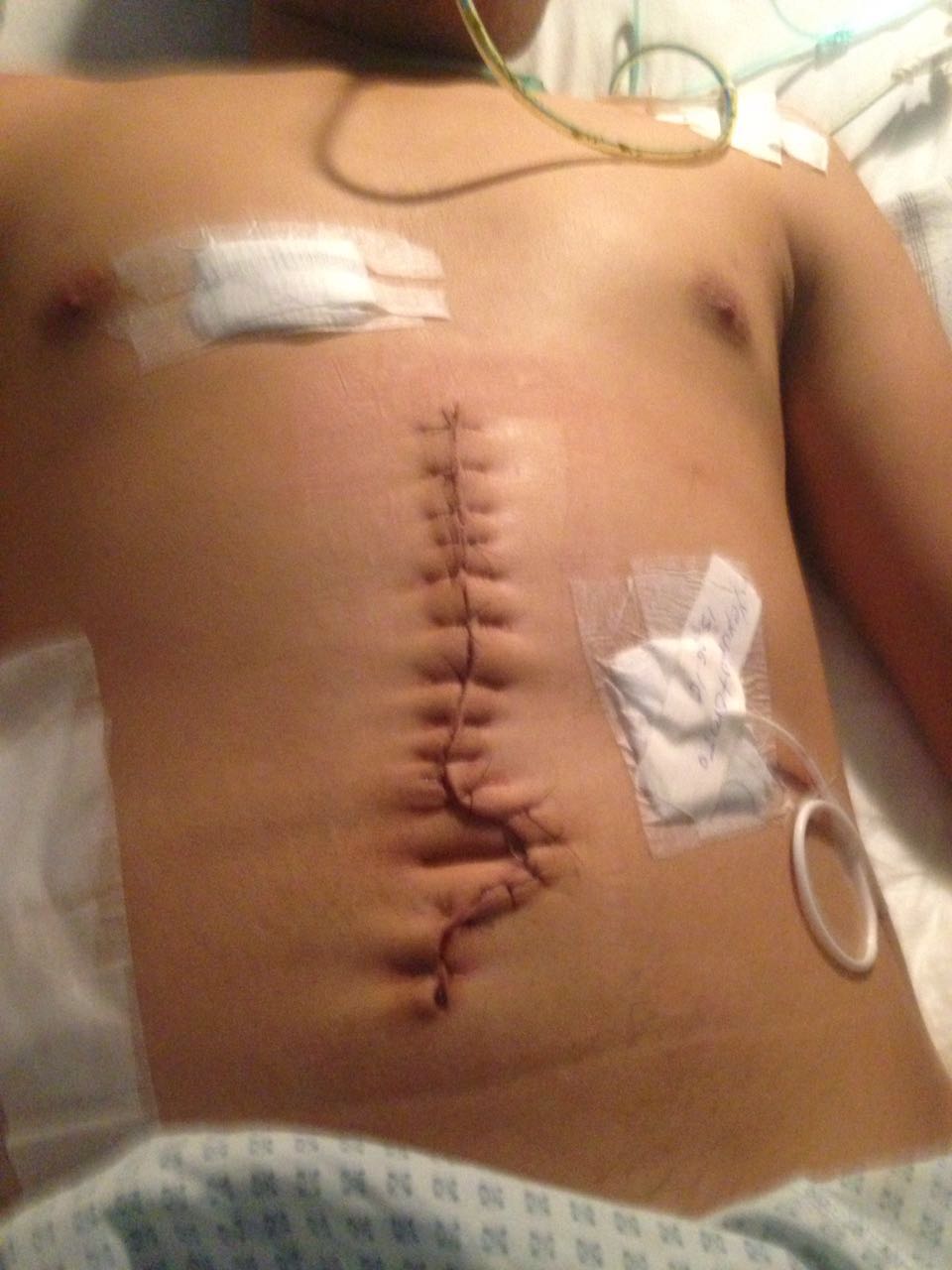 Carmen's son was in critical condition for weeks and in the hospital for a total of six. The bills rapidly mounted, but her tireless energy spent knocking on government doors paid off: the hospital released her son after six weeks and thousands of dollars-worth of bills with no payment required.  He was released on July 29.
Because Carmen's family lives in a dangerous area, they moved into a new rental house. In order to care for Angel, who is still on formula and needing the support of a colostomy bag, Carment's husband had to forfeit his $80-a-week job. 
That's where the help of so many of you came in. During the process of the transfer of funds from this GoFundMe account to BBVA Bancomer, where Carmen's daughter has an account, Carmen's daughter had to use her scholarship money to purchase Angel's formula. At $3 per can and at 7 cans needed per day, it's a tough bill for them. But the funds arrived in Carmen's daughter's bank on August 9, and now Angel has the money he needs for formula, prescriptions, follow-up treatments and doctors' visits. 
In case you're new to this cause, here's a little background on Carmen:
Carmen is a middle-aged Mexican woman whose husband, back in Mexico, earns the equivalent of $80 per week. Carmen has a visa -- I've seen it -- that allows to her visit family in the U.S. for several months at a time. Her goal in being here has been to pay off debts and to help put her kids through college. 
I met Carmen two years ago when I was looking for someone to occasionally clean my home. Taken by her kindness, honesty and work ethic – her definition of a lunch break is to hold a sandwich in one hand and the vacuum cleaner in the other – I began to refer her to countless neighbors, all of whom instantly fell in love with her.
Carmen's life has not been easy. A few months ago I noticed that Carmen had had all of her top teeth pulled. She explained that having grown up near a factory as a child, her drinking water consisted of salty well water, which had ruined her teeth. She was working diligently to save $900 to pay for a denture, which she recently got, by the way.
This is a woman whom life will not topple. Her attitude toward life carries a lesson, if not for all of us, certainly for me: You can make it through storms if you fix your gaze beyond the clouds.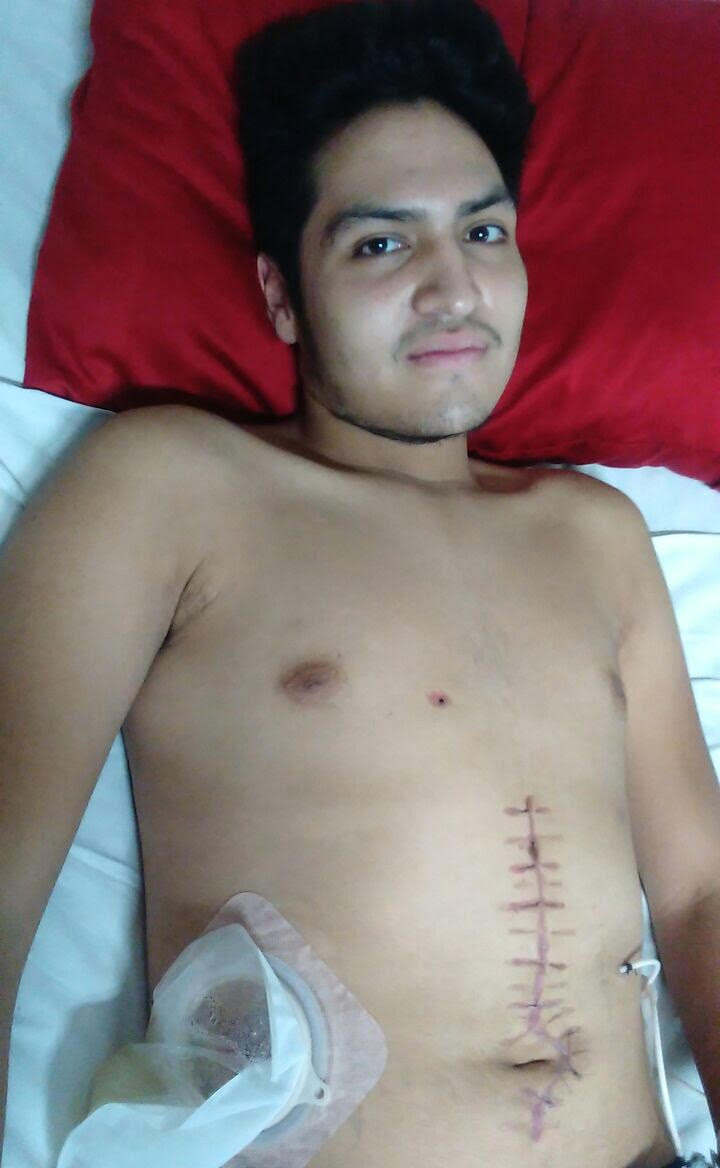 (This is Angel as of July 6. Although he's out of the hospital now, he still has to eat formula and needs a colostomy bag.)
I started this campaign because with no funds to fall back on, Carmen had texted me to ask if I'd buy a $10 "raffle" ticket to help pay for her son's medical bills. A friend of mine from Mexico City explained to me that this ticket, called a tanda, produces a pool of players from which a winner is chosen. The winner gets a percentage of the total monies collected, but the lion's share goes to the the person conducting the raffle.  Tandas are not only questionable, but also illegal in Mexico. Unfortunately, this practice is often the only recourse poor people have in Mexico. 
But as I mentioned, the help of so many of you has given a new lease on life to this family. Thank you for reading about her need, and if you feel inclined to donate, I know she can use it. Money goes fast with healthcare expenses, and every donation, no matter how small,  makes an extraordinary difference in this family's life. 

Organizer
#1 fundraising platform

More people start fundraisers on GoFundMe than on any other platform. Learn more

GoFundMe Guarantee

In the rare case something isn't right, we will work with you to determine if misuse occurred. Learn more

Expert advice

Contact us with your questions and we'll answer, day or night. Learn more