Fight for Justice, WILL PASS ON!
I WILL PASS ON THE LOVE. I PROMISE ON MY NAME.
我會把你們的愛傳遞下去的!我以我的名義發誓!
I AM RAISING MONEY TO FIGHT FOR MY CASE! I NEED MY JUSTICE AND I WANT MY LIFE BACK!
我募款的用意是要打官司,我需要我的正義,我渴望我的人生!
It is not easy for me to ask for help, especially doing a fundraiser. 
舉辦募款這件事情,對我來說並不容易。
(上次那一個是我朋友幫我舉辦的,也謝謝大家的幫忙)
I know that there are much more less fortunate than me
我知道這世界上有太多太多比我更需要幫助的人事物
That is why I promise you guys, borrow me your strength, when I get back on my feet I will pass on this fund and love.
因此我答應你們,暫時借我你們的力量,等我站起來,我會把這筆錢跟愛轉發出去的。
Like how I volunteered in Elephant Nature Park, Thailand back in May.
以像我 2015 年 5 月去泰國 ENP 做大象志工那樣
Maybe go Africa and work with the kids.
或許是去非洲當志工幫助小朋友
Or go Mexico and help build house for those in need.
也許是去墨西哥幫沒家的人蓋房子
I don't know yet, but I know I will pass it on. (I will update when I do!)
我現在還不知道,但我知道我絕對會讓大家的愛延續下去的。(到時我會再跟大家告知)
I sincerely thank you all for lending a hand. I LOVE YOU!
我誠心感謝每一個伸出援手的你們。我愛你們。
Ways to help:
1. Financially. I will need money to fight this case. I PROMISE I WILL PASS ON THE LOVE!! when I get back on my feet.
2. If you know any personal injury attorney located in southern California that might be able to help me with my situation. Please contact me either through FB "Hsiang Ning Lee" or my E-mail: [email redacted]
3. SHARE this post and help me spread my words!!!
THANK YOU!!!
幫助我的方法:
一、打官司需要金錢,我跟你們發誓等我站起來我會把這筆愛傳下去!
二、如果你認識位於南加州個人傷害律師可以幫助到我的狀況,請跟我聯絡 FB "Hsiang Ning Lee" 或是 E-Mail: [email redacted]
三、幫我分享出去!
感激不盡!
-----------------------------------------------------------------------
When you really want something, all the universe conspires in helping you to achieve it.
當你真心渴望某樣東西時,整個宇宙都會聯合起來幫助你完成。
I really want Justice, and this is my story;It'll only take a few minutes of your life, but it might be THE chance of my life. Thank you!!!!
我渴望正義,而這是我的故事;
只會耽誤你的幾分鐘,但這幾分鐘或許就是我扭轉命運的機會!麻煩了!謝謝!
-----------------------------------------------------------------------
Hey guys,
For those of you that don't know me, Hi, my name is Hsiang Ning Lee. and for those of you that do know me.. You would probably know that I was involved in a very serious accident around 19 months ago.
嗨,你們好。
我叫做李香凝。認識我的人應該都知道十九個月前我出了一場差點致命的意外。
So this is my story;
這是我的故事;
On April 5, 2014 an incident happened that changed my life.. For me all I remember was going to bed the night before.. And when I came back to conscious.. It was 5 days later. I was on the ICU bed...
2014 年 4 月 5 號 發生了一場改變我人生的意外。
對於我來說我只記得我前天晚上上床睡覺 當我再度睜開眼睛時,已經是五天後。
我躺在加護病房的床上。
When I first woke up, I was confused.. I couldn't move, I couldn't talk, I couldn't even breath on my own.. all I could do was look around the room with one eye. I was covered in wires and tubes with screens and machines all over and around me. At first, I thought it was just a nightmare.. I struggled to wake myself up.. And I felt the pain.. It was then I realized... This is no dream. This is real. Then the fear came along...
剛清醒時,我很困惑⋯ 全身動彈不得,無法說話,連呼吸都無法自己呼吸。只能轉動一隻眼睛看四周。我全身插滿各式的管子、身邊圍繞著各式的儀器螢幕。一開始我以為只是場噩夢,不停的企圖叫自己起床。掙扎了一段時間,接著我感受到那劇烈的疼痛。我才發現,這不是夢,這是真的。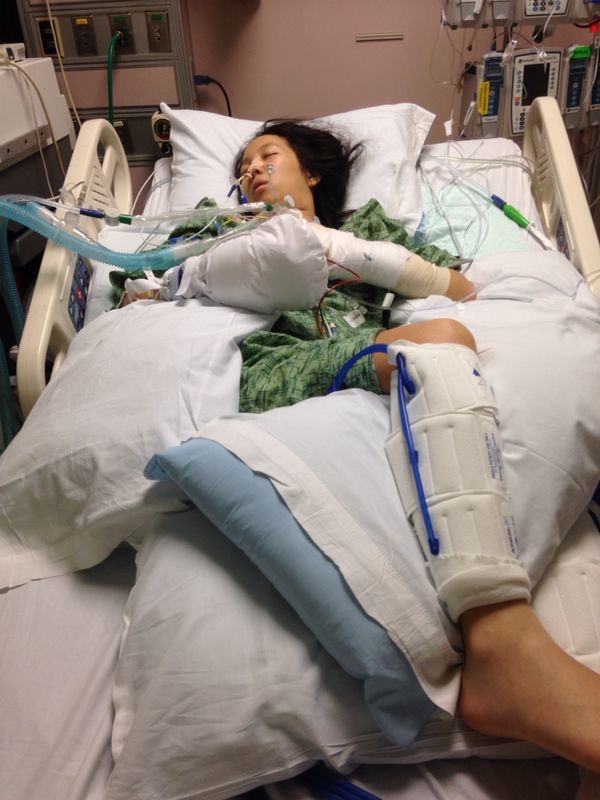 I was told that I was hit by a jet ski, full throttle, T-bone style, at around 40mph. The struck was so severe.. It caused me concussion, coma scale of 8, tracheal tear, bleeding heart, both of lungs filled with water (tubes to drain out), grade 5 lacerated liver, and a grade 3 open fractured wrist.
I was damn lucky to be alive.
我被告知我發生了一場水上摩托車意外,對方以時速 65 公里的極速,攔腰撞上我。撞擊力大到我當場失去意識,掉入海裡。嚴重到我腦震盪、昏迷指數 8 、氣管撕裂、心臟出血開刀、氣胸、兩邊的肺積滿海水插管引出、右肺發炎萎縮、5 級肝臟撕裂、左手手腕 3 級開放性粉碎骨折。
我真的是命大才活了下來。
I stayed in ICU for 12 days and another 2 weeks in Scripps Memorial Hospital. Every single day was a struggle. It really was indeed.. A nightmare come true.
我在加護病房躺了十二天 住院住了一個月左右。每一天,都是折磨⋯⋯真的是場人間噩夢。
The person who hit me took no responsibility.
19 months have passed, and yet he showed no sincerity. Hes's out there having the time of his life while I'm still here struggling with rehabilitation, permanent injuries, PTSD, depression, anxiety, and financial problems. My medical bill is $648,802.50.. Is this what I'd have to live with for the rest of my life?? He gets to walk away like it has nothing to do with him because of the fact that I don't have 20 grand laying around for me to hire a lawyer to sue him?? Do I not deserve justice because I don't have money??
肇事者完全沒有付任何的責任。已經十九個月,而他毫無誠意。他在外面過著事不關己,開心的生活。而我一個人在這掙扎者如何存活。面對持續長期的復健、用久性傷害、創傷後壓力症候群、憂鬱、焦慮症、經濟困難,我的醫療帳單高達 $648,802.50 美金! 兩千一百多萬台幣。難道這輩子就要這樣活嗎?他可以這樣拍拍屁股走人⋯因為我沒有錢請律師對他提告嗎?!沒錢就得不到該有的正義嗎?
The clock is ticking.. My statutes of limitation is coming up. So far I'm out of luck.. So please... Help me out.. In any way.. Either Financially Or if you know someone that is in this field. Or maybe just share this post so someone might come across it and be the light of my path.. I'm NOT ready to give up yet! Please Give me a hand guys. I HAVE to fight for my RIGHT!! it'll really mean the world to me. I really appreciate your time. Wish me luck! I love you all and have a great life.
時間一天天在倒數,追訴期快到了,目前為止我還沒找到一條出路。如果可以請你們大家給我力量和幫助,或許是金錢上面,或許是你有認識個人傷害的律師可以幫助我,我位於南加州。
幫我分享也好,也許會有那麼一個人看到因此改變了我的命運。
我不想放棄,我必須為了自己奮鬥!
請你們伸出手幫助我,或許我的人生能因此不同。謝謝你們的時間,祝你們愉快。祝我好運。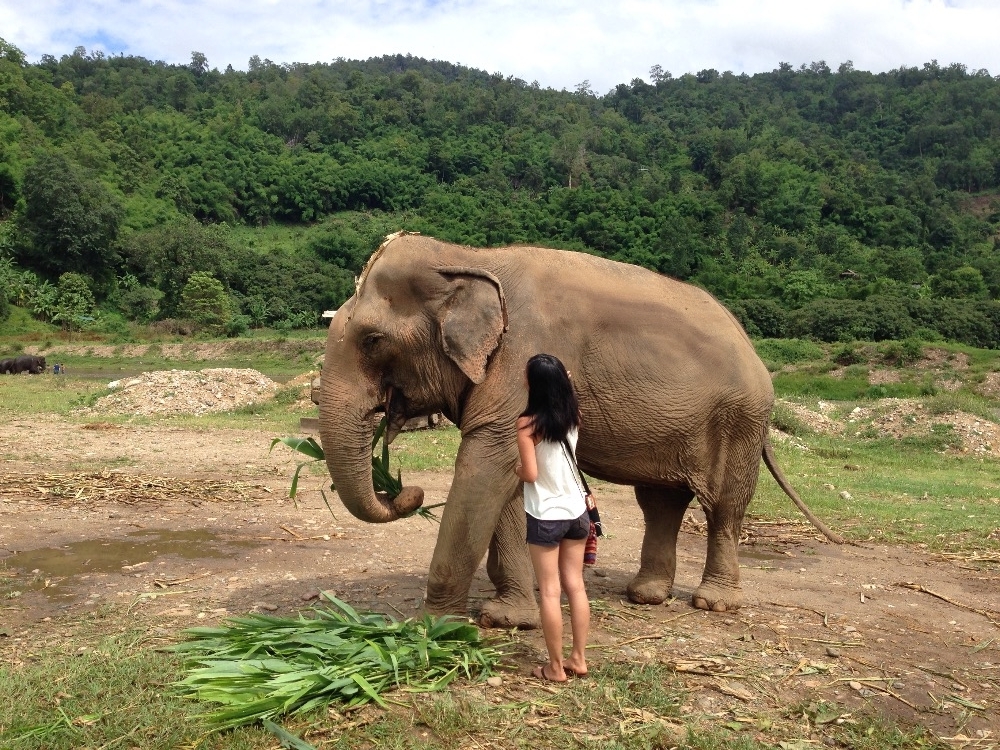 I wish to help this world become a better place when i get back on my feet. Help me do it together.
等我站起來,我希望能用我的力量讓這個世界變得更美好。幫助我一起達成!
Here are some further info:
Usually personal injury lawyers work on contingency fee. BUT in my case.. there was no insurance involved, I can only go after him personally, but he is not a wealthy person, so the contingent fee attornys are not interested in my case. 
很多人提出疑問我在這裡註解一下,通常個人傷害的案子都是律師打不用錢,然後贏了分錢。但我的狀況特殊,因為我們發生事故不是在路上,是在海上,所以沒有保險公司!
因此律師都不願意幫我打,因為就算告贏了賠償金額也不會太多跟律師能分的錢不多,對他們來說太不划算了。因此只能自費找律師。

Organizer
Hsiang Ning Lee 
Organizer
Rowland Heights, CA