Khmer Independent Life Team (KILT)
The Khmer Independent Living Team (KILT)
  was founded in 2009 by Muy Seu Bel (Bel), in Siem Reap, Cambodia and has two primary goals: 
1) To end the cycle of poverty by providing shelter and education for Cambodia's children living in the poorest of conditions.
2) To empower people living with a disability to find employment, and to provide for themselves and their families.
KILT is currently providing support, life's necessities and education to 20 children and 7 adults living with a physical disability. 
While KILT strives to be self-sustainable by selling their handmade jewelry and crafts, their reliance on tourism makes a few months each year difficult to stay afloat. 

I would like to raise at least $8000 by January 1, 2018.  This amount would be enough to provide for 3 months of KILT's expenses throughout the next year.


Please keep reading to learn more about this incredible organization, its inspiring founder and how YOU CAN HELP!
Formation of KILT
Bel's motivation to form this organization stems from his own life experience as a child amputee, an orphan and now an adult trying to support himself in a country that does not see disabled people as equals in society
(please read 'Bel's Story' below to learn more about his incredible story). 
Bel has always focused on his education and strived to reach his full potential.  Ten years ago, he graduated from the University of Southeast Asia with a degree in economics.  He searched for jobs for many months, but was met with much frustration.  He was unable to find employment, as he was consistently turned away once his disability was discovered at the interview process.  This frustration inspired Bel to join forces with others facing the same challenges as himself. Together, they came up with their vision for change in Cambodia...
They wanted to empower those living with disability and give them a voice in Khmer society, as well as end the cycle of poverty by making education available to children living in the poorest of conditions.
With a great deal of hard work, and some collaboration with some foreigners who were keen to lend a hand, KILT was formed in 2009 and became an official NGO (non-governmental organization) in 2010. 
Bel and his wife, Chanra, who now have 2 young children of their own, are doing an incredible job of keeping KILT moving forward and continue to make positive change in Cambodia.  
Some background on Cambodia
In order to understand the significance of an organization such as KILT, it helps to learn a bit about Cambodia's history and current situation. 
After 30 years of war, including the devastating Khmer Rouge regime of 1975-79, Cambodia was left in a state of destruction. The country lacked infrastructure, economic and educational systems, and medical facilities, all of which had been dismantled by the regime.  It wasn't until the 1990's that Cambodia started to rebuild and regain some of its strength as a nation. 
It has now been decades since war ravaged Cambodia, however, the effects are lasting.  It is estimated that at least 6 million landmines were laid during the years of conflict, and only half of those have been recovered to date.  It is estimated that 40 000 Khmer citizens are amputees because of landmine encounters.  Cambodia's amputee numbers are increasing annually due to unrecovered landmines and the increasing occurrence of motor vehicle accidents, which are also the cause of a wide range of other permanent disabilities.
While physical disability is a prevalent concern in Cambodia, the country lacks the resources to support its citizens living with disability and fails to recognize them as equals in society.  These barriers make finding employment extremely difficult and put the disabled person at high risk of living a life of poverty and isolation.  
KILT's Current Situation


-
KILT provides support for 20 children, who live on site. 
These children are provided with shelter, food and a nurturing environment.  They attend local Khmer schools and receive extra English teaching at KILT's facility.  The English instructors are generally foreign volunteers.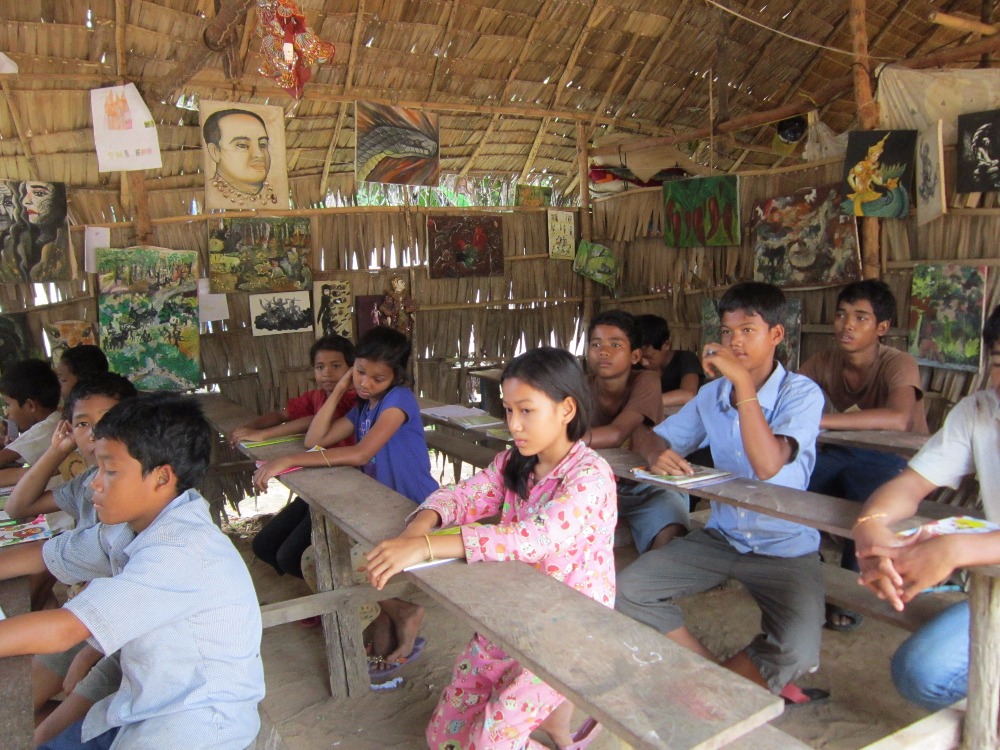 -
 KILT supports 7 adults with disabilities
These adults are provided with shelter, food and companionship.  They receive training to learn employable skills such as electrical and agricultural training, as well as skills needed in the tourist industry (ie. learning English).  The instructors are comprised of Khmer and foreign volunteers.
-
KILT assists adults living with a disability to find employment.
7 adults, who received assistance from KILT, are now employed as receptionists, cooks and managers in local hotels and NGO's.
-
KILT strives to be self-sufficient by manufacturing hand-made jewelry, bags and crafts
KILT's adults and youth (that are old enough) help to manufacture jewelry and crafts onsite, which is sold at local markets and hotels in Siem Reap.  
IMPORTANT NOTE: 
While KILT can sustain itself with the sale of its jewelry, bags and crafts during the busy tourist season (Oct - Feb), it is not a reliable income during the low tourist season.  In order to provide for the 27 individuals it is currently supporting (outlined above),
KILT requires $2700 per month.  THIS IS WHERE WE CAN HELP!! 
Please see below for the goals for this Go Fund Me page and how the money will get to KILT.
Bel's Story


Bel is 32 years old, but has lived a life that has seen and conquered more challenges than others twice his age.  Bel was orphaned as a young child when his mother passed away and his father was absent from his life.
By the age of 7, he had worked out an arrangement with neighbours in his village - he cared for their cows and water buffalo and in return, they provided food.  While alone one day in the field, he stepped on a landmine, which resulted in the loss of his right leg and severe abdominal injuries.  Due to the severity of the injuries and the time it took to get medical help, most believed he would not survive. 
Following his accident, Bel was no longer able to support himself by working with the neighbours' livestock.  His new disability made him subject to discrimination and a life of isolation. However, even as a young child, Bel was already aware of the importance of an education and he was motivated to go to school. He sold Thai lottery tickets in his village, which provided enough funds for his schooling, his uniform and food.  Bel completed his schooling up to Grade 7, but that was the highest education available in his village. 
At the age of 13, he found transportation into Siem Reap town to seek out better opportunities for his education. He soon met Aki Ra, the founder of Siem Reap's original "Landmine Museum" (a non-profit organization that provided shelter and education to disabled children in need), and was given the opportunity to live at Aki Ra's facility as long as he stayed in school and participated in English lessons.  Bel lived there and went to school for 5 years.  His ambition to better himself and reach his potential continued into his post-secondary education, which resulted in the completion of an Economics Degree at the University of Southeast Asia. 
As a new university graduate, Bel was qualified and motivated to find work, but he was met by the barriers commonly faced by people living with disabilities in Cambodia.  After spending months of searching for employment, Bel decided to take matters into his own hands and make some positive change his own life as  well as others. This is how KILT (Khmer Independent Living Team) was born (see above for more information about KILT). 
HOW THIS WILL WORK
Goal:
Raise $8000 (or more, of course).  This will cover the expenses for KILT for 3 months in 2018.
How can you help?
1) Donate to this page
2) Share the link to this page (share with friends, colleagues, church group, school, etc)
How will the funds get to KILT?

- Donations from the Go Fund Me page will be accessed by an account I have set up for KILT 
- Money will be wire-transferred directly to KILT's bank account in Siem Reap, Cambodia
- I plan to transfer funds everytime $2000 is accumulated (this will save $ on wire transfers)
How will donations be used?
- The donations will be used to purchase food and medicine, pay for education and purchase materials for fabricating jewelry
- Bel will update us with how funds are used and on KILT's progress, and I will post any updates on this page 
Thank-you for your help!

Organizer
#1 fundraising platform

More people start fundraisers on GoFundMe than on any other platform. Learn more

GoFundMe Guarantee

In the rare case something isn't right, we will work with you to determine if misuse occurred. Learn more

Expert advice, 24/7

Contact us with your questions and we'll answer, day or night. Learn more