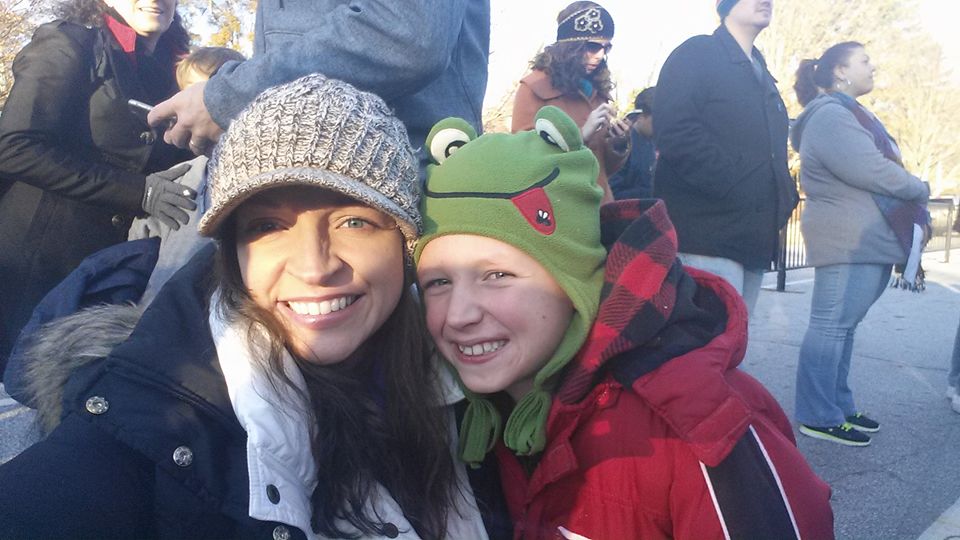 This is an URGENT plea for help for my lovely daughter, Karen, a single mother of 3 great children ages 9,6,and 4. She has CIRS (Chronic Inflammatory Response Symdrome, from long term exposure to mold) and Lyme's disease which is a debilitating disease affecting her whole body. I have witnessed her struggles with pain, weakness, and neurological and immune damage which is a daily struggle for her. I have seen her put on a happy face and persevere for her children's sake and bear the pain. Although she has had this disease for 4  years, her diagnosis was confirmed last year. She also suffers from mold. She will go to a specialist in March for treatment and she will have travel and room expenses for 12 weeks. She has put her trust in God and Jesus as her Savior and we believe God has put her into the hands of a Christian specialist in Florida.
I felt led to start this campaign to help her heal and to allow the body of Christ to be a witness to God's glory. So no gift is too small!!! We believe God will multiply as he sees fit. Please consider giving to this fund so that my daughter will have the strength to raise her children.
Thank you in advance for helping with this need. 
I have asked my daughter to share in her own words her medical condition and treatment plan:
"In the middle of an unforeseen divorce, I  ended up in a very old house, that unknowingly was  full of neurotoxic black mold. Unaware at the time that I was genetically unable to resist it's effects, my health began to deteriorate. I was sick all the time, weak, had short term memory loss, and began losing coordination. I became almost unable to function and perform simple tasks and was in severe pain all over my body. I would lose complete blocks of time and would have no recollection of what happened. 
By the time I discovered what was happening, the mold had completely ruined my immune system.  As a result, I have tested positive for Lyme's Disease, 2 strains of a malaria like infections called Babesia, various autoimmune diseases, cytomeglavirus, mycoplasma, mycotoxicosis, and my MRI shows traumatic brain injury.  My kidneys and liver are not functioning properly.  I have developed many food allergies, nutrient deficiencies My vision has begun to deteriorate. Lyme disease and Babesia along with mold toxicity is a terrible combination.  These together destroy the all of the body's systems one by one. Lyme breaks down the blood brain barrier and floods the brain with ammonia (my levels are currently off the charts at 400+) The mycotoxins (a metabolite of mold more dangerous than the mold itself) from the worst species of mold known to man, Stahybotrus was found in my body at very high levels along with many other very dangerous molds and mycotoxins. The mycotoxins attach themselves to the brain receptors, distorting the messages and creating all kinds of neurological problems.  Because of the attack on the immune system, my body is vulnerable to pretty much anything, and has also begun attacking itself.  The kicker was that I also had the gene formation HLADRBQ that does not allow any of these terrible toxins to be expelled from my body. 
However, God is truly faithful and He led me to a doctor in Orlando who has created a series of treatments that will restore my health and allow my body to rid itself of toxins on its own. He is a wonderful Christian man who healed himself of all of these same things, through his study of genetics. He had all of these same problems while on the board of medical directors at his University, with access to the finest doctors in the country...yet no one could help him.  Now he instructs physicians how to treat these diseases (I found him giving a lecture to physicians at Baylor University on just this subject) and he works alongside the FDA leading studies on treatment for this and ailments like ALS.
It is very important that I go to someone who knows genetics because treating too quickly or in the wrong manner could be very dangerous for me. He very sternly cautioned me that this treatments needs to happen as soon as possible. He said this was a degenerative state and that I would eventually begin piling on even more autoimmune diseases until I am wheelchair bound or worse. 
His plan includes:
Daily vitamin and mineral IV's with a glutathione push
Cell regenerative therapy
Growth Factors
Hyperbaric Chamber therapy
Diet
Supplements
God not only faithfully led me to this doctor (after consulting with numerous "experts" who could not provide answers..... and provided a way to him, but when we heard the bill for his plan $82,000, we kind of laughed and gave it to God. My church family began to come around me in a beautiful way and make plans to help, when God did a miracle and provided the entire bill to be paid upfront through my healthshare program with the surplus money from other member's needs!
What is left uncovered is the cost of travel, lodging, childcare for my three children, and a personal care provider for me since I will be getting very sick from treatments, as well as two special air purifiers that I will have to have for the rest of my life. We are estimating that to be $25,000  or more.
We have not factored in the cost of supplements that seems to be in the range of $500-$800 a month, or the cost of whole, organic food. As you can imagine, this has become a huge financial strain for me and my family. But the goal is that my health can be restored and I can finally begin rebuilding my life, and be available for my children as they grow older. My friends have asked me to verbalize an end goal...something to look forward to. We have decided that it is this : To live again! I want to see my children grow up and graduate, and not only survive, but also to live abundantly! 
As God has winnowed away the weights that so easily beset me, he has lovingly taught me the freedom and joy of laying down my dreams and ambitions to trust in my sovereign God, and see His glory on display. And boy haven't I seen it? My prayer for this year has been the verse found in the pages of my Flourish book (the mentoring program at my church ) :
"...to see your power and your glory, so as I have seen you in the sanctuary. Because your loving kindness is better than life, my lips shall praise you." Psalms 63:2,3
Thank you for your prayers and support!
Wes and Bernadine Cantrell 
Organizer and beneficiary
Mary Barclay 
Organizer
Douglasville, GA