"Mommy, Daddy!  Mommy, Daddy! Let's hold hands and jump up and down together! Because we are a family!   This is my family."   And there is no question that this little girl adores her mommy.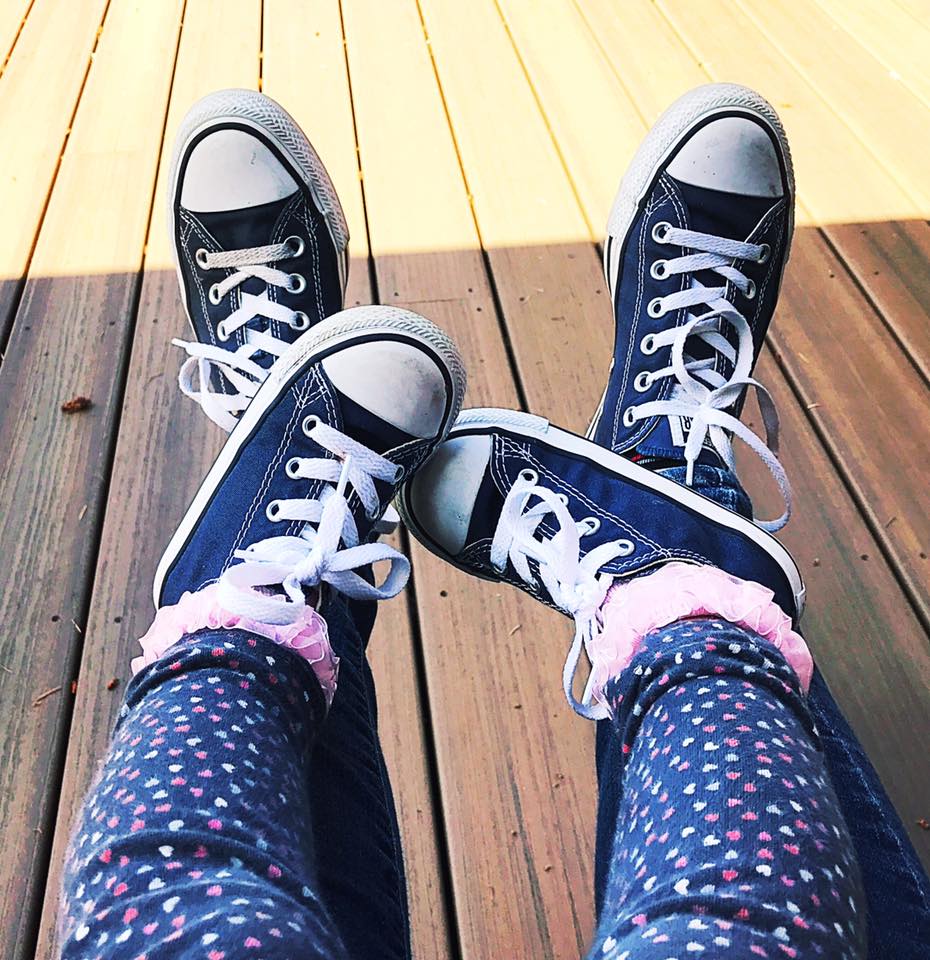 Jenn is Ahzi's WORLD.  Every morning a bouncy little mop of hair can be seen skipping into Kev and Jenn's room - "Mommy I'm HERE.  It's morning time.  Want to play with me?!"   You can find them digging up dirt together or planting in the garden, getting messy with paint, whipping up some Minnie Mouse pancakes or simply cuddling throughout their day.  Some days you will find Ahzi rubbing her mom's back and telling her it's going to be ok.  
Some days, Ahzi goes with Kevin and Jenn to the hospital and meets with oncologists.  Her favorite is Dr. Chen.  He lets Ahzi listen to her mommy's heartbeat.    And some days Ahzi cries too when she sees her mommy in bed.  In pain.  Life looks a little different these days.  And mommy does too.  For the last year, Ahzi has watched her mommy struggle with stage IV lung cancer.  This cancer has spread to Jenn's brain and bones.  A 16% chance of living 5 years is what they've been told.  But Ahzi's also watched her father hold her mommy tight.  
Ahzi usually joins in on those hugs as this family has grabbed onto one another.  And have not let go.  Kev, Jenn and Ahzi are dear friends of mine.  I know them well - they are happiest when they are together. A family who loves deeply. This love extending out to those that know them.
These days it's a lot harder for Jenn to play with her sweet Ahzijoon.  And this little family is trying to find the sun in a very dark place.  Jennifer has been fighting Stage IV Lung Cancer for an entire year now.  Recently, the cancer has become resistant to her latest course of treatment.  Causing their medical bills to skyrocket and leaving the family desperate to find new treatment options.  
Cancer is rocking this family's world.    
To keep our Jenn alive, she must receive infusions twice a week, continual chemotherapy and major testing every two-three months.  She's already received radiation for the tumors that spread to her brain and she will need to have radiation again.  Some reports suggest that cancer can cost a family $10,000 a month.  Jenn's father has helped and continues to do what he can for his daughter but Jenn, Kev and Ahzi are in real need of our help. Jenn so desperately wants to live. She is fighting for every smile she can see on Ahzi's face, for every embrace she can share with her beloved Kevin and for the laughs exchanged with her friends that are so dear to her.  US.  
If you know Jenn, you know she likes to connect and seems to make friends wherever she goes.   (Here she is sharing her mac and cheese with a tourist at Pike Place Market who said she never had Beecher's world famous mac and cheese.  So, Jenn gave her some!)  Say #cheese!
Still in touch with her dear friends from elementary school to high school, from random jobs, to days spent in New York going after her dreams in culinary school and her days she spent planning weddings/events for Marriott and The Ritz-Carlton.  Some friends she has never even met but has had friendships with for years over Facebook :). If you know Jenn already, you know this to be true. If you don't know Jenn, feel free to check out her Facebook page .  
https://www.facebook.com/jennifer.sabounchi
You will see a recurring theme in the comments left on Jenn's posts about how her vulnerability and honesty has inspired her friends - new and old.  She candidly shares a lot about her life.  Forget "reality TV", this is actual reality. The life she once knew and the one she's living now. If you reach out to her, she'll most likely welcome you with open arms as if she were right there giving you a big hug. That's the Jenn I know. The Jenn who loves life, and the people that have been put in her life.  Please help keep our friend alive.  Please help keep Ahzi's mommy and Kevin's best friend alive.  She very much is fighting to be here and still has hopes and dreams that she hasn't let go of.  Before she got sick, she started a successful business creating allergy friendly snacks for children like Ahzi who have severe food allergies.  Their business was in the beginning stages and had already started taking off.  Physically unable to continue, she had to stop working towards her business. One really special dream that Jenn holds onto -  especially on the really rough days is the vision of the wedding she and Kevin never had.  She dreams of having an actual wedding reception and celebration some day.  One where her father walks her down the aisle in a beautiful white dress.  And Kev, Jenn and Ahzi are dancing in celebration with us - their dear friends.  Unlike the ceremony at the Justice of the Peace  - This time they exchange their vows in front of their dearest friends and family at a giant party!  Jenn's planned hundreds of weddings for brides during her time at The Ritz-Carlton but she has yet to plan her own.  :)  She says holding onto this fun dream, keeps her going on the roughest of days.
This fall they are going to Disneyland to fulfill Ahzi's wish to meet Mickey Mouse.  (Thank you friends who have helped with this one!  This is SUCH a big deal for them).  The entirety of their medical bills will not allow them to do much outside of keep Jenn alive.  Any amount you can give will help this family tremendously.  And goes directly towards all of the medical bills that are quickly accumulating, as well as allow Jenn to create lasting memories with her daughter Ahzi, husband Kevin and with us.  Her friends. Thank you so very much guys. This gofundme campaign is being spearheaded by friends of the family, Mia Johnson, Brooke Wall, and myself. Please feel free to reach out to us directly too.
We want to make this as easy as possible so if you rather send money through PayPal, simply go to your PayPal and look for her by this primary email address below that's been set up.  Select "send a friend money" so that no percentage will be removed.  You will see Jenn and Ahzi's picture (the same as her facebook profile picture).To send donations via PayPayl, this is the email you can look Jenn up with:
[email redacted]
You can also mail the family a check directly to their home.  Simply contact Mia, Brooke or myself for their address.
Love, Peace, and Joy,
-BJ Erkan (close friend of the family)
From Brooke:
19 years ago I made a promise to Nila Sabounchi. I promised that I would forever watch over her daughter…you see Nila had stage 4 lung cancer and her daughter is my very best friend. I told Nila that "it would be easy to watch out for Jenn and I would always be there for her, that's what friends are for"…Nila passed away from this terrible disease a short time after that conversation and now my best friend has the same cancer…it is a genetic form of cancer that has now threatened to take my best friend's life…I feel so helpless now with this promise I made to Jenn's Mom so many years ago…I am reaching out to all that I know and asking for help…please help me protect and watch over Jenn and her beautiful family….with a little bit more financial security Jenn and her family will be able to pay their rapidly increasing medical bills, pay for some extra help around the house with Ahzi (Jenn's beautiful daughter) so Jenn can rest, and maybe even cover a special vacation for their family to enjoy…maybe Jenn and Kevin can visit a place they have always dreamed of…Jenn has impacted so many lives with her beautiful smile and loving heart, she has taught us about life and how to embrace every second and we all will be forever grateful for her… please help her and her family in a time when it is so needed and appreciated more than you know… thank you.
-Brooke Wall (Jenn's best friend from high school)
From Friends of Jenn:
Jennifer lost her mother to cancer when she was young. She was raised by her father, and met Kevin when they were small children. They fell in love and married 30 years later and had a beautiful baby girl, Ahzi. Jennifer was diagnosed with stage 4 lung cancer in October 2016. In the face of the grim news and the biggest life challenge either Jennifer or Kevin have faced, they press on raising their daughter and smiling and laughing as often as possible. They have inspired their friends with their courage. Jennifer and Kevin are not comfortable asking for help. We are Mia, Brooke, and B.J., friends of Jennifer's who have come together by our love for this beautiful, loving family. The medical bills are beginning to come in and are enough to bankrupt any family. Please help them by donating to this campaign. The money will be used to offset medical bills and allow Jenn to create some lasting memories of her for her daughter Ahzi. The situation is dire. Please help us help them. All proceeds will go directly to the family.
With our hearts full of love for Jennifer, Kevin, and Ahzi,
We Thank You,
The Friends of Jennifer Sabounchi
From Jennifer:
"Your life will never be the same again" - That's what the doctor said after he broke the news that I have stage four lung cancer. A genetic mutated cancer just like my mom had. She passed away at 45 and first learned of her cancer when she was 38. Just like me. As you can imagine, I was devastated. Knowing what it's like to lose a mom too soon, I don't want my sweet little 2 year old to have to experience the same pain. What is going to happen to my marriage?  We are so happy.  My poor dad and brother?  How will they feel?  My friends.  I hope they understand. Dear God, I'm scared. That was six months ago...
This is now - I have lung cancer that has spread to my brain and certain bones in my body. It took me six months to be able to say that out loud. I'm so scared guys. But I am choosing to walk through my fears by faith and give my life EVERYTHING that I've got. I have SO much to live for. Despite the prognosis and time I'm supposed to have left.  I LOVE life.  My life.  Thank you God for the life you have given me.  
We knew each other as children.  Lost touch.  And fell in love 20 years later. The little boy who once wouldn't share his Star Wars toys with me, now shares his life with me.   This is our love story. 
And he has been my super hero through this all.  Before, when we were playing house, our baby carriage was empty but these days we are blessed with our fun little daughter named Azadeh (ahh-zah-day). It means freedom because we hoped she would be a happy free spirit. She is that and so much more. Some days, Ahzi (what we call her for short) caresses my head when I'm laying down as she tells me, "Don't worry mom. It's going to be ok." It breaks my heart that she knows life isn't the same as it was. That her mom is sick. I often pray that her happy little free spirit will remain intact after watching me deteriorate.
I am determined to rise above my fears and pain.  Every day is "will this be the last time..." So I try to squeeze my little Ahzi real tight and often to show her how much her mommy loves her. I try to give my sweet husband Kevin all that I've got - in between infusions, days that I can't get out of bed and moments that feel so threatening to our happy partnership. I am not me in my entirety. Thank God he lovingly accepts what is left. Holding on just as tight as I am. Cancer is really hard. But we love each other harder. Still.
I have this beautiful army of friends around the country who have been so loving and so caring. It feels like Kevin, Ahzi and I are standing peering out at a bunch of loving faces who are holding each other's hands forming a giant circle around us. Wanting to protect us. Our dear friends. I am so very thankful for your love and support. I am pouring every bit of myself I have left into the time I have left on this earth. I hope to bring love to my family, my friends and I hope to leave a legacy behind so that I'm not forgotten. This life is beautiful. Absolutely beautiful. And I am so very thankful for the amount of time God has given me.  Even though I am desperately fighting for more.  THANK YOU for helping me in my fight to stay alive. 
With gratitude and hope,
Your friend Jenn

Organizer and beneficiary