Helping Nezia & Paul after Fire
Aloha, this GoFundMe page is to help provide financial relief to Nezia Azmi and Paul Rausch due to the Marco Polo building fire. Nezia is my colleague in the College of Education at the University of Hawaii at Manoa, and I, Jessica Miranda, have set up this fundraiser on their behalf. 
Nezia and Paul rent a 25th floor apartment in the Marco Polo building in Honolulu which had a massive 7-alarm fire on July 14, 2017.  Their apartment (#2503) was only 20-30 feet away from where the fire started on the 26th floor. Thankfully, neither of them were home when the fire broke out. Their apartment has water damage in the kitchen, and though everything else appears dry, the proximity to the completely totaled floors means that their unit has been restricted due to contamination risk, resulting in their displacement since the fire took place.
While they managed to salvage important papers, computers, a few items of clothing and one futon during three escorted 20-minute visits to the unit, the rest of their belongings are still in the apartment, and inspections and investigations are still ongoing. They were told there is a risk that the remaining items may be deemed contaminated in the future, at which point a partial loss could turn into a total loss.
This is the current state of the Marco Polo building: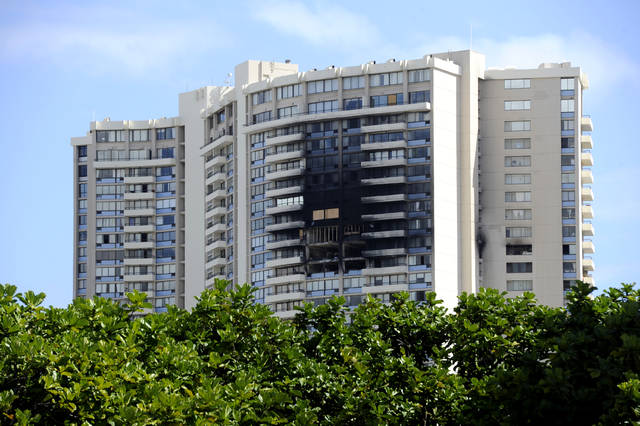 More photos of the fire damage to the Marco Polo can be seen here: 
Photo gallery
Unfortunately, Nezia and Paul did not have renters insurance. They have learned the hard way how important it is to have renters insurance, and encourage anyone who rents, to obtain insurance. They were verbally told they could break the lease without penalty, and are actively looking for a new apartment to move into. They were able to seek shelter with kind generous friends during 10 days after the fire, and have recently checked into a hotel.
Nezia and Paul feel that they are much better off than others in this tragedy, and at times the sudden pang of missing their home still feels guilty. If you are able to provide any assistance to while they try to get their lives back in order, it would be a welcome reprieve. All of the funds will be given directly to Nezia and Paul to help them as they try to secure new housing and get re-established.
For those who don't know them both personally, this is a Paul and Nezia:
Mahalo for your support!
Organizer and beneficiary