Help Me Pay for Yale Div. School!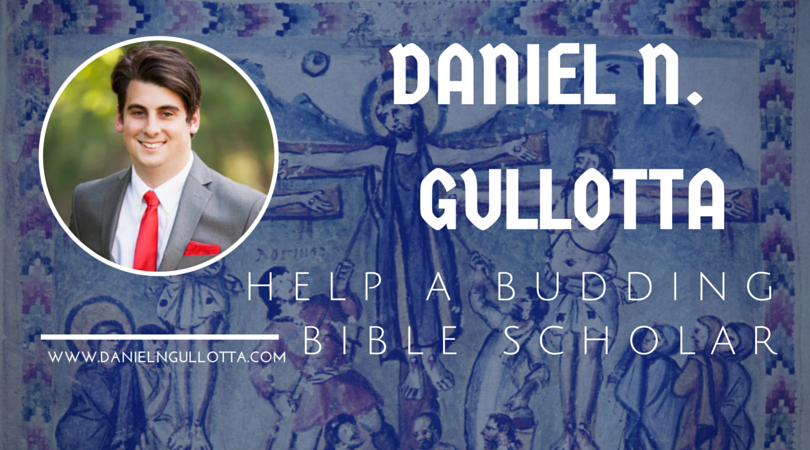 My name is
Daniel N. Gullotta
and earlier this year I was admitted to
Yale Divinity School's Master of Arts in Religion with concentration in Bible
program. I applied to this program and others to further prepare myself in graduate studies before I set off to hopefully achieve a PhD in the study of the New Testament and Christian origins. Being accepted into Yale's program is like a dream come true and I was honestly blown away by their generous scholarship offer to me.  
However this scholarship, while substantial, does not fully cover my tuition for this academic year (2015-2016), and it leaves my wife and me still with a considerable amount of debt
. This is not to mention the expenses of moving, setting up our new home in New Haven, buying textbooks, and the cost of travelling to conferences like AAR/SBL and Westar. After the legal costs of bringing myself over from Australia to the United States just so my wife and I could be together, along with the wedding, and the months I was unable to work due to waiting for a Work Authorization Card, to say that we are going to be on a tight budget is an understatement. 
While the scholarship is renewable and might be increased depending on funding opportunities and on my grades, we are still concerned over the debt. Not being religious puts me at a financial disadvantage in the field of Biblical studies. There are so many outside scholarships reserved for Christians of varying denominations or those of different theological persuasions, but hardly any for those who do not identify as a Christian. Moreover, while Yale's program is one of the best in the nation (if not the world), it is certainly not one of the cheapest.
All of this leaves me in a difficult situation and it is for these reasons that I am asking for your help!
I am reaching out to you to help fight off the bondage of student debt and empower me to add my voice to the scholarly discourse on the Bible. Not only will your contributions assist in my current studies, but they will help enrich my future career as a New Testament scholar and Early Church historian. It has been my pleasure writing about the world of the New Testament on my blog, providing whatever service I can with articles, book reviews, and answers to questions I receive and it is my hope to keep this service ongoing.
If you have anything to offer, all donations will be more than welcome.
Consider this an investment in my academic and professional development and I will return it in kind with hard work and outstanding results.
Pax,
Daniel N. Gullotta
-----
Personal Website
CV
Academic Work
Organizer
Daniel Gullotta
Organizer
Lawrence, KS