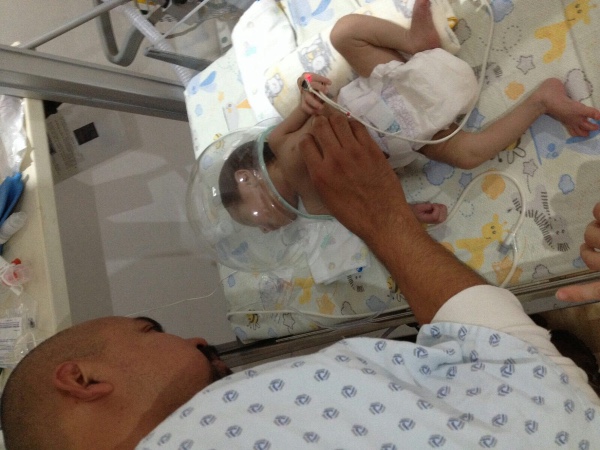 Hello! My name is Ana Maria and I decided to start this page for my good friend Diana Salcedo and her family.  Her youngest son Emiliano is in desperate need of medical help.  Emiliano suffers from severe deafness and muscular dystrophy which has delayed the development of his motor skills. 
Emiliano was born on April 8th, 2015.  Three days later he experienced a significant increase in bilirubin levels affecting his brain. After two blood transfusions he finally collapsed and had a suffered complete respiratory failure. After a week of intensive care and sedation Emiliano  fought to stay alive and little by little began to breath on his own.  He spent several days in hospital  fasting due to a threat of necrotizing enterocolitis (a serious disease that occurs when the intestinal tissue becomes damaged and begins to die), which in addition to his lack of respiratory capacity only complicated his medical condition further. Emiliano eventually pulled through and continued breathing, however due to the high toxicity level of bilirubin in a child´s brain, as well as the numerous convulsions and respiratory failure, Emiliano has suffered neurological damage as well as severe deafness in both ears. 
Emiliano is now 11 months old and these months have proved to be difficult not only for him but also the family. Apart from all the inherent health complications of  hyperbilirubinemia and a prolonged stay in the hospital, the medical and rehabilitation expenses have been overwhelming. Emiliano requires full time care and full attention from his mother Diana. This experience has also been hard on his older brother Jeronimo who is soon to turn three.  
Considering all this, Emiliano still has a chance at a normal life with a cochlear implant which is crucial for his future development. A cochlear implant will give him increased hearing capability which will in turn improve his motor skills and equilibrium. Emiliano needs to continue with intensive neurodevelopmental therapy in order to improve his motor skills. Today Emiliano is still not  capable of completely holding up his own head.  With your help he still has a chance to eventually be able to walk and live an independent life. 
You're probably wondering if this would be covered under the health system.  Unfortunately, in Mexico where Diana lives with her husband Cesar and two boys Jeronimo and Emiliano, the procedure is not covered under the public health system.  This is why I am reaching out to all of you for your help. The cost of the implant and surgery runs from $30,000 to $40,000 USD.  In addition to that, Emiliano will require years of rehabilation and therapy to help him develop his motor skills, and follow up appointments on the procedure.
The family is wholeheartedly and humbly asking for the help of family, friends and generous souls out there who wish to help Emiliano to walk, talk and play with his older brother by making a contribution to this fund.  The family is sincerely grateful for any donation as little as it may be.  Every penny will be a step closer to the goal of helping Emiliano fulfill his life in this world.
On behalf of Diana, Cesar, Jeronimo, and little Emiliano, thank you and blessings for all.
------------------------- 
Emiliano tiene sordera profunda y distonía muscular que ha retrasado su desarrollo motor. Nació el 8 de abril de 2015, al tercer día de nacido aumentaron considerablemente sus niveles de bilirrubina afectando su cerebro. Recibió dos transfusiones sanguíneas, convulsionó y finalmente cayó en paro respiratorio. Casi una semana después de sedación en cuidados intensivos, nuestro angelito decidió vivir y comenzó a respirar poco a poco. Durante varios días estuvo en ayuno completo por sospecha de enterocolitis necrosante, lo que sumando a su falta de capacidad respiratoria, dificultaron su alta hospitalaria. Para alegría de todos logró salir adelante, sin embargo, dada la toxicidad de la bilirrubina para el cerebro de un recién nacido, más las convulsiones y el paro respiratorio, hoy tiene daño neurológico que afecta su motricidad y le ocasionó una sordera profunda.
Emiliano tiene ahora 11 meses, ha sido un tiempo muy complicado para nuestra familia porque tiene diferentes problemas de salud como consecuencia de la hiperbilirrubinemia y de las secuelas de la hospitalización. Los gastos hospitalarios y de rehabilitación han sido enormes. Su cuidado requiere tiempo completo, lo que se dificulta al tener a otro bebé en casa, su hermanito mayor Jerónimo, quien pronto cumplirá 3 años.
Ahora Emiliano necesita una cirugía en el cerebro para colocarle un implante coclear, una herramienta que le permitirá escuchar más y mejor, con lo que su equilibrio y desarrollo motor también se verán beneficiados. Al mismo tiempo requiere continuar con terapias intensivas de neurodesarrollo para poder avanzar en su motricidad. Aun no sostiene su cabeza por completo, pero nuestra meta es que logre caminar para que pueda tener una vida independiente.
El implante coclear y la cirugía que requiere superan los 30,000 dólares. Así que de todo corazón pedimos la contribución de nuestros familiares, amigos y almas generosas que quieran ayudar a Emiliano para que aprenda a hablar, a jugar y a cumplir con su tarea en este mundo. Bendiciones para todos.