John Hicks and Family Recovery
Sudden, violent tragedy has struck well-known Western Washington fishing guide John Hicks — and ripped his body and life apart.
John, along with his wife Sheryl and their three young sons — ages 12, 10 and 9 — need your help.
Hicks was invited to dinner at a house near Morton, WA, on Tuesday, August 22.  The man suddenly attacked him with a knife and stabbed him in the chest.
John, barely clinging to life, was airlifted to Harborview Medical Center in Seattle. Surgeons opened his chest to repair an aorta. John took more than 15 units of blood during his initial treatment and surgery.
John, a former U.S. Army field medic, is still in critical condition andremains in Harborview's Intensive Care Unit. He faces at least anotherpainful week in the hospital — and a long, tough rehab battle — before he
can return to his work as a radiology tech and fishing guide.
You can help John, Sheryl and their three boys get through this nightmare— and back to their happy life near Olympia, WA. Your donation will help
pay the already-huge medical bills and keep this family in their home while John battles back to his life.
This website shows just some of the reasons so many love John and his
family so much: http://www.searunpursuits.com/about.html
John is an active volunteer in Soul River's — http://www.soulriverinc.org —
efforts to help veterans and at-risk youth.
John has helped so many for so long. Now he needs our help to get his life back.
Let's do this.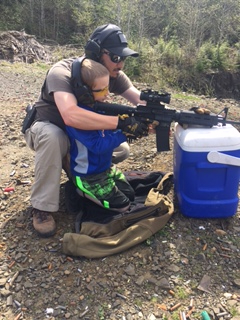 Organizer and beneficiary