Hi! 
My name is Adeline and I'm creating this GoFundMe on behalf of my amazing friend Alin aka Xenon_Cosplay ! Alin is a Russian cosplayer currently living in Spain, and English is not her strongest language, so I am going to try and tell her story to my best ability. I truly hope that you will take a couple of minutes to read this, and hopefully help out this amazing girl. She has been through a lot and she really needs our help. Thank you <3 
xo Adeline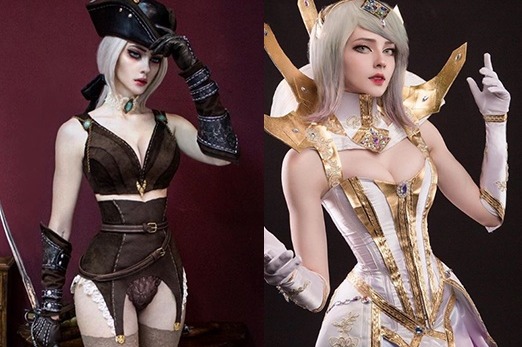 First of all, if you don't already know her,  let me tell you a litte bit about Alin! She is a Russian cosplayer currently living Spain with her adorable little cats. She is an incredibly talented seamstress and makes all of her cosplays herself! She is a very humble and kind girl who definitely doesn't get all the love she deserves! 
Now, let me tell about what happened. Honestly this shit is so crazy I had a hard time believing it myself. 
On April 24th at roughly 11 am the landlord of Alin's apartment showed up at her door with a couple of strangers, telling that he was evicting her and that she had to leave the apartment IMMEDIATELY. She got not warning and he basically forced her to leave the area at once. This meant that she didn't get any time to pack up her things or bring anything, she literally just had to walk out or she would have been removed by force.  About 2 hours later most of her stuff had been thrown out on the street, she collected the things she could salvage and carry! Now with no place to go. She was lucky to recover most of her clothes and cosplays. But conveniently the owner of the apartment didn't throw out any things of value. He choose to keep/steal her phone, camera, laptop, computer and TV! He also kept some of her important documents that she needs in order to leave the country! 
And omg I haven't even told you the worst yet...
He also threw her 6 cats out on the street. One of them scared and confused ran away, and another was badly injured as he probably kicked it or beat it trying to get it out of the apartment. My heart BROKE when Alin told me this, what kind of monster does something like this?! Luckily the cat that ran away was recovered, and the injured cat is being taken care of. They are all going to be ok but what an awful experience? A kind woman is currently housing the cats while Alin is trying to figure out what to do next. She is currently living in a cheap hostel, starting to send what things she managed to recover back home to Russia.  The best and only option seems for Alin to travel with her cats back to her home in Russia. But it is a long trip and is expensive, and she simply cant afford it, especially now having lost all of her things of value aswell! (and paying vet bills and ect.) 
The landlord is refusing to return her things, and is being straight up nasty. She has gone to the police multiple times but they don't seem to want to help her. The police in Spain already have a really bad rep. ( I myself actually also once had all my shit stole and they literally couldn't give two fucks. ) She has gone to the Russian embassy but also without luck.  So this is were WE come in! 
Lets help Alin collect enough money for her and her cats to be able to go back home to Russia <3 Any donation is greatly appreciated, please help spreading the word so we can get them all home safe and sound as fast as possible! 
Here is a pic of her stuff on the street and her injured kitty, warning as pic is a bit graphic :'(