This is Braedyn, and his parents Jeannette and Shawn.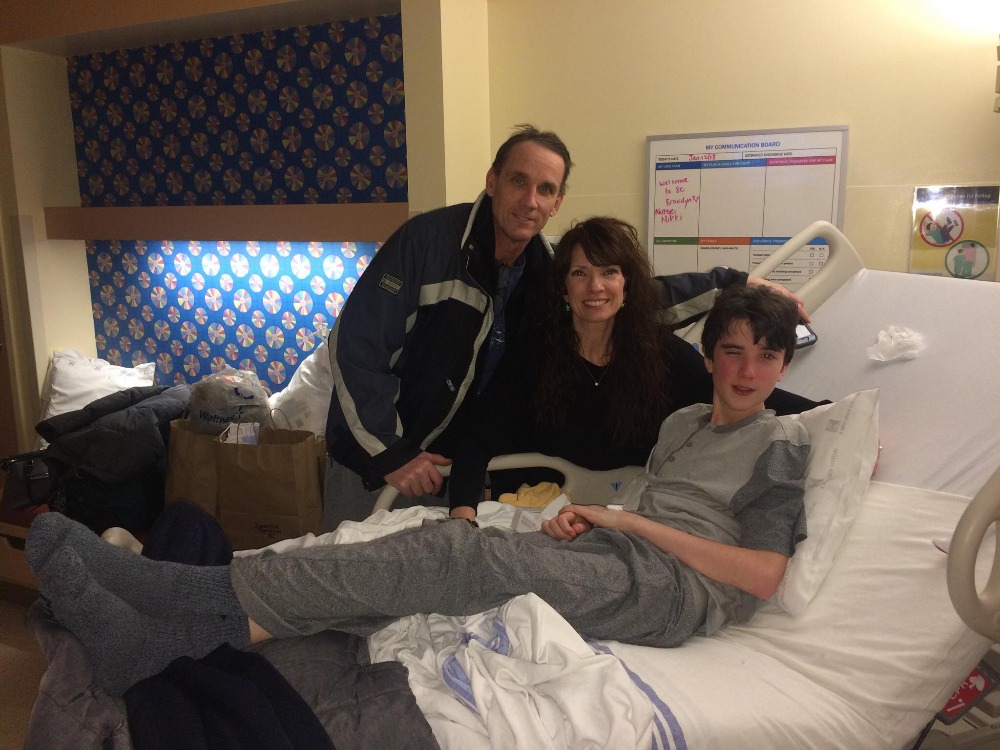 Let me share with you something a friend wrote.
I'm not his brother. I'm not his Uncle, cousin or any kind of relative. His parents train me in the art of boxing. I know everyone on this site has a severe medical condition that deserves your help, so you ask, why is Braedyn so special that I am reaching out to you on their behalf?
First Braedyn.
He is a 14 year old boy,
who has been diagnosed with a cancerous tumour in his brain –
Rhabdomyosarcoma (RMS);
and upon deeper examination it has spread to his throat. The cancer is believed to have been triggered by his adolescence. No external chemical exposures, or lifestyle choices to blame for his cancer; just changing from a boy into a young man has caused his cancer to grow. The natural progression of life that none of us have given a second thought, now threatens his life. If anyone reading this knows Braedyn, you know him to be a sensitive, innocent soul who wouldn't wish harm on anyone. He is facing his treatment with the bravery of a warrior, though he would wrinkle his nose at being described as such. He has such a big heart, loves life, laughing, and helping those around him. We have watched him grow and mature into the kind of young man you would be proud to call your son, want as a friend and you'd trust with your daughter. The kind of young man that when all his school friends are out doing what is typical to young teenagers, he's visiting his grandmother – not because anyone tells him he has to, but because he wants to. We use the expression that it's 'not fair' when bad things happen to good people. That phrase can't apply more aptly than it does with Braedyn.
Second, Jeannette and Shawn.
They are the type of people who step up to the plate for those who end up in Braedyn's situation. They are the people who are first in line to help others because they genuinely care about others. They have created two small, "mom & pop" businesses that are pillars of our small community. Their businesses are not designed to be huge profit makers, instead they were
created out of the passion this couple has for what they do, and for the people they serve. They balance that with providing their family with the essentials of life, and spend true, quality time with them. For Jeannette and Shawn, it's more than just making money, it's about giving back to the people who visit their businesses. They give of their time, their energy, their depth of knowledge and advice in so many areas of life to the people who grace their doorsteps. They are independent people, who don't ask for help since they have strong beliefs in being self-sufficient and putting others first. But at this time, when both of them are having to be in Toronto, to focus their love and caring spirit on Braedyn, both businesses are suffering and could result in a devastating loss of income if the businesses fail. There is a huge added expense for the duration of the medical attention that Braedyn will be receiving. Chemotherapy has already begun, and extensive radiation will also be needed. Jeannette and Shawn also have two daughters that are in Timmins that need their attention as well – Andraya and Alana. The traveling back and forth is a huge burden on the family unit, notwithstanding the mounting financial toll.
We are asking that you give what you can to these two loving parents, to help them see their son through the toughest fight of his young life, and the greatest fight they have had in or out of the ring - a fight that shouldn't be, but sadly - is. Please show Braedyn, Jeannette and Shawn that their community cares about them as much as they do for their community. Please show them the same care, compassion and support that they would show you, if they knew you were in the same place as Braedyn.
To help get the word out, It would be very appreciated if you share this story with friends, family, and others who may be moved to help.
On behalf of Braedyn and his family, We thank you, from the bottom of our hearts for helping to make a difference!!!
Shawn and Carol Theriault 
Organizer and beneficiary