Help Us Get Abandoned Kittens Cared For!
$315
of $300 goal
Raised by
11
people in 1 month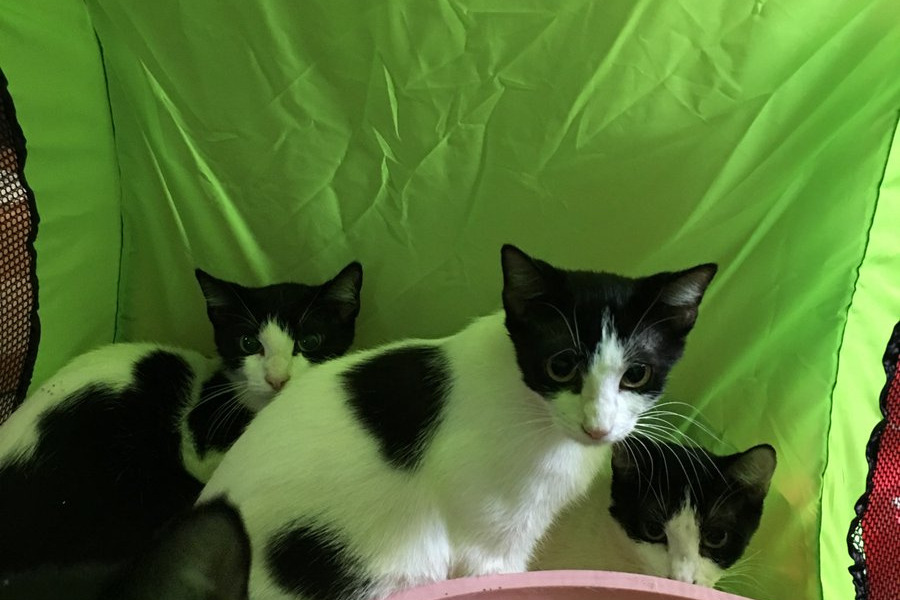 My spouse and I live in a deeply rural part of West Virginia. Last Saturday night (07/13/19) somewhere past midnight, someone abandoned four kittens in a small, single cat carrier on our property. They were left in our driveway, close to the main road, crammed in together in this dirty cage with no food or water.
The kittens are most likely feral, judging by their behavior. They are between 6-10 months old by my estimation. Since we don't know where they came from, we have no way to return them to their original colony (as experts recommend you do with ferals once they're fixed and vaccinated) but our property is remote and not heavily trafficked, with lots of field, forest, and a large creek just across the back pasture. We feel the kittens will be able to begin a new colony in our vicinity without much trouble.
My spouse and I are very poor. Before we can do anything with these poor kids, they will need rabies vaccines, and they will need to be spayed/neutered. There is a clinic a few hours away which will do this for low cost: $45 per kitten for alteration, and $15 per kitten for the vaccine. This comes out to a total of $240. We are asking for this amount, plus an extra $60 for gas and transport to the clinic. We would be very grateful for any assistance you  can offer.
These kittens did not ask to be abandoned, or even to be born into a situation were they couldn't receive the care they need. Right now, they are living in our shed (which is well ventilated and shady) in two canvas dog carriers. We are feeding them and ensuring they have a constant and abundant supply of water, but this is all we can do. We have four cats of our own, so we cannot bring the kittens inside for care. The sooner we can raise this money, the sooner we can get them situated.
Thank you so much for your interest and care.
+ Read More
You guys have fully funded us and a little extra! Thank you all so, so much. The first kitten appointment is on 7/31, and I'll be scheduling the second (they do two at a time) at that time. I'll post receipts and other proof of the appointments once I have them. Thank you again!
+ Read More
First of all: thank you all so, so much for coming through on this! We have about $45 dollars to go, but I've gone ahead and made appointments for two of the kittens (the clinic only does two at a time and has limited slots) for the 31st, next week! They'll be going here:
https://www.hartforanimals.org/harthelp-low-cost-spayneuter
I'll keep you updated!
+ Read More
Read a Previous Update