Help Toni Taylor Fight Multiple Myeloma Cancer
Hi, my name is Toni. I'm a single mom of a beautiful 17-year-old daughter and I am currently fighting Stage III Multiple Myeloma. I am in need of your support to fight for my life so I can beat this diagnosis and be an amazing mother to my daughter, Ariana. Ariana lost her dad when she was only 8 years old to a stroke, so your support will help me be as physically and emotionally present with her for as long as God will allow.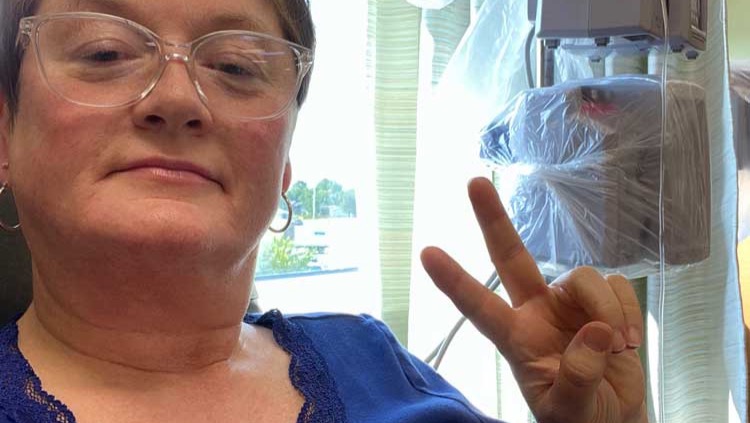 GETTING A CANCER DIAGNOSIS
If you haven't heard of Multiple Myeloma (MM), it's where cancerous plasma cells accumulate in the bone marrow and crowd out healthy blood cells. MM also weakens your bones, making them very brittle and extremely painful. It all started the last week in October 2019 when showering. I bent over to pump facial wash into my hand and it felt as though I was kicked by a horse. I was originally misdiagnosed with a pulled muscle and treated with muscle relaxers, pain meds, and anti-inflammatories and sent home to heal. After waking up in the middle of the night in excruciating pain on December 19, 2019, I was rushed to the ER by ambulance where x-rays revealed my back was broken. More medications were given and again, I was sent home to heal.  A follow up Dexa scan showed I had severe osteoporosis at only age 50. 

On January 21st, 2020 during a routine visit to my Endocrinologist, I discussed my recent broken back and osteoporosis diagnosis. This info combined with the labs my Endocrinologist had done made him order a barrage of new tests that included more blood work and a bone marrow biopsy. I was told not to worry until we got all the results back and almost a month later, on February 18, 2020, I was finally diagnosed with stage III IgG Kappa Multiple Myeloma Cancer (MM).
STARTING CHEMO TREATMENT 
I started my first chemo treatment on March 13, 2020 and unfortunately was so anemic I had to have a blood transfusion before I could be administered any chemo meds. Treatments consisted of weekly visits to the infusion room that lasted anywhere from 5-6 hours to receive the IV chemo drug Kyprolis. I also received a monthly infusion of Zometa, a drug designed to prevent my bones from being broken down. I was also prescribed an oral chemo drug, Revlimid, that I took for 21 days straight, then had a 7 day break. I did 5 rounds of this chemo regimen (5 months) and had a very positive response and therefore was placed on "maintenance" doses of the Kyprolis and Revlimid. 
In October of 2020 I began developing pain in my left hip and butt cheek that ended up being a "mass", or what's called a lesion in multiple myeloma. Due to the size and severity of pain, I received 10 days of targeted radiation therapy to reduce swelling, pain, and MM cells in that area. The growth of this large lesion meant my current drug protocol was no longer effective and I was switched to a weekly Darzalex shot and the oral drug Pomalyst taken 21 days on and 7 days off. 
TREATMENT OUTLOOK
I continue to receive treatments from my primary oncologist at KU Medical and a local oncologist at Golden Valley Memorial Hospital (GVMH). I am so very thankful and maintain confidence in my team, but current chemo-based treatments for MM yield an average of 12-24 months before the cancer becomes resistant and the drugs are no longer effective. I'm fighting hard and continue to maintain hope, strength, and faith that I will be healed. My oncology team is currently considering a clinical trial for CAR-T Cell therapy or possibly a stem cell transplant as a means of giving me more possibilities with longer lasting results, but all chemotherapy treatments are toxic to the human body.  

Receiving chemo will make anyone immunocompromised but the Pomalyst drug specifically tanks my white blood cell counts putting me at extreme risk of infection of any kind. My white blood cell counts have dropped so low that I was unable to receive chemo treatment and instead was administered shots to boost my bone marrow to produce new white blood cells, all the while having to quarantine. This is very scary for me and even more so during this crazy Covid pandemic! I need my immune system now more than ever to continue this fight, which is why it's so very important for me to do whatever I can to keep my immune system as healthy as possible!

HOW YOU CAN HELP
Your support will allow me to seek out alternative treatments from The Riordan Clinic in Overland Park, KS. This clinic is based on functional medicine and your gift will help me get in-depth nutritional lab testing, a comprehensive medical evaluation, and the utilization of a variety of holistic, non-toxic treatments customized specifically for me that will allow me to build and strengthen my immune system so I can be as healthy as possible. Not only will these treatments make me stronger to continue fighting this cancer, they could be the cure! Knowing these treatments could keep the multiple myeloma at bay and extend my life so I could live to a ripe old age is inspiring. It would be devastating to miss out on treatments that could save my life simply because of cost, which is why I need your help to pursue this amazing opportunity. 

A typical 3 weeks of treatment at the Riordan Clinic can range anywhere from $6,000 - $15,000, not including ongoing/maintenance treatments. None of these treatments are covered by health insurance, but your donations will help me pay for them along with travel expenses to and from the clinic.

I cannot do this alone, which is why your support is so important to making these necessary treatments possible. No donation is too small and a gift of $20 can make a huge difference!  
If you are unable to donate, I ask that you share this page and/or pray for me. Support can come in so many ways and I'm grateful for everyone's well wishes, prayers, and encouragement.

#HelpToniFightCancer #ToniStrong #GoFundMe #multiplemyelomaawareness #multiplemyeloma 


Fundraising team (2)
Toni L Taylor 
Organizer
Raised $1,580 from 22 donations
Clinton, MO
Jason Watkins 
Team member
Raised $500 from 5 donations