Help the flood victims in Vietnam
My name is William Scaltriti, I'm 50 years old and I live in Erba, Italy.

I am an educator by profession: I work in Brianza, with disabled students and people in difficulty, including economic ones.

Since 2014 I have been married to Hoa , a Vietnamese woman whom I met in 2012 in Vietnam, when I was working for the Italian Cooperation, in a project aimed at disabled people in central Vietnam.

As I write to you, the clock strikes 22.59 on Tuesday 20 October ...

In Vietnam in Van Hoa , the central province of Quang Binh , it is 4 am.

Soon my father-in-law Hoe should be up to start his day… but he isn't.

Since last week , central Vietnam has been devastated by a series of rainstorms and floods, which have already killed hundreds of people and destroyed towns, villages and families.



On Sunday my wife showed me pictures of a father who was taking the corpse of his dead son from the water and holding him tightly, how he could wake him up by hugging him tightly.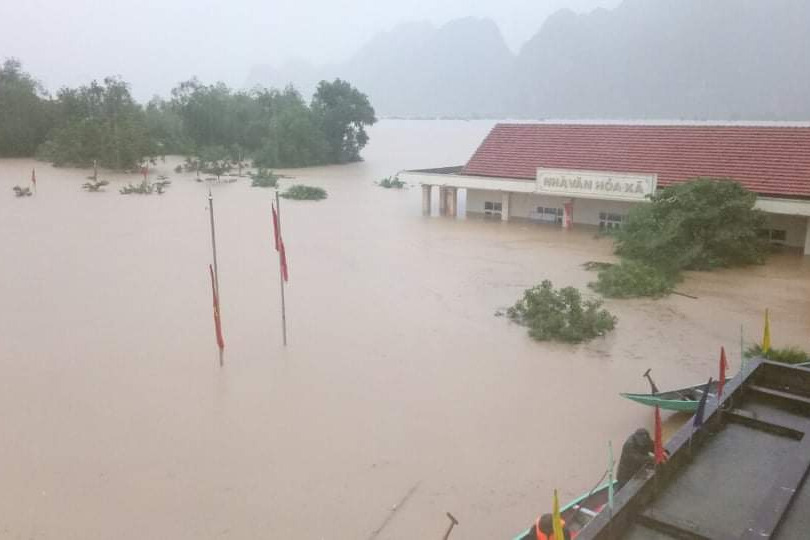 Today my wife has sent me a photo on Whatsapp of a little girl from the areas of floods, crying as she retrieves her school books from the muddy water...I'm a father (two little daughters) and I can't help wondering what it can feel like if something like this happens to me.

That's enough! I cannot witness what is happening without thinking of doing something ... without thinking of at least trying!

Of course, I married a Vietnamese woman, I have a special relationship with that country. I cannot and do not want to be indifferent.

I want to do something ... not only for my relatives (my in-laws, my sister-in-law, uncles, grandmother almost 90 years old) but for the municipality of Van Hoa , a rural village at the foot of the Quang Binh mountains , which look a little like our Resegone.

I thought of launching a fund raising campaign because I want to raise funds to help the village of Van Hoa .

At the moment I know of at least 1500 families missing everything: house (submerged by mud and water), work (farmers who make a living from harvesting rice and raising animals), drinking water and food!

All destroyed by a sequence of typhoons and floods that seem not to want to give up anymore.

I thought that maybe I will find other people who like me do not want to remain indifferent. Of course there is Covid-19 here ... but " fuck Covid !" you will not prevent me from being human, from being close to these other human beings on the other side of the world who are suffering as much and more than me!

If you want to help me, it doesn't take much: with 10 euros we are able to give a survival kit (drinking water + rice) for a day to a family of 4.

For this initiative, I decided to ask Alfafin for help , a non- profit association in Milan that deals with financial literacy and of which I have been a member, together with other friends for almost a year.

Alfafin offered me its willingness to support Hoa and me in this campaign, organizing and coordinating the fundraising we have launched and guaranteeing maximum transparency.

Today I heard the mayor of Van Hoa : he thanks me that we have a thought for them.

He thanks us for the heart we have.

I thank you in advance and look forward to your help: I ​​know that there are still many people capable of giving without reserve and with generosity .

Thanks again for what you want and can donate. Thanks also on behalf of the Vietnamese people.

United we will be able to overcome the adversities that are putting us to the test.

As the lyrics of a famous song say , "love has won, wins and will win!"

 
Williams Scaltriti

------------------------------------------------------------------
The letter I received from the local Red Cross with the datas: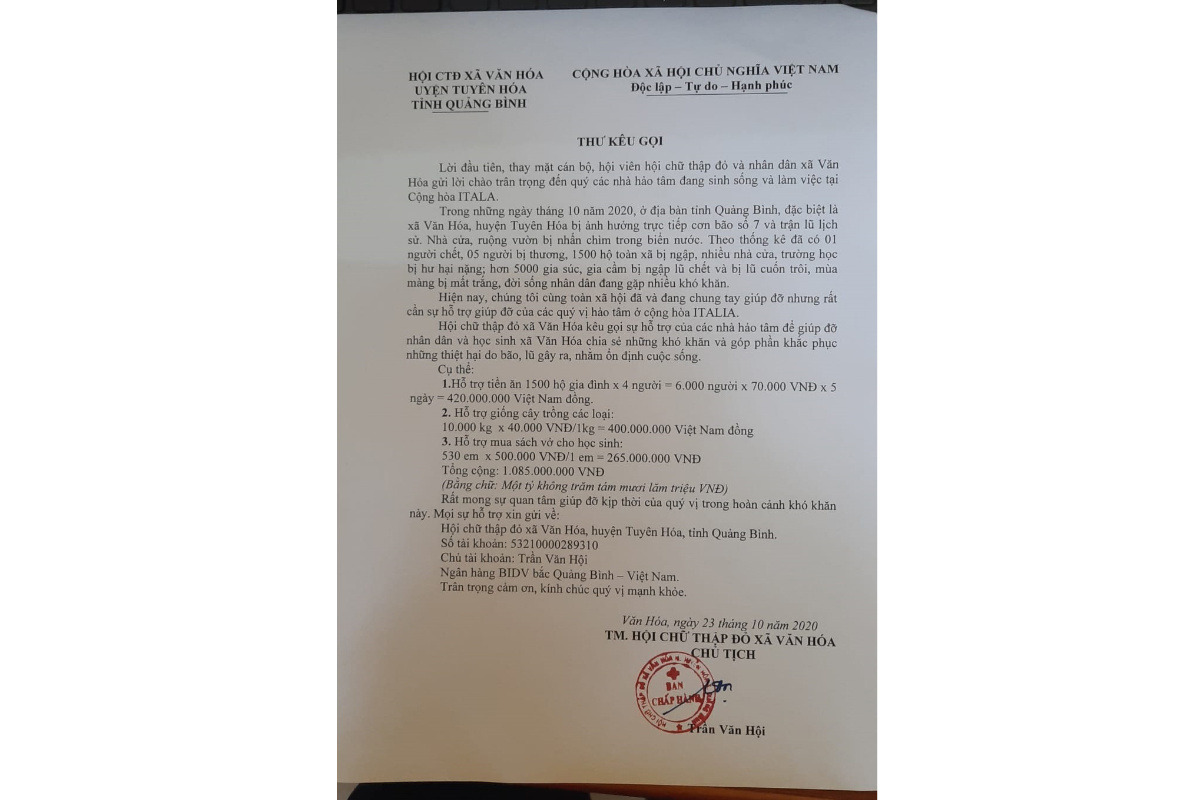 The translation:

Vietnamese Red Cross

Van Hoa, Quang Binh

Vietnam


Subject: request for help

Van Hoa Red Cross greets all the people who are coming to our aid from Italy and the world.

During the last days of October, the province of Quang Binh and in particular the municipality of Van Hoa and the municipality of Tuyen Hoa suffered the effects of storm n.7 and floods. Houses and cultivated fields have been submerged by water.

According to the monitoring carried out, 1 person died in the municipality of Van Hoa, 5 were injured and 1500 families were flooded.

Homes and schools were badly damaged. 5000 units of cattle drowned.

All the harvest has been completely lost and most of the citizens are in great troubles.

Whole Van Hoa community has mobilized for help, but needs external support.

Van Hoa Red Cross asks available people to help citizens, students, the municipality of Van Hoa in supporting their efforts to address the situation and the damage caused by floods and restore the conditions prior to the tragedy.

These are our needs in detail:

⮚      6000 people need food and drinking water (the economic requirement is about 16,000 euros per day);

⮚      To restart the crops, 10,000 kg of seeds are needed, for a total value of 15,000 euros (40,000 VND / kg);

⮚      To restart school lessons and teaching activities of 530 students of the town hall, 20 euros per student are needed (approximately 10,600 euros)

We look forward to your help in this difficult time!

All aid will go to Van Hoa Red Cross, on behalf of Mr. Tran Van Hoi (President of the Red Cross).


Thanks for your help.

We greet you cordially.

Van Hoa, Quang Binh, 23 October 2020

The President of the Van Hoa Red Cross: Tran Van Hoi
Fundraising team: United for Vietnam (4)
AlfaFin- Associazione Culturale Alfabetizzazione Finanziaria
Organizer
Milan, Metropolitan City of Milan
Williams Scaltriti
Team member