Help Support Sam and Britney
Hello my name is Britney.
My husband, Sam, of 5 years has spent his life fighting. From being born with Spina Bifida causing him to be wheelchair bound to deep pressure wounds that recently forced him to have his right leg amputated.  Right now he has been in the ICU trying his best everyday to get better.
Life for us these past 3 years have been harder than we ever imagined.  Only a few short months after moving back to my home state of Rhode Island his wounds went from healing to crippling. Unable to work do to pain, Drs apointment and home health nurses mulplitple times a week I have done the best I could to support us by taking on any and all responsibilities myself.  Living with my mother for a short time to try to save up to move out didnt go as planned. Finding an affordable place wasnt as easy as we thought with him being unable to work.  Only for things to slowly go from bad to worse. 

(Sam and our cat Gideon)
Knowing Sam had to lose his leg to try to contain his infection was scary enough but after going to the hospital early because his wounds were getting worse, we found out he has more life threatening issues than we ever knew.
After spending days in excruciating pain it came to our attention that Sams only kidney was shutting down do to a very large kidney stone. The infection from his leg and kidney proceeded to ravage his bloodstream causing him to go Septic (very deadly blood infection). I truly though I was about to lose my husband that day. My fears did not end there nor did Sams pain. Now placed in Surgical ICU we then found out that the infection has spread to his lungs causing fluids to build up in and around them. In pain from the amputation, his kidney and now unable to breathe and not being able to do anything but watch him suffer I did the only thing I could do, stay by his side day and night praying he will be ok. Without being able to breathe on his own Sam was next put on life support in hopes his body can rest and start to heal. As of 8/3/17 he was able to come off of life support but the fluids and infection are still very much an issue.  He continues to fight everyday just to be able to get air in his lungs and will continues to fight the infections and healing of his pressure wounds for months to come. His battle is very far from over.

(Sam getting much needed rest)
Thankfully I have been able to take time out of work but after a month of not being able to bring in any money bills are starting to pile up and any savings we managed to scrimp are virtually gone. I am barely able to leave the hospital for more than a couple hours a week much less multiple hours a day to work. The fear of how quickly his health declines is very much real in my heart and I couldnt imagine not being by his side through the hardest time in our life we have had to face as of yet.
Therefore I ask for your help in support of Sam and I as we take this tough road ahead. The money will go to things such as gas to and from the hospital/Dr appointments, bills, food, disabled housing in the future, a new wheelchair/sports wheelchair, handicap accessable vehicle and everything else life requires. Any contribution is appriciated and will allow me to spend as much time as needed with my husband without having to constantly worry about money.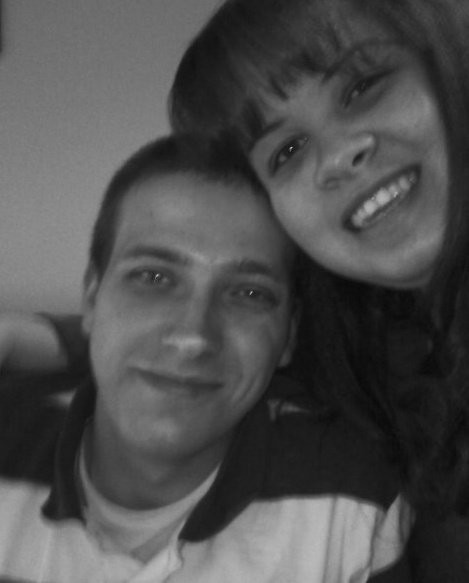 (Sam and I)
Thank You in advance for any donations we receive.
Sincerely,
Britney and Sam
Organizer