Help Support Marcellus' Family
Hi Friends of Marcellus,
Everybody loved Marcellus. He had a heart so big that he kept all our hearts inside for safekeeping.  We loved him for his skills in the culinary arts and ability to make us smile and laugh. He was a provider of love and good vittles.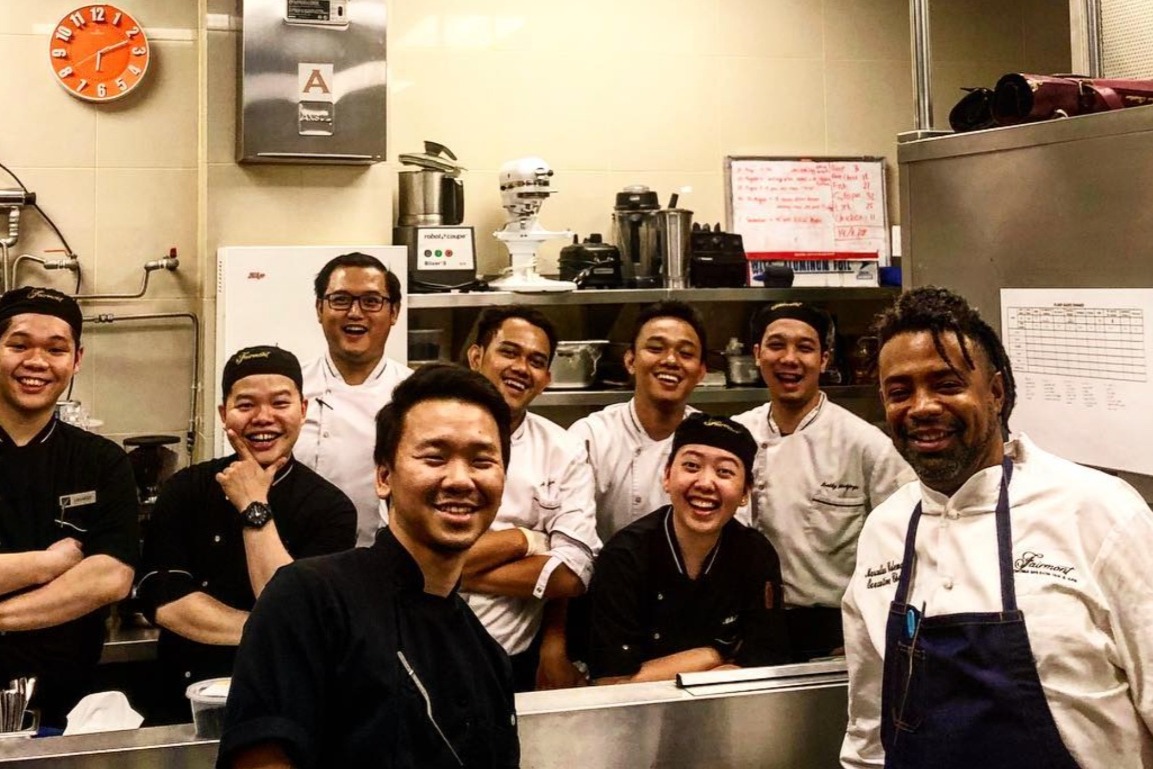 Whether he was half-a-world or across the country away, he was always just a FaceTime away and made the time for each of us to renew that love and to offer support. His passing is tragic, unexpected, and truly heart-breaking. He is leaving behind a hole in our consciousness as wide and as deep as the depth of his love was for us.
Marcellus strove to be the best at what he did, and challenges were surmounted simply, like the next task at hand.
He was always there for the good times, and didn't shy from the bad times, of which he himself had a few. Throughout, he had our backs, and when able and allowed by him, we had his.
When time came, he threw on his apron and got to work, whether it was for employers, friends, strangers, or family. He was a superhero, who always stepped up for the cause. As his best man, and he, mine, we were problem-solvers and supports to make each of our days the best imaginable for our families.
That really was one of his life goals, to make THIS day the BEST day.  He made so many of our days better, and made so many of our days unforgettable.
So it is with a sad and desperate heart that I wish that we can make his goals and wishes a reality, even without him.  He loved his children above all--Maddox, Zenia, Marcus, and Jasmine--and his new puppy Lucy Lou, too. He always had room for new friends and cherished his old. And he loved sharing his passion for food.
He did his best to support family, all while striving to be the most successful Chef he could be. He was becoming a pillar in the culinary world, especially for Black Chefs, and he worked with and for some of the greats in the industry.
He was featured on television on The Food Network and in books like Black Toques, podcasts by AfroPunk and so many competitions: Lamb Jam, Battle Chefs, Chopped, and Iron Chef America.
His food knowledge was expansive and his cookbook library was massive. He had a recent dream of starting a cooking school that would serve the dual purpose of educating homecooks on the fine culinary arts and teaching underprivileged kids the love of cooking. He was really coming into his own.
We will be celebrating him for the rest of our lives, and with your help, we can do that in meaningful ways for his children, family, and his community. 
He leaves behind no debt, but was unable to put away funds for his children. He was a rolling stone, with the constant upward mobility demanded of him in this field, he gathered no cheddar.  It is my hope that we as a community can pull together the resources to assure his daughter Zenia can finish college, and that 7yo Maddox has her needs met as she faces a life without her father. His eldest Jasmine will need the occasional help as she forges through young adulthood, and as his son Marcus begins a career in business, he will also occasionally have needs that his father won't be able to provide. Their mothers need to focus on providing them with the extra love and support that will be absent from now on.
Marcellus' sister Shayla will be setting up a foundation for scholarship, and is organizing other memorial projects as well, so keep in touch.
With all of this in mind, and with the love you have for Marcellus, please make a donation to help the children of Marcellus Coleman into the future. All funds (100%) will be distributed to his children.
Marcellus and I go back more than 20 years.  He was my best friend, and as an adoptee had "adopted" me back as his "brother."  We've been thick as thieves over the years, working together, being each other's Best Man, living together multiple times, even living together at my parents' house when between apartments because some racist landlord cancelled our lease. He called my mom, "Mom," and she loved him back. We had a really happy existence despite the difficulties of living with the parents, and we bounced back to independence.  Over the years, we always made sure to lift each other up as life went on. He, in his ways, attention and quality time and me in mine, advising and aiding.
One of the love languages I speak is Acts of Service. As such, when time came to show my love for Marcellus, I chose, even felt compelled, to act in the service of his family. I knew I had a set of certain skills, and I would use them. I flew to Seattle at the request of his son Marcus to help with anything/everything as Marcellus lay in the ICU. As a Nurse, I knew I could use some of the Palliative and Hospice Skills I acquired, that I'd be able to translate the medical language and diagnoses, and that I'd be able to be a listener and support to his four children and 2 mothers of his children.  I had no idea what would unfold. But I knew they would be better off if I could help them through the uncertainty. I did my best trying to relate to a child, a teen, and two young adults, and two women without a father to their child.  I think I did okay, but we'll never know how it could have been worse than it was...Because it was horrible...to see our friend/father/partner beyond our and the medical world's help. Packing his apartment and belongings up was heart-wrenching, as we reminisced, and funny, as we remembered and laughed and loved and cried. If Marcellus was one thing, and he was many, he was one funny guy! I miss his smile and laugh so much.
He was TRULY family, and the only brother I've ever known. I'm still dealing with the heart-break of loss.  Grieving is a funny thing: psychiatrists had to develop stages to begin to explain it, it's so complex. I've been through the stages, bounced back and forth between a few, and gradually moved out of grief and into empty and lonely resignation, such as life is…
But you have to keep doing the things that make you feel good, alive, thankful, and purposeful!
One of the ways I've dealt with my grief is by trying to connect his children with the community he developed, letting them know that he was deeply loved and influential, and that just because he is gone, doesn't mean they are left without his love...and you all have proven this!  While love doesn't equal money, it's symbolic of how you feel about his offspring (whom many of you have never met, and may never). So, I thank you.
When I was in my early 20s I was given $5000 by my grandmother. I bought a Toyota pickup truck which I used for work throughout college, paying my bills and making a living. This same truck allowed me to tour the country and 36 National Parks after graduation. It was a geologic/anthropologic and photographic journey of 7 months, from which I then had gallery shows of my photography and began a career as a freelance photographer. All with that seed-money from Grandma. 
My intention with the funds is to provide some seed-money for the kids. Something with which they can build their dreams and make investment in their goals, and to have them know that it came from You, Marcellus' community, which by extension is now their community. 
I intend to divide the funds equally between the four children with 100% of the funds minus the percentage GoFundMe has earned. As there can only be one beneficiary of the fundraiser, I have asked that they authorize me to withdraw the funds on their behalf and deliver the money to them outside of GoFundMe, I will send a check. I am working on a gift letter to accompany the checks.
We are now the village that it takes to raise these kids.
We appreciate and thank you for any and all donations. 
With deepest devotion to Marcellus,
Ian Sandham - his brother, best man, and forever best friend.

Organizer
Ian Howell Sandham 
Organizer
East Providence, RI
#1 fundraising platform

More people start fundraisers on GoFundMe than on any other platform. Learn more

GoFundMe Guarantee

In the rare case something isn't right, we will work with you to determine if misuse occurred. Learn more

Expert advice, 24/7

Contact us with your questions and we'll answer, day or night. Learn more