Help Sawyer and Daxton on Their journey
Pause for a moment to imagine knowing all your children will die before they become a teenager.  What does this look like in your heart and mind right now? Imagine waking up to this reality every morning.  Lying in bed at night knowing this is what the future holds for you.  When other 4-year old's are learning new words every day and talking in sentences, yours slowly begins to lose their ability to speak.  Then a couple years after is unable to walk and needs a wheelchair.  Then, before they become a teenager, they are gone from your life. 
Early last year, Cory and Jason(Mom and Dad) were sitting across from their doctor when he gave them the news.  Their son was diagnosed with an incurable disease.  That night they went home and prayed until early the next morning.  When they went back to the doctor that next day their prayers were not answered.  The doctor gave them the devastating news, not only did their oldest son have this disease but their youngest son had it as well.  
Early last year, Cory and Jason were dreaming of their future with their 2 beautiful boys Sawyer (4 years old) and Daxton (2 years old).  Dreaming of where they would go to school.  Dreaming of coaching their little league teams, and what their lives would become.  In just 2 days, their dreams were turned into nightmares, and all of this was taken from this family.
We need your help in providing the best care for these boys, who were diagnosed with a devastating fatal disease called Mucopolysaccharidosis type II (MPS II), or Hunter Syndrome.
Hunter syndrome only affects 2,000 people worldwide, 500 of whom live in the US. 1 in 350,000 boys are affected with Hunter Syndrome. It is an incredibly rare disease. There is no cure for this progressive disease and eventually, Sawyer and Daxton will stop growing, learning, and progressing in their skills.
It affects all parts of the body including joints, muscles, growth, difficulty with speech, hearing loss, and severe lung and heart problems. It also causes neurological problems and loss of cognitive ability.
Children with this disease typically develop fatal complications by the time they're 10 years old.
Here is a link for more information on Hunter's Syndrome, Sawyer and Daxton are featured on page 5. 
https://online.fliphtml5.com/qbhon/xtcd/?fbclid=IwAR3MREETEaspca_Evwv63R5fVunPkOYS82c11nYNJrsV6gCPoNVgOXh3SIw
A little about the boys:
Sawyer is so full of energy and life. He is always grabbing for someone's hand and dragging them to play.  He loves riding on the tractor with papa. He will go get his shoes and hat for him and pull him to the door.  His attention span is short, but he really loves to play. 
Sawyer loves to sing songs, even though he can't articulate the words. He loves his little cabbage patch baby and brings it everywhere with him. Sawyer's super protective of his brother. Even though he likes to wrestle and rough house with him, he can't be separated from him without calling his name or asking for him to come to his room.  Whenever Sawyer goes to school, they absolutely must bring little brother Daxton from the car with them or Sawyer will bawl his eyes out. 
Sawyer loves sneaking into the cheese slices from the fridge. When Cory and Jason wake up, they sometimes find the fridge open in the morning and a piece of cheese on Sawyer's pillow with a bite mark in the plastic. 
Sawyer already can't articulate his words very well.  He cannot put together a sentence. He can say some words, but it's often difficult to know what he wants or is asking. His speech is regressing quicker than what was expected. He has already been fitted for hearing aids since his hearing is regressing.  
Daxton always has a smile. He is the sweetest little boy, and he's always so happy.  When Daxton gets excited, he pumps his arms and bounces up and down. 
Anyone that has ever met him, or even walked by him in the grocery store, is melted by his smile. It is rare to catch Daxton without a smile. He loves giving hugs and cuddling when watching movies. Daxton's favorite thing right now is watching Toy Story and eating granola bars. 
These boys are not like other kids their age.  They cannot communicate or understand the same, but they love to play and laugh.  
Why They Need Your Help
Sitting on their hands and waiting for everything they love to be taken from them is not a life anyone wants to live, especially Cory and Jason.  So, they dove in, and reached out to doctors, researchers, scientists, specialists and families across the country and the world and found out there is more that can be done.
With all their reaching out and becoming fully immersed in finding solutions to prolong their boys' lives, they found a clinical trial.  
The trial was full for this year and there was little hope that Sawyer or Daxton would be getting in, but they put Sawyer on the waiting list. They received a call just before Christmas to notify them, not only did Sawyer get in but Daxton too. 
With this new trial, they will be getting a new enzyme replacement therapy.  This therapy could cross over to the blood brain barrier, which may help slow down the mental and cognitive regression they will experience. Leading to longer and a little more comfortable life span.  While this is still not a cure, this is the best possible news they could get. A true miracle. 
Along with this trial are countless specialist and medical appointments every month.  
Appointments for Sawyer and Daxton's ears, bones, throat/nose, heart, lungs, eyes, joints, and digestive tracts.
Speech and Occupational therapy for 2 hours/week
Special Education preschool for 3 hours/day for 4 days/week
Sawyer and Daxton get an infusion every Wednesday that takes 6-8 hours that will continue for the rest of their lives. 
They get countless cat scans and MRIs.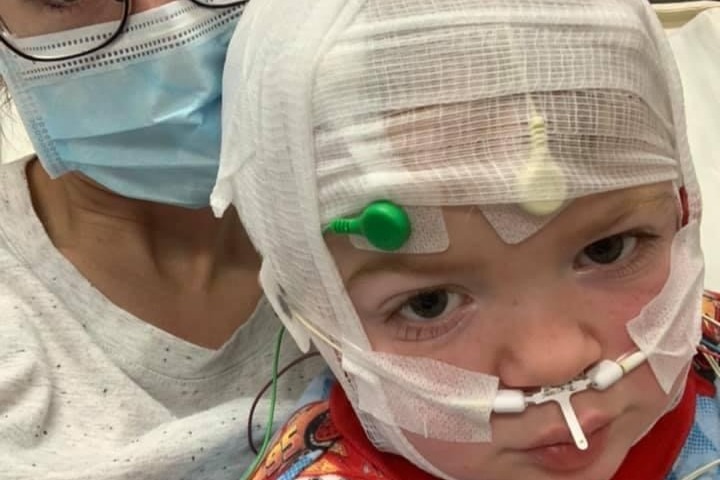 Sawyer and Daxton are also getting hearing aids in the next 2 weeks.
Both Sawyer and Daxton have recently went under anesthesia for different procedures in the last couple of weeks.  While they do have insurance, the anesthesia bill is not covered, which means an almost $3,000 bill is on its way. They will continue to go under anesthesia many times for the rest of their lives.  This is just one example of what they face financially. Their flex and HSA accounts are exhausted, and they are still catching up on previous medical bills.  They have received thousands in medical bills so far and they will have to pay tens of thousands of dollars out of pocket.
What Can You Do?
Now that you know Sawyer and Daxton's story, here is how you can help.  Cory and Jason would lay down their lives for their kids. They would do anything in their power to help make their children's lives better. They have received tens of thousands of dollars in medical bills in this first year. There will only be more doctor visits, more specialists, and more bills to come. They will pay tens of thousands of dollars a year out of pocket to provide medical necessities to Sawyer and Daxton.
With all these appointments, specialists, and with the clinical trial starting, Cory must step down from her job to better care for the boys. 
It's very rare a family could be financially prepared for a nightmare like this.  Your donation will help Cory spend as much time as possible with Sawyer and Daxton.  For the short window of time they have their current abilities, it is vital Sawyer and Daxton have their Mom by their side.  Not just for their appointments but for all their remaining life moments.  Sawyer and Daxton need their Mom, and you can help ensure Cory has this time with them. 
Your donation will also help with the thousands of dollars in medical bills, travel expenses and any upcoming unforeseen expenses.  Even $5 and/or you spreading this message will go such a long way in helping Sawyer and Daxton and this family on their journey.
If you would like to follow Sawyer and Daxton's Journey, Cory and Jason have set up a Facebook Group. Click the link below and request to join if you are interested. 
https://www.facebook.com/groups/2579972992112041