Help Save The Brighton Avenue Cats
It's been a very rough week for some of our newest Feline Rescue Association kitties.  Several of our volunteers were asked to look into an alley in West Baltimore that had many cats and kittens who needed to be TNRed and/or fostered.  Little did we know that we would find seven litters of kittens, including a paralyzed kitten with a BB pellet lodged in her spine, a kitten that appeared to be crushed to death, and many sick cats and kittens in need of medical attention.  As of now, we have removed the following cats/kittens:
1) Four ten-day-old kittens who are being bottle-fed.  Three of them have eye infections that are healing well.
2) The paralyzed kitten.  Sadly, she had to be euthanized.  She had no bladder or anal control; there was no hope for a happy and healthy life for this sweet girl.
3) Four kittens ranging from 6 weeks to 4 months old.  Buff and Blue (pictured below) been hospitalized for the past several days for severe URI's and secondary infections.  Buff Boy has a fever of 104 and has stopped eating.  Blue (pictured behind Buff Boy) is doing better.  His fever has gone down to 101 at this point.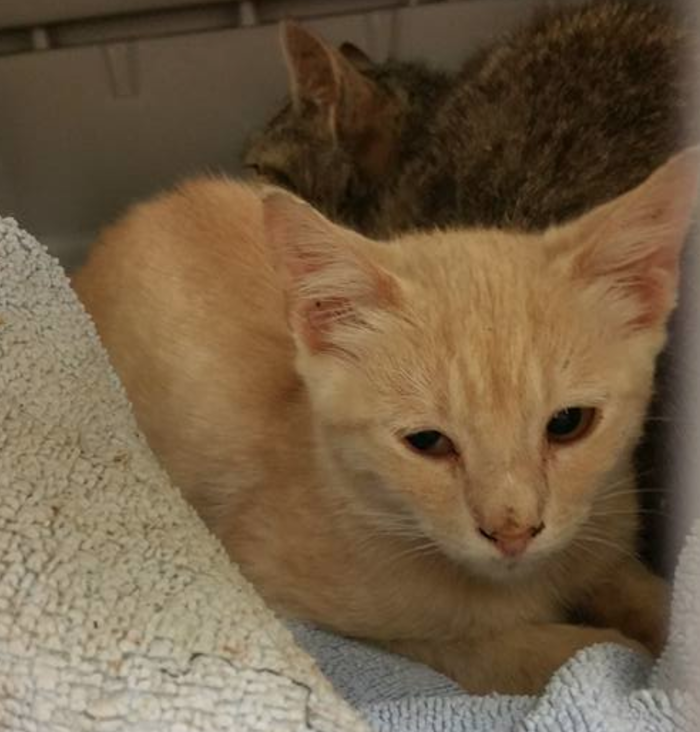 Lula and Roe (pictured below) have healthy appetites, but Lula has a severe eye infection.  There are still 3 others from their litter that need to be rescued, as well as a very friendly mom.
4) A young adult cat, Indi, with severely matted fur, approximately half of her teeth missing (hence the tongue sticking out of her mouth), and a URI.
There are 5 more litters of kittens, as well as numerous adult cats at this site who still need our help.  Our bills are already adding up and we've only just begun.  We do not, believe it or not, put out a plea for every cat for whom we provide extraordinary medical care (often in the hundreds of dollars) -- but times like these we really cannot bear the financial burden without the generosity of other cat lovers.  We do our best to take in cats in need and we need your support to continue to help the Brighton cats and place the remaining ones in foster homes.
Simply put, we cannot do this without your help. Please give whatever amount you can to help us take in more Brighton cats, and allow us to continue our life-saving work with stray, abandoned and homeless cats.
Thank you!
Organizer
Feline Rescue Association 
Organizer
Reisterstown, MD

The Feline Rescue Association, Inc.
Registered nonprofit
Donations are typically 100% tax deductible in the US.