Help save our Museum and Carriage collection!
Century House Historical Society
is a small, volunteer run organization whose mission is to preserve the industrial history of the area, the immigrant families who made it possible, as well as maintain the Snyder Estate and its collections. The Estate is a community resource that has much to offer. On the grounds there is access to the only historic cement mine in the country open to the public. The Widow Jane Mine was used by the Snyder family to mine limestone which was fired to make natural hydraulic cement. The cement was used in many historic structures of the 19th century. The base of the Statue of Liberty, the Brooklyn Bridge, the Flat Iron Building and the NYS Thruway just to name a few. It all started here!!
In addition to the mine the Estate has many other points of interest. We have twenty plus acres of wooded trails with amazing landscapes, a battery of kilns, a D&H Canal slip, an antique carriage collection, the Century House as well as our Museum. 
 We have been working hard over the past couple to years to improve the site. With the help of the community we got the lights back on in  the Brooklyn Bridge Gates as well as the other necessary repairs. Thank you all who helped us achieve this goal.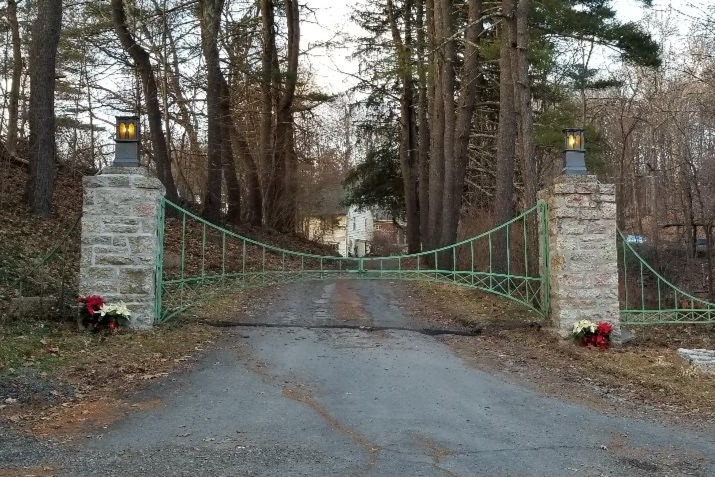 The Century House was included in 2019
Wallkill Valley Land Trust
  open house tour.
This was no small feat. We took the Century House from this
to this, in record time!
There is still much to do. This is the first thing guests see when they arrive on site. Three quarters of the building is being supported by temporary columns.   This building houses our Museum and the majority or our archives. Additionally, our Carriage Barn is desperately in need of a new roof. All the buildings need gutters and a fresh coat of paint.
Estimates are in place and a majority of the supplies that are needed are already on site.  Please help us restore the Museum buildings and continue the preservation of vital New York history. Let's work together to give the history a future!