Help Save Khaleesi's Life
Khaleesi's story
 I got Khaleesi when she was 8 weeks old, and I decided to name her "Khaleesi" after the powerful Queen in Game of Thrones.  I soon realized, though, that this formidable name didn't really fit my new puppy who was shy and quiet.  She didn't seem to have the spirit of a warrior, and she never, even once, yelled "I am the Mother of Dragons."  To the contrary, Khaleesi was a gentle spirit who loved gazing with googly eyes at her people.  In fact, she was so quiet and well-behaved that I routinely took her with me to work, where she would sit quietly for hours in my desk drawer.  When I got Khaleesi, she was supposed to be a standard-sized Yorkie, but instead, she ended up growing to only 3 pounds.  She was exceptionally smart, though, and she excelled at learning new tricks and obedience work.  Other than her small size and problems with low-blood sugar, Khaleesi appeared to be a normal puppy.  She loved playing with her sister, Cosette, and sitting at the window to watch for squirrels (who often outweighed her).
The First Signs of Illness
On the night of June 13, 2017, Khaleesi started to seem dizzy, but because of her low-blood sugar, I thought she needed sugar and I gave her some Karo syrup before bed.   The next morning when I woke up she seemed worse.  I immediately took her the vet, but with every minute, she seemed to get worse.  My vet sent me immediately to the Center for Veterinary Specialty in Lewisville because her neurological signs were so severe he wanted her to see Dr. Ducote, who is one of the best pet neurologists in the Dallas area.  By the time, we got there, Khaleesi was labeled critical.  She stayed at the clinic in Lewisville for two nights where she received numerous diagnostic tests and medications.  Because of the testing that they had to do on Khaleesi, the visit ended up costing $1900, but the doctors were able to diagnose Khaleesi with a congenital birth defect called a Portosystemic Liver Shunt, which is common in Yorkies.  In short, Khaleesi had a blood vessel that was shunting blood away from her liver, and since her liver wasn't getting the blood it needed, it wasn't working.  This meant that the toxins that her liver was supposed to be filtering were going to her brain causing her neurological symptoms.  For the first three years of her life, her body was compensating in other ways for her problematic liver, but for whatever reason, she stopped being able to do that. The doctors recommended surgery for Khaleesi's problem, and they said that dogs who only have one shunt, as she did, have an excellent prognosis if surgical correction is performed.  In fact, the majority of the dogs who have this problem live a full, normal life after the repair.   Without the surgery, she would need ten doses of medication a day and would only live one or two years with a lot of discomfort and confusion from the poisons that the liver wasn't able to remove from her blood.
The Decision
I started Khaleesi on the medications, and she reacted very positively.  I thought a lot about whether or not I should put Khaleesi through the surgery, and since I knew that it could get very expensive, I hesitated just a little.  I have always believed, though, that part of the responsibility of owning a pet is to do the best that I can for that pet, even if it means sacrifice for me.  If I wasn't willing to make that sacrifice, then I shouldn't have taken the responsibility of pet ownership.  I scheduled an appointment with the surgeon who was recommended for the liver shunt procedure, and on June 20th, we met with Dr. Corbin at VCA Animal Hospital in Irving.  Dr. Corbin said that, based on how positively Khaleesi responded to the medicines, she would most likely have a very good outcome with the surgery.  I scheduled her surgery for June 29th, and I continued with the medical maintenance at home until then. 
Cosette on left and Khaleesi on right 
The Surgery
Khaleesi's surgery went well, and she woke from the anesthesia, which is always a risk for a liver shunt dog.  About two hours after the surgery, Khaleesi took a turn for the worse, though.  Her blood pressure and body temperature kept dropping.  In fact, the doctors couldn't even register a blood pressure for her it was so low.  I went immediately to the hospital, and the doctor told me she didn't really know that Khaleesi would survive the night.  The surgeon said that she could go back in and remove the shunt since it seemed to be causing problems for her, but I elected not to put Khaleesi through any more procedures.  I made the decision at that time to euthanize her if she didn't start improving quickly.  As I sat with Khaleesi at the surgical center, she gave me her paw, and the doctors were very surprised since she had been completely unresponsive before.  During the time that I sat with her, her blood pressure kept going up and up until they were finally able to get a reading.  She survived the long night after the surgery, and even though she was still critical, she seemed a little better the next day.  When I met with Dr. Corbin the first time, she had explained the risk of Portal Hypertension, which happened in less than 14% of the dogs who have the liver shunt surgery, and it seemed that this was what Khaleesi had developed.  The Portal Hypertension was causing her to lose a lot of blood through her GI tract and continued to make her case critical.  This diagnosis also meant that a surgery that was supposed to cost only $4,400 now would be much more expensive because of the critical aftercare. 
Khaleesi's Fight
On July 3rd, Khaleesi was moved back to the Center for Veterinary Specialty in Lewisville because she needed a few more days of additional treatment, and the holiday prevented VCA from having the staff to do the work.  She had continued to make small improvements, and they were planning on removing her supports one at a time.  As they started to do this, her body was responding positively.  The doctors have been very surprised at Khaleesi's will to live.  No one ever expected her to live through that first night, but since then, she hasn't regressed but has continued to improve a little each day.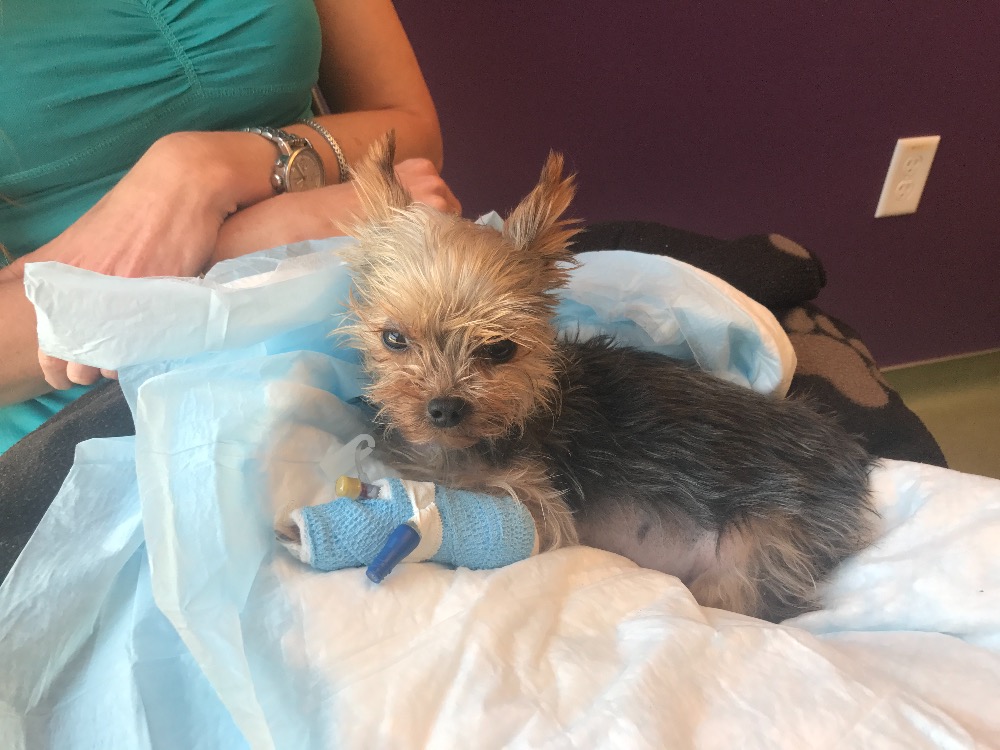 The Expense
Khaleesi's bill for her tests and diagnosis when she first became sick was $1,900. In addition to that, her final bill at VCA for the surgery and post-surgical critical care totaled $10,000, which brought my total to $11,900.  When she was transported to CVS in Lewisville, they asked me to leave a $2,500 deposit for the days she would be there.  At this point, I have spent $14,400, and I expect it to be around $15,500 by the time she leaves the hospital.  Her illness happened at a bad time for me since I am just recovering financially from a long and expensive divorce.  The one good thing to come out of the divorce was that I was able to take my wedding set and sell it to pay for part of her bills.  In fact, before she became critical, I was imagining that this would cover her entire procedure.  As I said, though, taking the responsibility of a pet means sacrifice, and so I want to take responsibility for what I can cover of her treatment and have only set my goal at $10,800.  As of now, I am charging all of her fees on credit cards. 
At this point, I am sure you are wondering why I kept going when the bills were getting so very high.  Well…the simple answer is this: I felt very responsible for the decision that I made to operate on Khaleesi, and because I made that decision, I didn't feel like I could give up on her when she was fighting SO HARD!  I decided that I would not continue with her treatment if she regressed, but she kept getting better little by little.  I didn't feel like I could give up on her because she wasn't giving up on herself. All of the doctors and nurses commented endlessly about her fighting spirit and her strong will to live, and it was at this point that I realized that Khaleesi's strong name was very fitting for her after all.   
Khaleesi and I both appreciate so very much any support you can provide.  
Organizer