Please Help Save Club Chalet!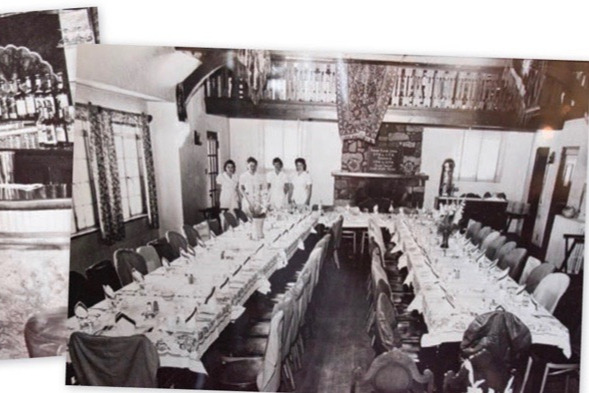 Please Help Save Club Chalet!  One of Wisconsin's Oldest Supper Clubs!

In 1946 Margaret and Alvin Vandesandy started their dream and purchased and opened what is called today Club Chalet.  In 1956 Bill and Janis Zimmerman purchased the property from their family and wanted to continue on the legacy of the family business.  Bill and Janis continued on the family legacy and lived on-site in the 2nd floor living quarters with their 8 children.  During this time the Chalet went through a catastrophic event that temporally closed the Chalet because of an explosion on site.  This destroyed the bar and blew out all the windows in the building forcing the Chalet to close its doors.  

Thankfully the Zimmerman's we able to pull together and make the repairs, build a new bar "which still is used today" and were able to reopen and save the Chalet from ill fate in June of 1962.  The couple and 8 children worked at the Chalet daily for many years until 1990 when Beverly Hafeman, a bartender and waitress of the Zimmerman's since the 80's purchased the property with her husband Steve.  Steve and Bev had a love for the Chalet and wanted to continue on the legacy that was built from the Vandysandy and Zimmerman family.  Steve and Bev's business was soon booming and at one point were selling more than 250 pounds of lobster a week!  More than any establishment in Northeastern Wisconsin alone!  Steve and Bev worked day and night in a cramped kitchen before Steve built on a new kitchen making it easier and faster to serve their customers. 

In 2004 the once busy hwy 57 that ran directly in front of the Chalet was expanded and moved directly behind the Chalet and the old hwy that once ran in front of the chalet was tore up and closed, making the booming business for the Chalet now a hidden gem.  Through all of the construction and hwy expansion the Hafeman's were able to to save the legacy of the Chalet once again from closing it's doors. 

In 1990 the 3 daughters of Bev and Steve "Sara, Gena and Tammy"  who grew up working along side their parents purchased the property from their parents and kept the legacy and their dream going till they put the property up for sale around 2015/2016.  Through-out the time the property was up for sale they had several offers on the table.  However turned down several offers because the potential buyers did not want to keep the Chalet going as it was and the family didn't want that.  They wanted to make sure the legacy lived on for may years to come.  So they waited for that one buyer who would do just that. 

In January of 2019 I was let go from my current employer after 12 years.  I was devastated.  I didn't know where to turn or what to do at that point.  I decided that I needed to finally do something for myself and make the dream I wanted for so many years become a reality.   After working in the food/beverage industry for so many years prior, It was decided I would look for an opportunity to do just that.  After a month of searching and showings of businesses, I stumbled across the Chalet by mistake.  After a few times of passing this gem by, I decided to schedule a showing.  I soon fell in love with everything the Chalet was about!  From the people to the food to the staff to the breathtaking stone floor to ceiling fireplace in the dining room not to mention the views of the bay!  It was and investment that I knew from my research that I wanted to pursue.   By June of 2019 I had pulled it all together and closed on the Chalet on June 3rd and re-opened for business on June 7th. 

Soon there-after we were challenged with failing equipment, an outdated point of sale system that needed updating and was failing.   Equipment that needed updating and a pricing structure that no longer fit financially.  We were forced to make changes and were able to keep the business in good standings.

On March 13th our world came crashing down on us as COVID-19 spread rapidly.  This had an immediate impact on our business as we were soon down 75% of sales and building full of inventory ready to server our customers.  On Sunday the outlook didn't look good as it was rumored that restaurants may close all over the state and go take out only.  On Sunday we immediately went into action to develop a plan to help us through the situation if it were to happen.  I dropped everything and changed course.  We came up with a Car Side to go option.  This took a-lot of work and effort to come up with a solution and program a register to handle just that along with designing a new menu.  On Monday it was announced that a ban of 50 people or more would go into affect.  We changed course again, now taking apart our dining room and our bar to comply with the ban.  Come Tuesday we it was announced we would have to close our doors to the public.  We immediately came up with a new plan to now include delivery.  Our staff rallied together and offered to work where ever needed.  We couldn't have been more proud.  We were off and running, or so we thought.  Our business came to a screeching halt as the phones didn't ring and sales didn't come in, but we were staffed.  That night we had to make the hard decision to lay-off most of our staff and come up with a new schedule.  Today I sit here writing to you all at 10:30 at night hoping I'm doing the right thing by turning to you and asking for help to save not only my business but to help with relief on my staff who are jobless.  

I wish I had the financial capital or huge savings account to rely on, but the truth is I went all-in when it came to investing in not only my future but the Chalet's as well.  I put everything I had to making this a go and to see the Chalet live on for another 74 years, but now I face the harsh reality that we  probably won't survive and will be forced to close the doors for good and lose everything.

To make matters worse, Badger Mutual Insurance sent me a letter today stating they are dropping me as of June 3rd.  When we took ownership we transitioned the insurance directly from the previous owners who also used this company.  For 30 some years an electrical box was not an issue until just recently and due to funds I'm unable to update this to one of their liking.  They state when you call they will not discuss the matter and consider it closed and a decision is made unless I replace the entire panel completely.  Now I'll be forced to find someone else and not sure I can pay the large premium businesses pay to have insurance. 
Since this all started I've applied for grants but only to find out one is out of money, and the PPP isn't designed for businesses like mine and is also out of money as well.  

I ask that if you know me and believe in me and my amazing staff and all that we have provided for the community, the legacy of Vandesandy, Zimmerman and Hafeman families built, and preserving one of Wisconsin's oldest Supper Clubs - please help us bridge that financial gap we are in due to the government mandates.  

We will use all funds raised to make sure we can cover all expenses to keep the Chalet from closing for good and making sure that all of our staff have their jobs waiting for when this crisis ends.  Any surplus monies will be extended to my staff whom are so deeply effected by this tragedy as well.  

Please know that it took everything in me to turn to friends, family and the community for help.  We are not a chain restaurant, we are local and we are off the proverbial beaten path and rely on our locals as they rely on us.  I ask that if you have it in your heart to help, even if its the price of a drink or meal we would greatly appreciate anything.

With all my heart,

Shawn Christman

Organizer
#1 fundraising platform

More people start fundraisers on GoFundMe than on any other platform. Learn more

GoFundMe Guarantee

In the rare case something isn't right, we will work with you to determine if misuse occurred. Learn more

Expert advice, 24/7

Contact us with your questions and we'll answer, day or night. Learn more