Giraffe conservation Foundation
The Giraffe Conservation Foundation
(GCF) is the only organisation in the world that concentrates solely on the conservation and management of giraffe in the wild throughout Africa. GCF is dedicated to a sustainable future for all giraffe populations in the wild by providing support to and raising awareness for giraffe conservation. As a small organisation they rely on partners around the world to help them with raising funding and awareness for the important work they do across  Africa.
There has been a recent media-worthy up listing of giraffe on the IUCN Red List of Threatened Species to 'vulnerable' and new research showing that there are four and not only one giraffe species. These findings are both based on GCF's work together with partners, along with the help of  public supporters and several conservation institutions across the world. This is a huge mile stone for giraffe profile and their conservation and protection.
Until recently, giraffe tended to be the forgotten giants of Africa. In the last 10 years, it has been record that giraffe numbers in the wild have plummeted by up to 40%. Leaving roughly only 100'000 wild giraffe left throughout Africa. Giraffe are an iconic species for Africa and an attraction at most zoo's, but sadly until recently their conservation needs have gone overlooked.
You can support the important, innovative and unique giraffe conservation efforts iniciated by the GCF,  by helping me to raise much-needed funds on World Giraffe Day 2018.
"World Giraffe day 2018"

World Giraffe Day is an exciting annual event initiated by GCF to celebrate the longest-necked animal on the longest day or night (depending on which hemisphere you live!) of the year – 21 June – every year!
Not only is it a worldwide celebration of these amazing and much loved animals, but an annual event to raise support, create awareness and shed light on the challenges giraffe face in the wild. By supporting World Giraffe Day (WGD) you directly help save giraffe in Africa.
How would your support help?
Here are some examples:
US$15 could pay for notebooks and pens to record giraffe observations in the wild.
US$25 could pay for batteries for GPS units to monitor giraffe, their threats and movements in the wild.
US$50 could cover all field costs and salary of a ranger who is actively involved in saving giraffe in East Africa for one day.
US$100 could pay for a GPS unit to monitor giraffe, their threats and movements in the wild.
US$250 could pay for digital camera with GPS.
US$500 could pay for a camera trap including batteries and SD cards to monitor giraffe and their movements in the wild.
US$1,000 could pay all field costs and salary of a ranger who is actively involved in saving giraffe in East Africa for one month.
US$2,500 could pay for one GPS satellite collar to monitor giraffe movements remotely (incl. download time).
Every cent counts!!!!
My personal involvement with the GCF.


I have been involved now with the giraffe conservation foundation since the first ever world giraffe day in 2014. Allowing me to become the leader and driving force for raising funds and public awareness to the plight of giraffe across Africa in Australia.
In 2015 and 2016, I was fortunate enough to assist in field work alongside the GCF conducting valuable  giraffe reasearch needed with Angolan giraffe in Namibia. 
The field trip  involved the capture and restraint of the desert dwelling giraffe in North West Namibia, allowing radio collars to be fitted. The GPS locations can then be tracked" recorded and uploaded into a growing data base, helping to unlock the mystery of giraffe: home range, activity, and life span.
This field trip also allowed  the opportunity to work close with the GCF on the local community education program currently being developed. The field work  involved meeting with the local community members educating the value of giraffe conservation, while gaining their help and understanding.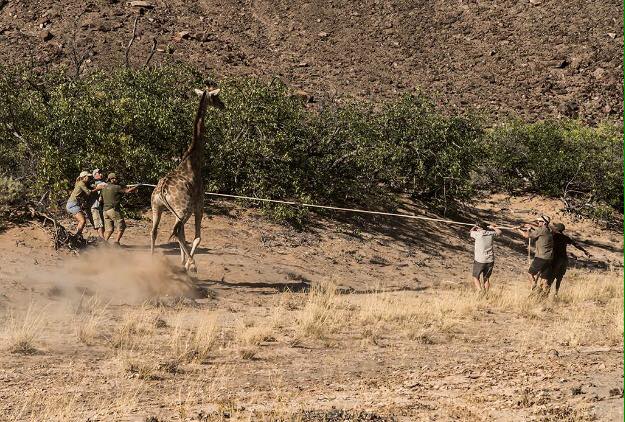 Last year 2017 I traveled with the GCF to the to the Kidepo Valley National1 Park, Uganda. This area of Uganda, there was estimated to be less than 21 Nubian giraffes in total, with us spotting at least 26 in throughout the 10-day trip with 5 juvenile animals Identified. This showing  the hope of a growing population of giraffe in this region of Africa.
The research conducted though out this field trip not only allowed the Identification and count of the giraffe throughout the region. It also allowed the opportunity for important DNA collection and allowed us to fit two satellite tracking units.
In Kidepo Valley National Park the GCF work closely with Uganda Wildlife Authority (UWA) rangers by monitoring personnel, helping build Ugandan capacity to survey and monitor this important giraffe population.
The research done will build on from the valuable conservation data already collected of giraffe numbers, distribution and threats of the endangered Rothschild's giraffe in Kidepo Valley National Park.
This information will help the Ugandan government to inform a future National Giraffe Conservation Strategy, initiated in early 2017, as well as provide valuable input into marketing a remote region of the country.
Whilst in the field, we worked collaboratively with UWA staff and in doing so share skills, knowledge, and capacity. It is important that as part of this ongoing partnership GCF and its partners provide support to them.
Additionally, certain ongoing components of the project (DNA analysis and GPS satellite collaring) provides the government with detailed findings on the viability of the current population, and whether future translocations of Rothschild's giraffe into this area are required to bolster the population. Importantly, this effort will seek to establish this as a secure giraffe population in the country.
As the Kidepo Valley National Park is located in a remote area of Uganda and local communities are mainly subsistence farms with very limited opportunity to participate in a formal economy. The Park has the potential to attract increasing tourism numbers in the future if it is promoted as a tourism destination with good wildlife viewing.
Working closely with UWA and Apoka Lodge, this project will support a sustainable tourism future for giraffe in the Park, which in turn could contribute to benefit the local populations with income generation and job opportunities.
I have been fortunate enough to see first hand the incredible work done by the Giraffe Conservation Foundation, and the difference they are making for wild giraffe conservation.
I hope you feel as passinote as I do about the need to help save these amazing giants of Africa, as all efforts and funds received will help contribute to the amazing work of the GCF.
Together we can all help make a diffenence before its too late!

Organizer
Jimmy Sanders
Organizer
Canada Bay NSW