Historic Theater Needs New Roof
        Help Save One of Our Most Historic Theaters


We have lost so much these past two years. Family members, friends, health care workers, so many people, not to mention just the simple and basic opportunity to congregate and enjoy each other's company………. but when COVID ends and full freedoms are restored to us, the need to come together, pick up the pieces, and build upon what we still have, and pledge new undertakings will be of greater importance than ever before. The need will be to restore our communities and our very souls.
In 2016 a very spirited and a community-minded woman, Katie, who cares so much about the people and projects within her reach, purchased The Majestic Theater in Streator Illinois. With a broken heart she tells a little bit about the recent and sad history of The Majestic Theater that, before now, and since 1907 housed wonderful films and live acts such as Groucho Marx, Jack Benny, The Lovin Spoonful, Big Brother and the Holding Company and the list goes on and on. Katie's desire is strong to restore the place to its former glory and open it back up to the community. It has been a huge struggle to raise funds. First and foremost, The Majestic Theater needs a new roof.
I believe faith brought Katie and myself together. I am publicist and booking agent for Michael Charles. Michael Charles' discography is comprised of thirty-eight releases and during the Pandemic with tours all cancelled, Michael Charles spent much of his time continuing to write music. His latest and soon to be released song was a perfect candidate to be matched with a video produced in a theater setting.
With our vision for the video and the knowledge that Katie might benefit from the exposure I asked if we could film in The Majestic Theater. She readily agreed, warning the theater was in really rough shape but if we exercised the proper caution, she would gladly open the doors for us. We took a small tour and saw firsthand the ruins and the rubble of what was once a grand theater. But the bones of The Majestic Theater are still very much there. Fortunately, we successfully filmed on the stage and in the main theater area.
The plan for The Majestic Theater is a solid and royal plan. Once restored she will host live music in a "listening room" with a concert atmosphere while giving local artists a place on the map as they open shows for already committed national acts. Along with the music, it is obvious that the theater will also be a prime place to host film festivals. With Here and Again Inc - Song + Story and WRWO 94.5 FM Radio assisting, the completed project will boost the local talent pool and business in the area. Please consider helping support this worthwhile cause and "put a roof over our heads".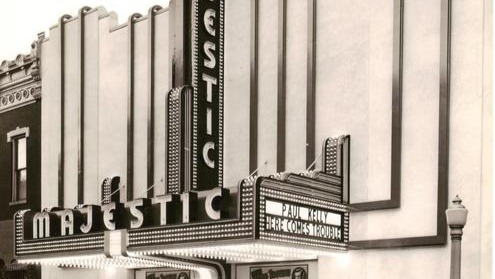 Fundraising team (2)
Jane Rogers
Organizer
Raised $450 from 1 donation
Ottawa, IL

Registered nonprofit
Donations are typically 100% tax deductible in the US.
Here And Again INC
Team member
Raised $395 from 12 donations