Help Save Families in Dire Need
Please help these families in desperate need during this pandemic and strictly enforced lockdown in the Philippines. Your money will go directly to help 22 families. All of these people are unable to work, have no food, no medications, and no money to pay for their housing. 


Breakdown of what you will be helping with:
70,000 peso - 1750kg Rice (35 sacks of rice)
30,500 peso - Canned food / powdered milk
20,000 peso - business stock for store
21,000 peso - rent and house payments
11,150 peso - Farm supplies
10,000 peso - medical supplies
162,650 peso - total - - - $3215 US dollars
Please read the stories of each of these women who are facing an extreme situation that is quickly shattering their lives and many family members and neighbors around them:



VANGIE
Vangie - 32 Independent farmer and food cart owner.  Married with two children.  Her husband Harold B Caboung is a great partner as he is a tree expert and takes care of Vangie's fruit trees. 
Vangie lives in a tiny village called Goliman, near Malasaqui in Pangasinan. She normally operates a small vegetable stand in town from food she grows on her own farm.  The Covid-19 lockdown has slammed her business shut and has stopped farm production as she can't afford to buy gasoline to run her water pump.  She is currently trying to grow a crop of eggplants, that will die unless she gets gas for her water pump. 
Vangie is a small business owner and farming entrepreneur whose efforts support an entire small village enclave of 10 families.  They all live in small homemade nipa huts and help each other out. This fundraiser will hopefully give them enough rice and supplies to make it till Vangie can get her farm and food cart back up and running again after the lockdown ends. 
Some pictures of Vangie's small village and the people who you will be helping with this fundraiser: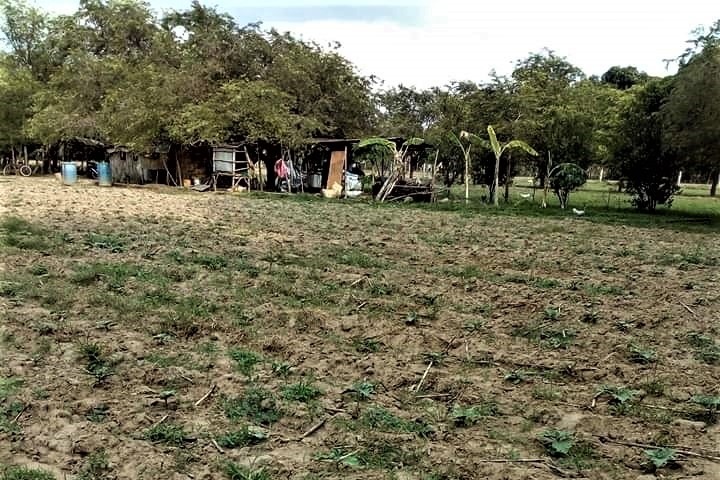 Vangie's eggplant field with her house in the background
Vangie's parents
Vangie's sister, Valerie and friend
---------------------------------------------------



JHEN

Jhen (29) in her sari sari shop, which is now closed because of the strictly enforced lockdown. Her husband Bryan works construction, which has also been shut down. 
Jhen Tuazon Lumanlan lives in Angeles City, Pampanga. She has been running her own sari sari shop (small convenience store) since 2007. Her husband Bryan works construction when times are normal. Now they struggle for food. As typical for the area Jhen lives in, she shares all her food with her neighbors, 4 other families who live around her. 
Jhen currently lives with her inlaws at the present. Her house was pawned 7 months ago to pay for hospital bills from a severe case of Dengue fever she almost died from.  Your contributions will allow her to get her house back and to stock up her sari sari shop again so she can be ready for business after the lockdown ends. 
Jhen with her two youngest kids, Colleen Brielle Tuazon Lumanlan and Princess Andrea Tuazon Lumanlan. 
Jhen's oldest daughter, Ashley Nicole in school picture
Jhen wearing her pink mask which she made herself. 
----------------------------------------------------------------
MARIA


Maria (32), here with her youngest daughter, Gliezel, normally runs a lunch cart that services construction sites in Angeles City. Her husband, works construction. Her parents collect recyclables. 
Maria Bergosa lives in Northville15 in the Cotud Barangay in Pampanga near Angeles City on the Island of Luzon in the Philippines. Maria is in a very difficult situation; She is 4 months pregnant and her landlady is forcing her to move if she doesn't pay her back rent. Her food cart business is shut down because of the lockdown and her husband cannot work his normal construction job. Along with this her parents can no longer collect bottles and cans to recycle as everyone is forced to stay at home. When you include Maria's brothers, sisters and cousins, seven families here are without food or income.
Her father, Don, is greatly at risk because he has Emphysema (COPD) and needs regular meds, which they are out of.  Maria's whole family was displaced in 2013 when typhoon Yolanda swallowed their nipa house south of Tacloban completely into the ocean. The typhoon actually eliminated their beachfront land there. They have been struggling ever since to get back on their feet and find a sustainable life. Your help will send funds directly to Maria and her family to buy rice,  canned food, dry milk, medication, and money to pay her rent.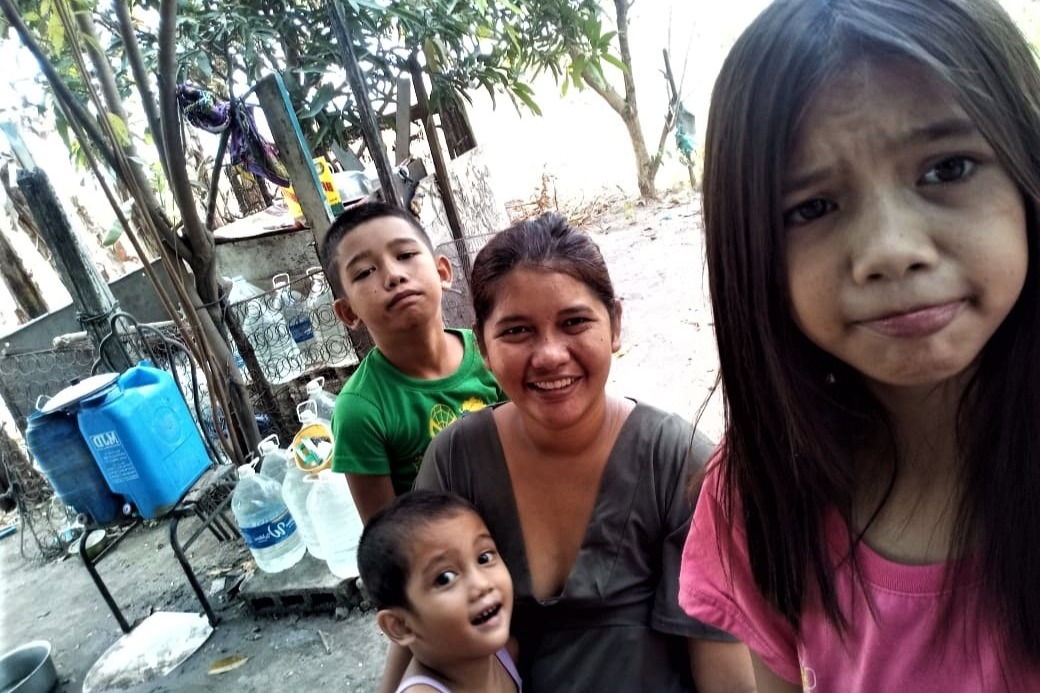 Maria with her kids, Glieyan and Glaiza during happier times. Standing behind is Marley, her nephew.
Maria's family house
Maria's girl Glaiza (middle) and her cousins, Ace and Alexa, in school uniforms before the pandemic.
Maria's father Don Bergosa,  who was once the proud owner of two fishing boats in Leyte. 
Some of Maria's nephews who will benefit from your help. 
Marley, Glieyan and Glaiza
Bembem, Jack, Denise and Gliezel
Maria's mom Violeta
Maria's nieces and nephews that you will be helping with this Go Fund Me
Maria and her brothers and sisters. All of them and their families will be receiving food with your help.  
Maria with her family before the pandemic. 
Alexa, daughter Glaiza and little Denise
I have known these families since 2005.  Vangie, Jhen and Maria are founding members of World Sisters United, an organization striving to rescue dispossessed women from the sex industry and give them sustainable lives through farming and small businesses. I know these people well.  They are honest families who think mostly of the well-being of those around them. None of them are receiving any government or NGO help or food relief. They deserve some help during this pandemic crisis.
My heart goes out to all of them and I hope you, also, can connect to their plights and help lift them up. I will be posting any success stories here and on YouTube. Please share this fundraiser with your family and friends. Thank you for your time and help.
- - - - Larry Thrasher
Some founding members of World Sisters United at a summit in 2006
Donations

Organizer
#1 fundraising platform

People have raised more money on GoFundMe than anywhere else. Learn more

GoFundMe Guarantee

In the rare case that something isn't right, we will refund your donation. Learn more

Expert advice, 24/7

Contact us with your questions and we'll answer, day or night. Learn more