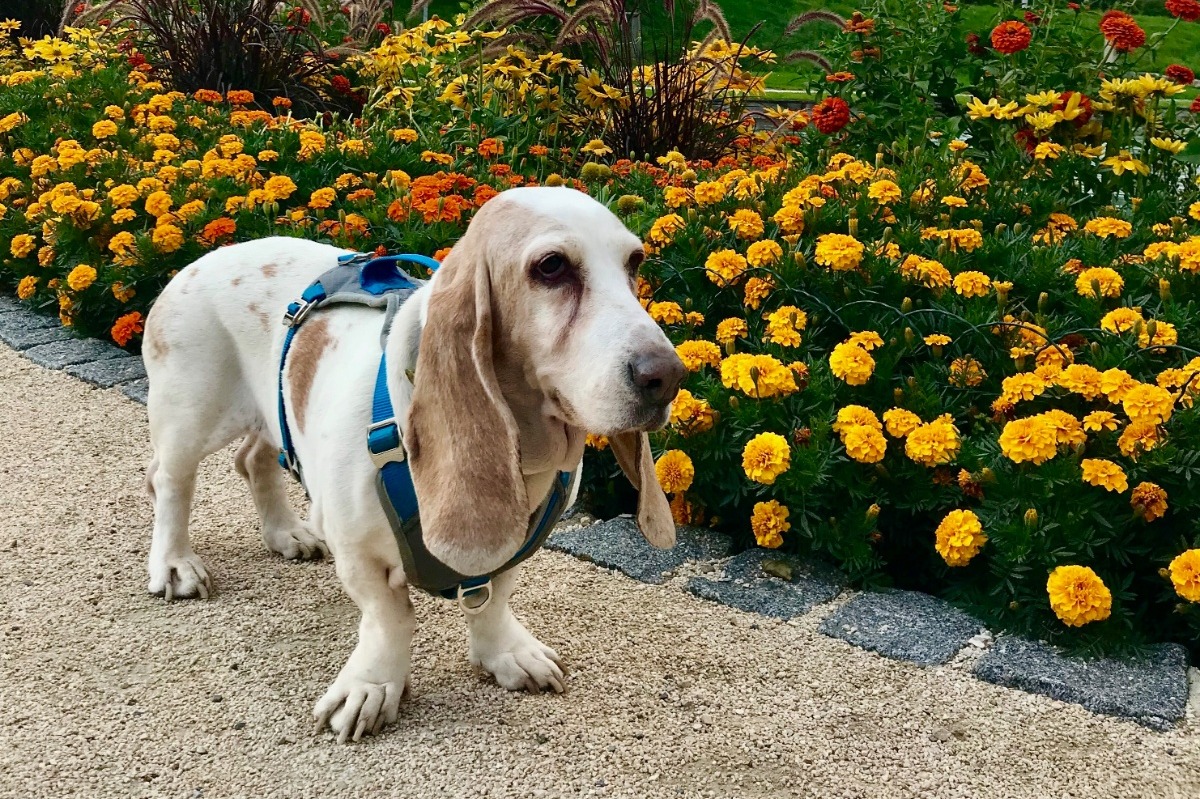 By my side for over 11 years. 
If there is one dog that completely changed my life and that of the people around her, is Salchipapa, our basset hound dog. She has been with me since she was a baby. When I moved out of my mother's house, she moved out with me, and was my only roomate for seven years. When I married and moved to Germany, she moved with us. Until last week, she was working as an office dog at my company, where she is so loved. Unfortunately, she will no longer be able to join us.
What happened to Salchi?
We took our dogs on holidays last week. We enjoyed a week of walking through green meadows, and Salchi even took a splash on the Danube river. But after driving back home, suddenly she couldn't move. She couldn't even stand on her feet without falling to the side.  A CT scan revealed a severe chronic nerve damage that could only be repaired through surgery.
Dogs that are long, like Basset Hounds, can quietly develop spine injury, because they have to carry so much weight on their backs. Salchipapa has always been healthy, and used to be in top physical shape, which meant she had a good chance of recovery. She was never, ever sick. On the other hand, she is already 11 years old, which meant greater risk. We decided to give her a chance and move forward with surgery. We couldn't wait any longer, because nerve damage could get worse if we waited.
Why do we need to raise funds?
The surgery was successful, but as you can imagine, very expensive. She is still in the hospital and will need months of rehabilitation. If she is unable to walk again, she will need a wheelchair. The most critical thing is that she regained the ability to relieve herself  (go to the bathroom). Without this, her survival wouldn't be possible. Her front legs didn't get affected, but she might never regain movement in her back legs.
We still don't have the total bill, but we already know the following estimates:
Initial vet consultation:    104 EUR (already paid)
Surgery:                                3,000 EUR  (estimate)
Hospitalization:                   200 EUR per night (confirmed)
CT Scan:                                (unknown at this point)
Rehabilitation:                     100 EUR per session  (it may take months)
Medication:  (unknown for now)
Wheelchair: (unknown)
We will upload the invoices as soon as we have them. Salchipapa is hospitalized at this moment and we are not yet allowed to see her. We know she is making good progress but she cannot come home yet.
We love Salchipapa more than words can explain. We will make everything in our power to make sure she is pain-free and her quality of life is as good as it always was. We want her to enjoy her the last years or months of her life. She is indeed a senior dog, but she was in top shape and we know she has more love to give, and we sure have more love for her. If she can make it one more year, or six more months, we will make sure she is loved, cared for and as healthy as she can be. Your help will allow us to tend to her needs on whatever's left of her journey.
Thanks a lot for your help. No donation is small.