Re-Org North Devon is an organisation dedicated to planning fun and exciting adventure days out. The majority of which involve hiking and trekking around Devon; But that's not all, there are plans of activity days such as coasteering, muddy assault courses, rock climbing and other thrill-seeking adventures for those who wish to participate.
Re-org North Devon is aimed at individuals who have struggled with feelings of
loneliness, low self-esteem, anyone who feels their mental health has taken a bashing or any individual who feels getting out and about may benefit them. Re-org North Devon also welcomes anyone who feels they just want a better sense of community as that's the real goal with Re-org North Devon; building a strong sense of support and community and helping its members get back on their feet both physically and mentally by sharing experiences of their own mental health
struggles and utilising the Great outdoors by getting boots back on the ground.
Re-org North Devon is the brain child of friends and Army veterans Wayne Clarke and Craig Murfitt, who after a combined service of 22 years realised upon leaving, both had struggled to adapt with the transition into civilian life and before long found themselves suffering from the mental health issues that are associated with an active military service and the new found isolation they experienced.
With the feeling of isolation becoming magnified by the current Covid crisis, the two got talking again after a short period of losing contact with each other. It was from them opening up about their similar mental health struggles and how they had overcome these challenges which eventually birthed Re-Org North Devon.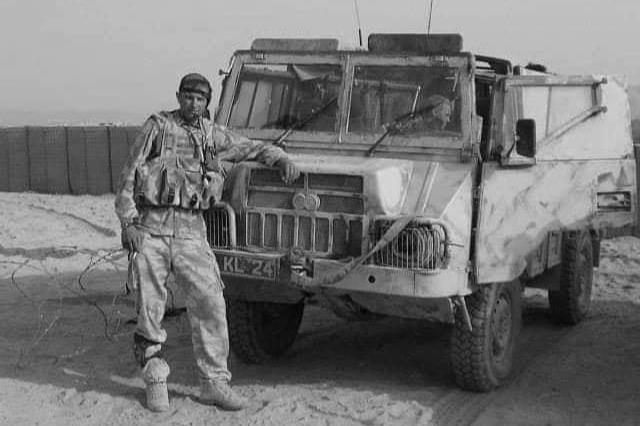 So what does Re-Org stand for?
In military terms a 'Reorg' or reorganisation takes place after a firefight or attack, and is a time to count up and redistribute resources, treat casualties, search the enemy position, send a situation report, dig in and prepare to continue with the fight. 'From a personal point of view it is a time to have a break from your personal conflicts, to compose yourself, to get yourself in order with help and
support from fellow members and to plan your next steps to give yourself the best possible chance of winning your own personal battle.'
Both Wayne and Craig realised they have a very good understanding of what a good support community and being outdoors can do to benefit a person's mental health so decided to combine their knowledge and experience and create Re-Org North Devon to help others who are in, or have been in, similar situations whether Ex-military or civilian. Which they believe is even more relevant
now after a year of repeated isolation and stress due to the Covid-19 pandemic. "by meeting up, exploring our surroundings and supporting one another we're putting ourselves back out there, back into the fight, we're pushing forward and we're not giving up."
" Getting Boots Back On The Ground"
SO WHY ARE WE ASKING FOR YOUR HELP?Your support and donations will enable us to grow our cause and reach out to more people who have suffered from mental health issues, it will also help with the more expensive side of starting a project like this, things such as a website, advertising, qualifications, training courses and logistics, the list goes on... 
Social media links:
https://www.Facebook.com/reorgnorthdevon
https://www.Instagram.com/reorgnorthdevon
https://www.Twitter.com/reorgnorthdevon
Fundraising team (2)
Wayne Clarke 
Organizer
Raised £1,255 from 51 donations
Barnstaple, South West England, United Kingdom
Patrick Gahan 
Team member
Raised £5 from 1 donation