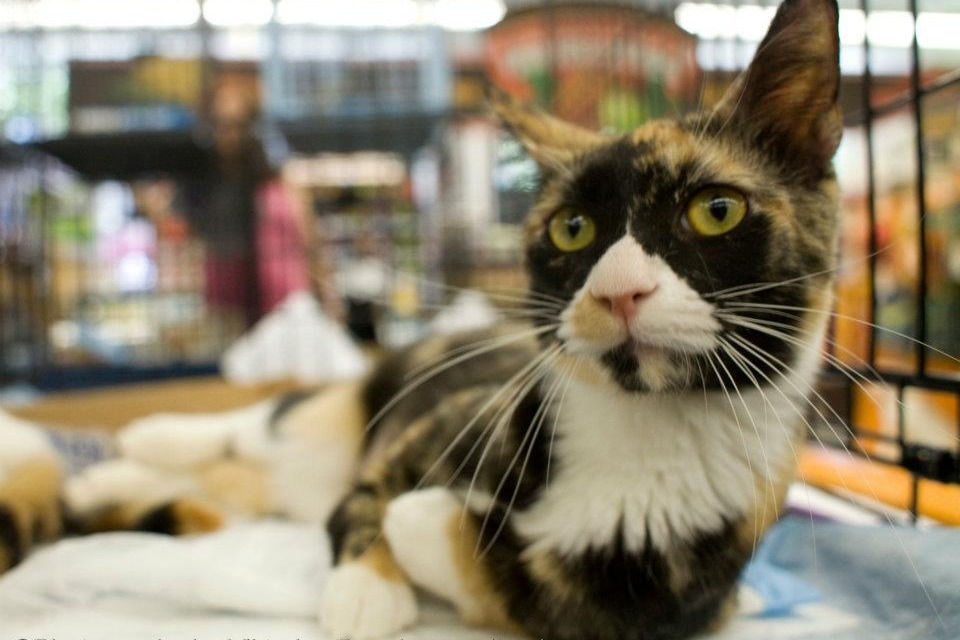 Poor Radar has been through a lot in her life.  
Radar has deformed front legs, a condition known as radial hypoplasia. These cats often stand upright on their hind legs, and are called "Roo" cats, "twisty", or "squitten".  
She first came to K9Kastle (via the city shelter) in 2012 when she was about a year old, alongside her siblings and possible mother (a feral we found a sanctuary for).  Our Radar got quickly adopted into a great home with a kitty named Sheba, previously adopted from K9Kastle.
Earlier this year Radar and Sheba's mom had legal (not her fault in any way) and health troubles. She had to leave the apartment she owned for her safety, but wouldn't leave until the kitties were safely out too.  K9Kastle agreed to take the girls until she got back on track.
A week ago Radar stopped eating and quickly became jaundiced. We took her to the vet as soon as it was noticed. She required hospitalization, IV fluids, antibiotics, syringe feeding, along with monitoring her blood work.  
They think she has hepatic lipidosis, or fatty liver, but it was taking her extra long to get over it, to the point that they performed an ultrasound to verify it wasn't cancer.  
The tests were inconclusive (potentially it's lymphoma, a diffuse cancer. There were no masses or apparent abnormalities other than an enlarged liver and spleen) so we are continuing to treat her for hepatic lipidosis.
----------------------------------------------------------------------------------------
Radar is the sweetest cat and the light of her mom's life.  She will come to you, stand on her hind legs, and raise her front legs up so you can pick her up.  She loves to be held and cuddled and is the most easy going cat.  She has been there for her mom through some hard times and K9Kastle wants to give her every chance possible to continue to be there for her.
Mom has finally gotten her apartment back and had her own medical treatment. She is preparing to bring the girls home, but financially she's still struggling. So K9Kastle is paying for Radar and Sheba's care.  
That's where you come in.  We need to continue to treat her AND pay for previous treatment.  She stands a chance of complete recovery and we want to give her every chance.  
Her bill is currently at around $900, and it could potentially be much more than that.  We are hoping generous people will kindly donate ANY amount to her care.  Aside from donating here, we would be happy to provide our vet's information and checks may be sent there as well.
Thank you! 
Emily, Radar's foster mom, then and now.
Organizer
Emily Beck
Organizer
Brooklyn, NY