Help our Greek monasteries rebuild after the fires
On August 22, 2023, as a raging wildfire threatened to engulf the renowned Monastery of Saints Cyprian and Justina in Phyle (Fili), near Athens, Greece, Nicholas G. raced to offer his assistance in any way he could.
When he arrived at the bottom of the hill, several dozen monks were sorrowfully being evacuated. One of the Fathers gave him an icon of the "Mother of God of the Unburnt Bush" and told him to go up to the monastery with it "and she will put out the fire."
Their faith was not put to shame. Though the monastery was entirely surrounded by flames, the Cathedral Church and main buildings were preserved unharmed. The fire did not fail, however, to leave its mark.
Unfortunately, the monastery's John Deere power generator (worth €20,000) was completely destroyed, the fuel tank exploded, a storehouse burned down, all the pipes and cables (for water, electricity, fuel, sewage, etc.) melted, the hens were killed, and their surrounding olive groves were incinerated.
The next day, as yet another wildfire raged out of control in the nearby suburb of Acharnes, the roofs of the historic Convent of Saint Paraskeve caught on fire. Journalists covering the disaster ended up running for their lives, as all seemed lost.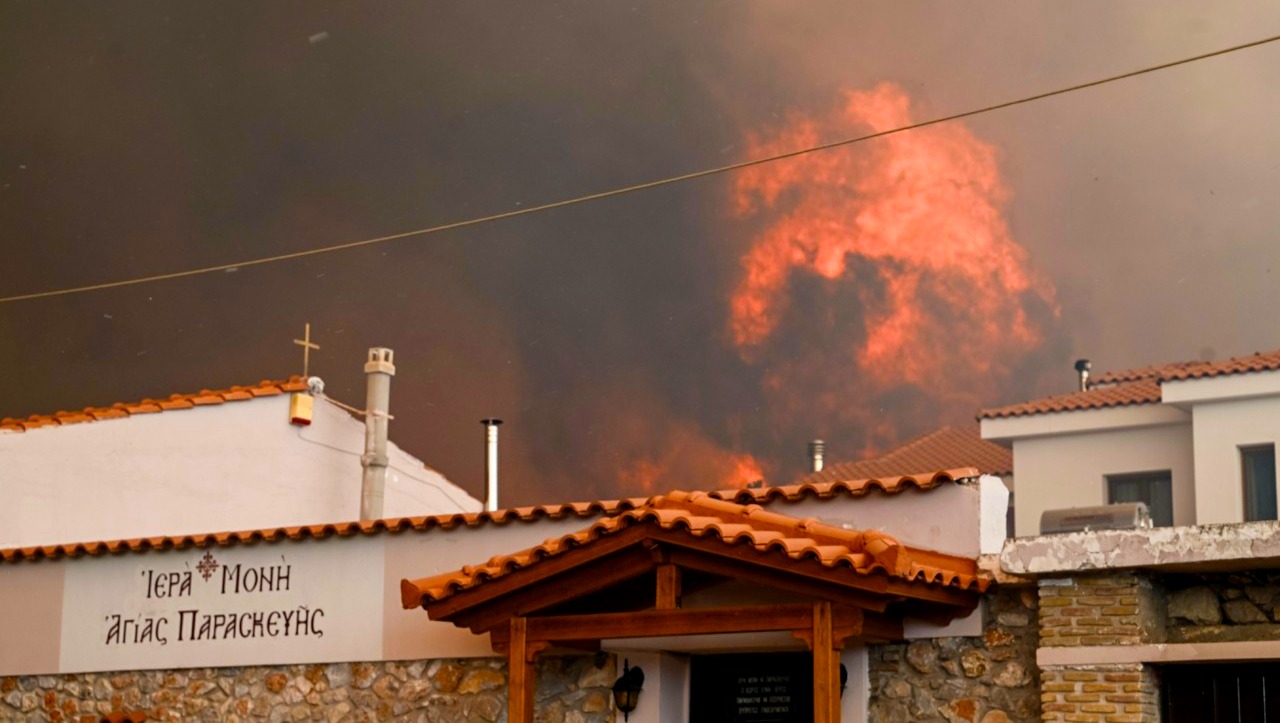 When the worst was over, one of the nuns was allowed to return to inspect the convent, expecting to find it completely burned down. But, glory to God, Saint Paraskeve had preserved it from destruction. There was, however, extensive damage to the roofs and windows, which will take a great deal of work and expense to repair.
The monastery and the convent are at serious risk with the impending winter storms, and must take action as soon as possible to prevent more damage. They do not have insurance to help cover the damages. And, as is well known, Greece has been struck by one catastrophe after another this summer, so assistance from within Greece is limited to the proverbial widow's mite.
We at the
Convent of Saint Philothei
(Stiftelsen Heliga Philothei Ortodoxa Kloster, located in Villberga, Grillyb, Sweden) are a sister monastic community of the affected monastery and convent in Greece. Knowing our close ties with them, a number of people asked us how they could send financial assistance. GoFundMe was suggested to us, but since the platform cannot send funds directly to Greece, our Convent will receive them and redirect them via wire transfer to the monastery and convent's bank accounts. Since our own bank is located in Sweden, our goal is listed in the local currency of Swedish kronor. We are taking this initiative with the blessing of His Eminence, Metropolitan Cyprian of Oropos and Phyle.
Both the Reverend Abbot Father Theodosios and the Reverend Abbess Mother Justina of the respective monastic communities stressed to us that they do not want to burden people with the entire cost of repairing and rebuilding, but they did express their immense gratitude for help with the most urgent needs.
Our goal is thus to raise the following:
Holy Monastery of Saints Cyprian and Justina: 30,000 euros for a new generator (a necessity during Greek winters with its many power outages) and essential repairs to the infrastructure.
Convent of Saint Paraskeve: 50,000 euros to replace the 350 square meters of roof (the cost includes the wood, insulation, tiles, and labor) and 3,600 euros to replace the windows.
Total: approximately 84,000 euros or 1,000,000 Swedish kronor (SEK)
Feel free to indicate for which cause you would like to make your donation (e.g., "new generator") and also any names you would like commemorated in prayer.
The Saint Philaret the Merciful Orthodox Women's Guild is collecting relief funds for the Greek society at large. If you would like to support them, go to their
Donations page
, where you can send a contribution via PayPal (you don't need a PayPal account to contribute this way).
May God reward you for your compassionate assistance!
Mother Magdalene, Superior of the Convent of St. Philothei, in Villberga, Grillby, Sweden
Stiftelsen Heliga Philothei Ortodoxa Kloster
Video footage of the fire at the Convent of Saint Paraskeve:
More photos from the convent:
Video from the fire at the Monastery of Saints Cyprian and Justina:
Photos from the Monastery of Saints Cyprian and Justina: