Suicide Prevention for Teens in Nevada County
Many of our youth in Nevada County are isolated and struggling more than ever. The What's Up Wellness mission is to reach out to youth, talk to them and get them help if they need it. To meet our mission, we need your help.
We are asking $3,500 to assist us in providing mental health screenings to teens this year, to fund the increased time it's taking to reach teens virtually as well as to connect them to resources.
Please donate to help us reach isolated teens that need our help, thank you so much!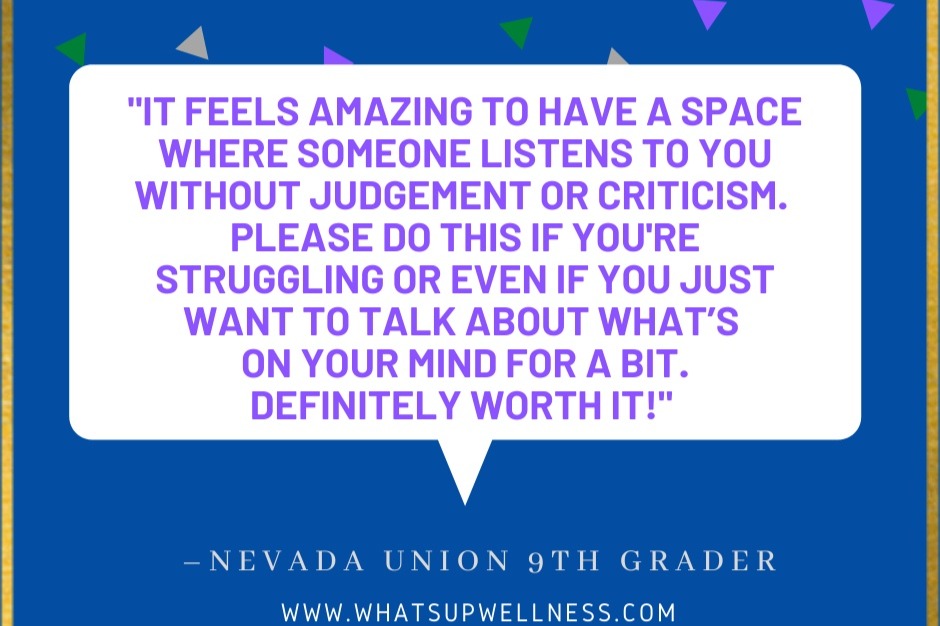 ABOUT US
- - - - - - - - - - 
What's Up Wellness is a suicide prevention program that provides mental health screenings in Nevada County high schools.
The program aims to prevent youth suicide and address untreated youth mental health challenges through
1) universal mental health screenings
2) supporting access to treatment and other resources for youth and families
3) prevention support groups
4) community outreach to reduce mental health stigma.
What's Up Wellness is funded by the Mental Health Services Act grant managed by Nevada County Behavioral Health.
*Unfortunately, donations are NOT tax deductible. What's Up Wellness has a long-term goal of becoming a tax deductible nonprofit organization.
Become the first supporter
Your donation matters
Organizer
Rhi Winders
Organizer
Grass Valley, CA