Help Mom with disabled child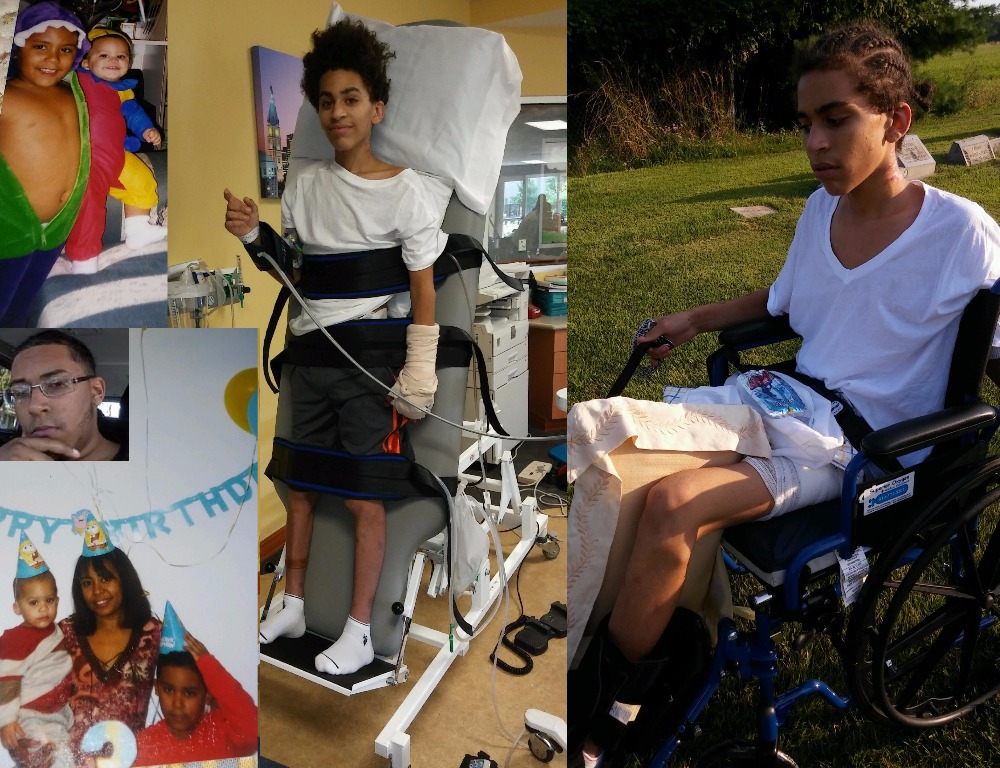 (En español abjo)
--------------------------------------------------------------
On May 7, tragedy befell our family when my two cousins became victims to three of the malices affecting our modern society; lack of empathy, careless social media sharing, and gun violence.
On that Sunday afternoon a group of friends hanged at a basement at a house in the town of Muhlenberg, PA. An altercation ensued between my cousin Jeremy Montpeirous, 16, and Mario Morancy, 26. Jeremy's brother, Justin, 21, intervened in the fight, and between the two beat Morancy. Perhaps, all this would have just ended there, had it not been for one of the guys there who recorded and posted the incident on Morancy Snapchat account.
Later that same afternoon, Morancy retaliated and ambushed both brothers with a shotgun, fatally shooting Justin as they left the house and chasing Jeremy to a house across the street and ultimately shooting him several times as he hid in a closet.
Miraculously Jeremy survived but has sustained severe bodily injuries, particularly life impairing spinal cord injuries which have left him paralyzed from the waist down.
The goal of this fund raiser is to help my aunt, Jeremy's mom, whom I love dearly, with the cost of modifying her home to better accommodate the condition of her surviving son.
My Aunt has always been a hard working single mom, but is at this point unemployed and disabled due to work injuries sustained while caring for a patient at a veteran's nursing home.
Her small two story townhouse will require substantial updates to add an access ramp and change their ground-level living space into a bedroom/bathroom setup.
One never wishes to reach out for help under these circumstances but even though challenging months lay ahead I believe our help can at least help alleviate her financial burden.
Your support is sincerely appreciated.
--------------------------------------------------------------
El 7 de mayo la tragedia llego a nuestra familia, cuando mis dos primos fueron víctimas de tres de las malicias que afectan a nuestra sociedad moderna; La falta de empatía, el reparto descuidado de los medios sociales y la violencia armada.
Ese domingo por la tarde un grupo de amigos estaban en el sótano de una casa en la ciudad de Muhlenberg, PA. Un altercado se produjo entre mi primo Jeremy Montpeirous, de 16 años, y Mario Morancy, de 26. El hermano de Jeremy, Justin, de 21 años, intervino en la pelea, y entre los dos le dieron a Morancy. Tal vez, todo esto uviese acabado allí, si no hubiera sido por uno de los chicos allí, que grabo y suvio el incidente en la cuenta Snapchat de Morancy.
Esa misma tarde, Morancy tomó represaria y emboscó a ambos hermanos con una escopeta, matando a Justin cuando salían de la casa y perseguiendo a Jeremy a una casa al otro lado de la calle y finalmente disparandole varias veces mientras se escondía en un armario.
Milagrosamente, Jeremy sobrevivió, pero ha sufrido graves lesiones corporales, particularmente lesiones graves de la médula espinal, lo que le ha dejado invalido desde la cintura.
El objetivo de recaudar estos fondos es para ayudar a mi tía, la mamá de Jeremy, a quien quiero mucho, con el costo de modificar su casa para acomodar mejor la condición de su hijo sobreviviente.
Mi tía ha sido una madre soltera siempre luchadora y de trabajo, pero en este momento está desempleada y discapacitada debido a lesiones de trabajo sufridas mientras cuida a un paciente en un hogar de veteranos ancianos.
Su casa pequeña de dos pisos requerirá modificaciones sustanciales para agregar una rampa de acceso y cambiar el espacio del primer nivel a una configuración de dormitorio y baño.
Nunca se desea tener que llegar a padir ayuda por esta circunstancias, pero a pesar de los meses difíciles que le esperan por delante creo que nuestra ayuda por lo menos podra ayudar a aliviar su carga financiera.
Su apoyo es sinceramente apreciado.

Organizer and beneficiary