Help Make The World Fortunate
The FORTUNATE PEOPLE Campaign 2020 achieved a miraculous result of 150,000+ videos offered from the global community capturing over 200,000 new people chanting the maha-mantra. Our new milestone during this most auspicious 125th anniversary of Srila Prabhupada's appearance is to offer 1,250,000 maha-mantra Love & Peace chants from people all over the world!
Today, we ask you to join us in this effort by donating for this innovative, attractive and truly effective campaign. Our reason for asking you to help is very simple.
The ongoing success of the campaign exceeded the limits of our team financially and manpower wise. Right now we have assembled a team of  50+ devotees who are facilitating over 800 ambassadors in their service of inviting new people to chant. Most members of this core 50 are serving as part-time volunteers. However, a few IT specialists and managers are now working full-time on:
** developing the web-sites fortunate-people.com and fp-ambassadors.com 
** keeping the Fortunate People APP up to date fp-ambassadors.com/app
** creating and promoting high class maha-mantra videos that go viral 
** keeping the social media vibrant (collectively over 40k followers) 
All that together allows us to connect tens of thousands of new people with the holy name! Whilst, hundreds and sometimes even thousands offering their chants on a monthly basis. (!)
This graph speaks better than words. It was a miracle indeed to witness tens of thousands of new videos coming during 2020 with a climax point during the World Holy Name Festival. As Srila Prabhupada would say, "Double it!". Yet knowing how compassionate Lord Chaitanya has been with this campaign we aspire for an even bigger goal of 1,250,000 chants. Together undoubtedly we can!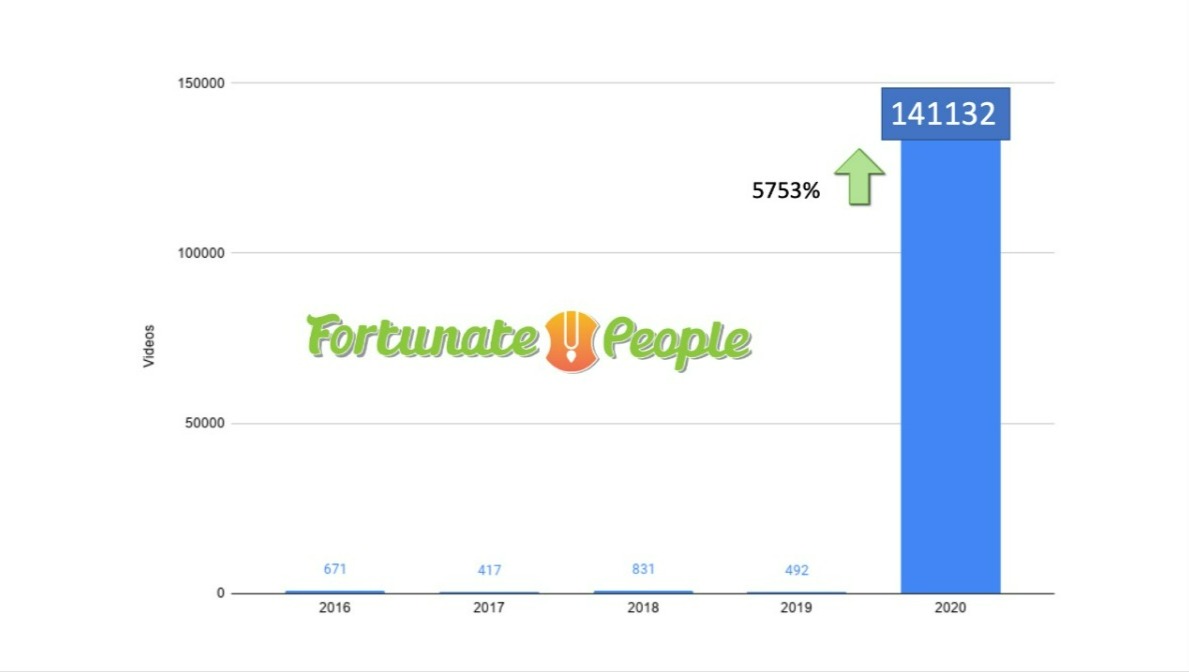 This unprecedented breakthrough was made possible by the enthusiastic support and participation of the ISKCON Kirtan Ministry team who truly embraced the campaign. As part of this years 25th anniversary of the World Holy Name Festival, the Kirtan Ministry continues to make this a joint effort and see this miracle come true!
In addition to all that, this year we're working on a grand virtual Mantra Choir with a renowned team of musicians: legendary Jayadev prabhu, Madi Brinkmann (Grammy nominee) and Gaura Vani prabhu. This Fortunate People Mantra Choir will help expand this campaign to an even greater extent becoming an emblem of Vaishnava strength and unity, and collectively reaching out to hundreds of thousands of people bringing the wider kirtan, yoga and other musical circles to participate in this campaign. 
*ISKCON Online continues to support the Fortunate People campaign as its fiscal partner in the US. All contributions to the campaign will be received by ISKCON Online and 100% will be utilized for Fortunate People. Donations in the US are tax-deductible and a tax receipt will be sent to all donors.
If we fail to raise or exceed the amount needed:
- if we don't raise sufficient amount, it would still assist in making further steps on this journey of sharing the maha-mantra with thousands of people and undoubtedly inspire all of us with beautiful new videos similar to the ones highlighted above
- if we exceed the amount requested (which we're hoping for considering the amount of media we need to produce by the end of the campaign) it will assist with promotion of all these wonderful videos. Needless to say, in an ideal case scenario we can rely not just on organic reach but also boost and promote every single video we produce. So, you're welcome to donate generously
What if you can't donate but still want to take part?!
Wonderful! Please do! :)
a) The most precious offering and contribution you can do is to add your own video and make others fortunate by inviting them to chant the maha-mantra. Simply send it to us using this standard form at fortunate-people.com/addyours. In other words, become an Ambassador!
b) Kindly spread the word. Let others know of fortunate-people.com itself or spread the word about this fundraising campaign in particular.
If you're new to this campaign, please watch this video to see the mood and practical implementation of this miracle come true.
In our heart of hearts we are hoping that you won't leave this page without supporting.  if you've read this far I trust you are getting thrilled together with us to see the miracle that this campaign can manifest.
Organizer

Registered nonprofit
Donations are typically 100% tax deductible in the US.