Help keep MotorcycleRoads.com FREE
"On a motorcycle, you can't really think about more than where you are. There's a freedom that comes with that - from stress, worry, sweating the small stuff."Laurence Fishburne Dear Friends: 
My goal for this fundraising campaign is simple:
to keep MotorcycleRoads.com free
for riders with a passion for exploring the many beautiful routes around the country. I love the information that MotorcycleRoads.com provides to riders, and I know that many of you love it, too. I sincerely appreciate the nice notes many of you have included in your emails over the years.
THE PROBLEM
MotorcycleRoads.com
  is going through a difficult phase financially. Various friends and trusted associates have suggested that to overcome this financial challenge, I change MotorcycleRoads.com to a subscription-only service, but I am dead set against that. I have always prided myself on providing a service to the motorcycle community without asking for help or compensation.
I sincerely believe that at this point, asking you all for help is the right thing to do.1998

I
started MotorcycleRoads.com when I was in the Air Force
 . I got tired of moving to a new base every few years only to start from square-one in the process of finding good local motorcycle roads. Back then, as a young, single officer, I had the free time needed to hand code the hundreds of HTML pages that made up the site. I also had the extra money to pay for the web server fees to host it.  
2008
New road submissions to the websites continued to grow (as well as my family and career responsibilities). I realized I didn't have the time to keep updating the website by hand and knew I had to find the money to pay to add a database to the site, to automate as much as possible.
I began running ads on the site, and the ads began to generate revenue. After a few years, I saved enough to pay for a basic database and content management system that has been the foundation of MotorcycleRoads.com ever since.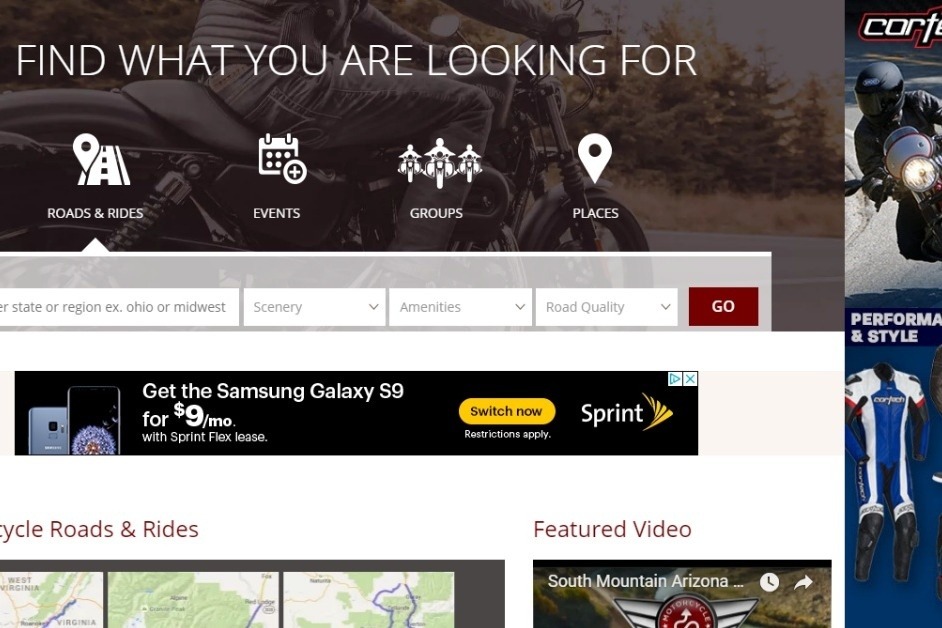 Over time, the website traffic grew and so did the ad revenue, which paid for the cool functionality that allows you to: 
·         draw route maps
·         save favorites and wish-list info
·         upload visitor photos and videos
·         provide ratings
·         utilize a site that works optimally due to ongoing enhancements and maintenance
2017-2018
I began to save ad revenue funds to pay for the development of a mobile app, to keep up with the changing times and demands. In that same year, unfortunately, new problems began to surface, and the website began to show its age. 
Features that had been working fine for years, would randomly break, and the site went through a few system-wide crashes that required expensive emergency restoration efforts. As a result, the money I had been saving for the mobile app has been repeatedly bled away and spent on maintenance and restoration activities. 
Google recently started to charge for the use of its map services, web hosting fees have gone up significantly, and ad revenue has gone down due to changes in search engines rank algorithms.
THE SOLUTION
To make MotorcycleRoads.com the best it can be, and free to use moving forward, I must first go backward and rebuild the website's foundation.
Once the website is working optimally once again, my future goals are to include international routes, develop a user-friendly mobile app, and to build social networking functionality, making it easier to share and plot routes, meet other riders, and provide an accessible (
and free
) online community for riders around the world.
FUNDRAISING GOAL
After significant research, I've determined that it will take approximately $32,000 to rebuild the underlying foundation of MotorcycleRoads.com.
I hope to raise the full $32,000 by Fall 2018, so I can start the project to replace the old system. I hope to have the new system in place by early Spring 2019. My goal is to raise at least $20,000 of the project costs through this GoFundMe campaign, and the difference will be paid off with a combination of ad revenue funds and personal savings.
GIVE MORE. GET MORE.
As an attempt to show my deep appreciation for your generosity, I developed elevated donor levels. Donors who fall within these giving amounts will receive a special gift as a token of my appreciation.
FRIEND LEVEL
$50+ Receive a FREE MotorcycleRoads.com combination keychain flashlight & an exclusive to contributors monthly update on the rebuild project
SPONSOR LEVEL
$125+ Receive a FREE beautiful MotorcycleRoads.com logo patch.   And, you'll get the exclusive to contributors monthly update on the rebuild project and opportunities for private "sneak peaks" and "test drives" of the site 
PARTNER LEVEL
$300+ Receive a FREE MotorcycleRoads.com keychain flashlight, MotorcycleRoads.com logo patch, and a fleece lined & water resistant helmet bag with hand sewed MotorcycleRoads.com logo patch.  And, not only will you will get the exclusive to contributors monthly update, opportunities for private "sneak peaks" and "test drives" of the site, but PARTNERS also get voting rights to help decide the features, layout, and graphics of the rebuild project!
*If you know of anyone who may be willing to donate $1,000+, please pass the message along, and you will be rewarded for your referral.
Please know that your contributions are sincerely appreciated and will be used efficiently to restore and improve MotorcycleRoads.com to a highly functional, user-friendly and free resource for riders everywhere. Stay tuned for progress updates as the campaign continues! 
Sincerely,
Bill Belei,
Founder, Editor (and fellow rider)
MotorcycleRoads.com