Help Us Keep Briarwood Pool Open!
Help us keep our community pool open through these Covid times!
For over 50 years,
Briarwood Swimming Association
has operated a community outdoor summer swimming pool. We are a not-for-profit organization, run entirely by member volunteers, including our board of directors. Hundreds of families enjoy the pool and its facilities each summer, participating in lessons and competitive teams, attending family barbecues, awards nights and special events, or just enjoying a dip during those hot summer days.
Briarwood Pool
has operated continuously since 1967, the only exception being 2020 where the outbreak of Covid-19 precluded most local pools from opening. The 2021 season presented a significant financial challenge, quite apart from the uncertainty created by the virus itself and the impact that may have on our membership. We operate on a shoestring budget and have been privileged over the past decades to benefit from generous subsidies from our local city administration for which we are most appreciative. However, changing priorities at City Hall mean that this source of financial assistance is no longer available to us. The
fixed operational costs
which this funding largely helped to cover nevertheless remain, and this regardless of whether or not we are able to maintain membership enrollment levels while Covid-19 is not yet eradicated. These costs include but are not limited to:                
Property Taxes:              $9,000                Maintenance:                  $5,000                Pool Chemicals               $2,500                Electricity:                         $3,500                Insurance                           $3,500


Added to this will be the cost of having to operate subject to Covid-19 guidelines. We would like to cover as much of our fixed operational expenses as possible through our 
GoFundMe
campaign so that we can make it through these turbulent times. We appreciate everything and anything you are able to contribute. No amount is too small, or too big! :-) 
In addition to the operational costs, we also have to add the salaries for approximately 
15 Lifeguards and Daycamp staff
.
Thanks to our qualified and dedicated staff, 
Briarwood Pool
 is able to offer competitive summer aquatic activities and sporting events in swimming, diving, water polo and synchronized swimming. Our lifeguards coach our teams & instruct 
Red Cross
 aquatic education to children and youth as well as aqua fitness classes, a big winner with our 
senior
 population!
Our summer
Aquatic Day Camp
in tandem with our community pool welcomes up to 40 children who enjoy swimming instruction and many other summer activities.  We are located in a small area of green space in an ethnically and economically diverse population base. 
And so . . .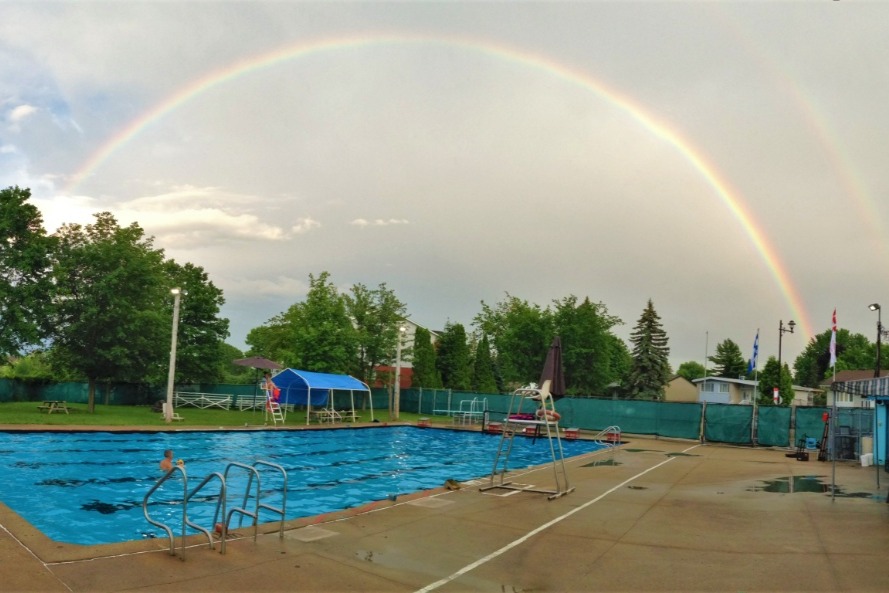 The sun will shine again! 
And 
Briarwood Pool
 is determined to survive so that we may continue to be an asset to our community for many more years to come. That is why we are reaching out to you, whether you are a current Briarwood member, former member, friend, family, or just want to help us in this fundraising effort for a worthy cause. Please spread the word, or tweet, or Facebook post, or email, or any other channel you may have.
Thank you in advance for your support of this little piece of paradise in our community that is
Briarwood Pool
.
We are looking forward to once again being able to call 
"Pool's Open!"



============================================================
                              Aidez-nous à garder la Piscine Briarwood ouverte !
============================================================
Aidez-nous à maintenir notre piscine communautaire ouverte en ces temps de Covid !

Depuis plus de 50 ans, l'
Association de natation de Briarwood
exploite une piscine d'été communautaire en plein air. Nous sommes une organisation à but non lucratif, gérée entièrement par des membres bénévoles, y compris notre conseil d'administration. Des centaines de familles profitent de la piscine et de ses installations chaque été, en participant à des leçons et à des équipes de compétition, en assistant à des barbecues familiaux, à des soirées de remise de prix et à des événements spéciaux, ou simplement en profitant d'un plongeon pendant les chaudes journées d'été.
La
Piscine Briarwood
a fonctionné sans interruption depuis 1967, la seule exception étant l'année 2020 où l'épidémie de Covid-19 a empêché la plupart des piscines locales d'ouvrir. La saison 2021 nous a présenté un défi financier important, sans compter l'incertitude créée par le virus lui-même et l'impact qu'il peut avoir sur nos membres et nos adhésions. Nous avons eu le privilège, au cours des dernières décennies, de bénéficier de subventions généreuses de la part de l'administration municipale locale, ce dont nous sommes très reconnaissants. Cependant, l'évolution des priorités à l'Hôtel de Ville signifie que cette source d'aide financière ne nous est plus accessible. Les
coûts opérationnels fixes
que ce financement permettait de couvrir en grande partie subsistent néanmoins, et ce, que nous soyons en mesure ou non de maintenir le niveau d'inscription des membres alors que le Covid-19 n'est pas encore éradiqué. Ces coûts comprennent, sans s'y limiter, les éléments suivants
                Taxes sur la propriété :                               9 000                 Entretien :                                                           5 000                Produits chimiques pour la piscine :  2 500                Électricité :                                                         3 500                Assurance :                                                         3 500
À cela s'ajoutera le coût de l'obligation de fonctionner selon les directives de Covid-19. Nous aimerions couvrir autant que possible nos dépenses opérationnelles fixes grâce à notre campagne
GoFundMe
, afin de pouvoir traverser cette période de turbulence. Nous apprécions tout et n'importe quoi que vous êtes en mesure de contribuer. Aucun montant n'est trop petit, ni trop grand ! :-)
En plus des coûts opérationnels, nous devons également ajouter les salaires d'environ
15 sauveteurs et le personnel du camp de jour
.
Grâce à notre personnel qualifié et dévoué, la
Piscine Briarwood
est en mesure de proposer des activités aquatiques estivales compétitives et des événements sportifs en natation, plongée, water-polo et natation synchronisée. Nos sauveteurs entraînent nos équipes et donnent des cours d'éducation aquatique de la
Croix-Rouge
aux enfants et aux jeunes, ainsi que des cours d'aquaforme, très appréciés de nos
aînés
!
Notre
camp de jour aquatique
d'été, en tandem avec notre piscine communautaire, accueille jusqu'à 40 enfants qui profitent de l'enseignement de la natation et de nombreuses autres activités estivales.  Nous sommes situés dans une petite zone d'espace vert dans un bassin de population ethniquement et économiquement diversifié. 
Et alors...
Ça va bien aller!
La
Piscine Briarwood
est résolue à survivre afin de continuer à être un atout pour notre communauté pendant de nombreuses années encore. C'est pourquoi nous faisons appel à vous, que vous soyez un membre actuel de Briarwood, un ancien membre, un ami, un membre de la famille, ou que vous souhaitiez simplement nous aider dans cet effort de collecte de fonds pour une bonne cause. Merci de faire passer le mot, ou de faire un tweet, ou de poster sur Facebook, ou d'envoyer un e-mail, ou tout autre moyen que vous pouvez utiliser.
Merci d'avance pour votre soutien à ce petit coin de paradis dans notre communauté qu'est la
Piscine Briarwood
.
Nous sommes impatients de pouvoir à nouveau dire
"La piscine est ouverte"
!("Pool's Open!")