Sherry and John's road to recovery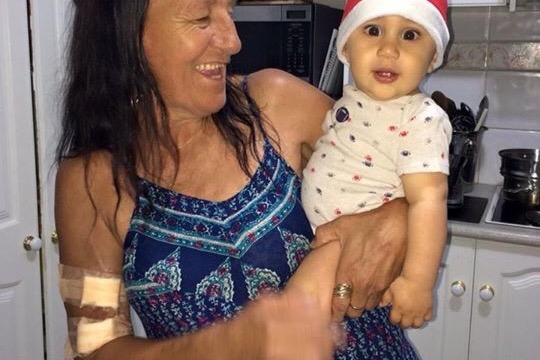 Sherry and John are loving parents and grandparents to 4 children and 12 grandchildren with another due in January. Despite their long history of health problems, they have always worked hard to provide for themselves and their family. John was diagnosed with insulin dependent diabetes in 1967 which resulted in amputations of toes and fingers. He was also diagnosed with Renal failure in 1995 and began dialysis in 2002. On the 29/02/2004 he was a recipient of a combined pancreas and kidney transplant.  
On the 11/02/2007, Sherry and John's 1st wedding anniversary, Sherry started dialysis for her end stage Renal Failure. Over a decade of dialysis has taken a huge toll on her body and has resulted in being hospitalised on a number of occasions and limited her ability to work. Despite all that, she was always determined to work as much as she could even going to work straight after receiving her treatments. 
Sherry had high antibodies and it was extremely difficult to find a match for a kidney transplant. After over 10 years, on the 29/10/2018  finally we got the call that Sherry had received a kidney. 
With this great news for our Mum, was sadly followed with news about our Dad.  
As a result of John's anti-rejection medications, on the 24/10/2018 he was diagnosed with aggressive squamous cell carcinoma SCC (Cancer) through the pelvic floor region, requiring major surgery on the 22nd November 2018.
John is limited in the treatment he can receive as chemotherapy could have a major impact on his donated kidney. This could result in him being back on Dialysis & the Kidney transplant list. 
Both work in minimum wage casual positions due to their ongoing health issues over the past 12 years. The two of them have been advised that they are unable to work for the next 2-3 months. They have accumulated cost of tests and medications and with no income are unable to cover even the necessities in life. Sadly they have been told that government assistance is not available for them.
This GoFundMe page is our last resort. 
We ask for your help at this time to help them get on their feet again and to take the burden of costs off them as they go through the most trying time. They are honest, hardworking Aussies and wonderful people and they need your help.
Any assistance would be greatly appreciated to help our parents get on the road to recovery.
We would like to thank you all in advance - Tiffannee, Talisha, Brendon & Rachel.
Fundraising team (3)
Tiffannee Jane 
Organizer
Raised $336 from 7 donations
Lake Haven NSW
Brendon Koeford 
Team member
Raised $1,835 from 20 donations