Help Jemila survive health challenges and continue her life passion
Hi, I am a trans graphic designer and activist living in Ithaca, New York, and today I am fundraising on behalf of my friend and fellow activist, Jemila Sequeira, an African-Asian-American queer community organizer and activist who relocated to New Orleans from Ithaca. She is suffering from financial difficulties  and debilitating pain from arthritis affecting her spine  (cervical and lumbar) and joints, and is urgently in need of help.
Several years ago I was honored to help create a poster for Ithaca's Congo Square Market, a seasonal multicultural market in Ithaca's historically African American neighborhood. The founder's vision was to foster a stronger culturally vibrant self-reliant local community. Ithaca's Congo Square Market created a venue for local entrepreneurs of color to offer, among other things, free healthcare services, live music, farm produce, and amazing Jamaican, Cuban, Ethiopian, and soul food. During this time I had the good fortune to meet Jemila, a co-founder of the Market. She struck me as a powerful and well-educated community organizer, a woman with beautiful ideas and the willpower and energy to manifest them in the community. In March 2016 funding for her food system community organizing and research ended and her position was terminated. She moved away to New Orleans; we remained connected via Facebook, and I continued to think of her as one of the most inspiring activists I've ever met.
Market fun at Congo Square Market
Then, on May 7th, Jemila posted something that caught my attention and broke my heart. "Jemila Sequeira is feeling broken," the post began.
"I'm under my car trying to hold pieces together:( some of y'all know I'm dealing with spinal conditions that most likely will lead to surgery. Cervical and lumbar arthritis bone spurs on vertebrae. It's been 18 months waiting for social security administration on a decision to my appeal of their denial. No income save someone helping with car insurance. Fixing this right now is excruciating. Without transportation I can't get medical procedures for my spine. Forgive my ranting- except maybe for real enemies I wouldn't wish my (this) physical pain on anyone."I realize I'm unable to cry anymore... it's been over a year - disappointment health trials take a toll after a while. Most of my family has transitioned and I'm an Elder orphan."I've been in shock all day... Facebook is strange because all the love and prayers but not one human voice. I understand that calling me is risky cause caring too close may require something... something that isn't worth the human touch of a call. I pray and walk seeking to be a blessing to others. I only pray helps are provided and that the Most High will bless anyone who is urged to reach out to me."The only peace that I have is that the Most High is aware of how I've prayed for so many of from Ithaca Detroit Oakland New Orleans..."I'm just tired."
I've added the bolding here. To learn of Jemila's suffering was a shock. To not respond to her words with some offer of concrete help felt deeply wrong to me. I offered to help with a GoFundMe and I'm grateful that Jemila accepted. So here I am today, on her behalf, hoping that our beloved community can help a truly wonderful person who has given so much of herself to get through an extremely vulnerable and debilitatingly painful time in her life.
"I believed that my life had some purpose."
Jemila in 1981
Jemila Sequeira grew up in Brooklyn, where her parents met and started a family with the birth of her older brother. Her mother grew up in the Deep South, her father in Malaysia. Jemila understands today that while her parents provided their best it was unfortunately inadequate in preparing her for college and adulthood. She excelled academically and at age fourteen she began working after school and on weekends. With determination Jemila was enrolled in the class of 1983 at Cornell University.
In the spring semester a classmate raped Jemila in the coed dorm. Frightened, she found the courage to tell her family, who downplayed the rape and instead of supporting Jemila, disowned her. Jemila began to believe that their actions were due to her emerging queer identity. She considered suicide but soldiered on, earning an MSW Magna Cum Laude and BSW Summa Cum Laude from the State University of New York at Stony Brook, an AAS Highest Honors from Tompkins Cortland Community College, and an MT from the Finger Lakes School of Massage.
Jemila with her mom and her brother Bernard at her graduation in 2001 at SUNY Stony Brook
Along the way Jemila provided social work services, supervised and monitored preschoolers in Head Start programs, contributed to publications, from 2008 to 2016 was a Community Organizer/Researcher for Food Dignity, a five-year USDA Agricultural Food Research Initiative grant for food system sustainability, and served as field placement advisor to master degree candidates at the University of Binghamton's master degree program.
Jemila introduced this young neighbor to a pig - it was his first time touching one!
Jemila leveraged grant funds for a neighbor to launch this senior gardening project in a low-income elder housing complex
Jemila has given presentations on food security and public health collaborations in Johannesburg, South Africa, and in New York City (NYU), Chicago, New Orleans, Bethesda, Washington, D.C., Yale University New Haven, and Oakland. Among other accomplishments she was an elected Tompkins Food Policy Council Member in 2015 and 2016, and was awarded a Certificate of Exemplary Leadership in Action in 2015. Jemila also received a People's Choice "Signs of Sustainability" Award in 2015, and the "Community-Campus Partnerships for Health" annual award in 2014.
Neighborhood children at playground build day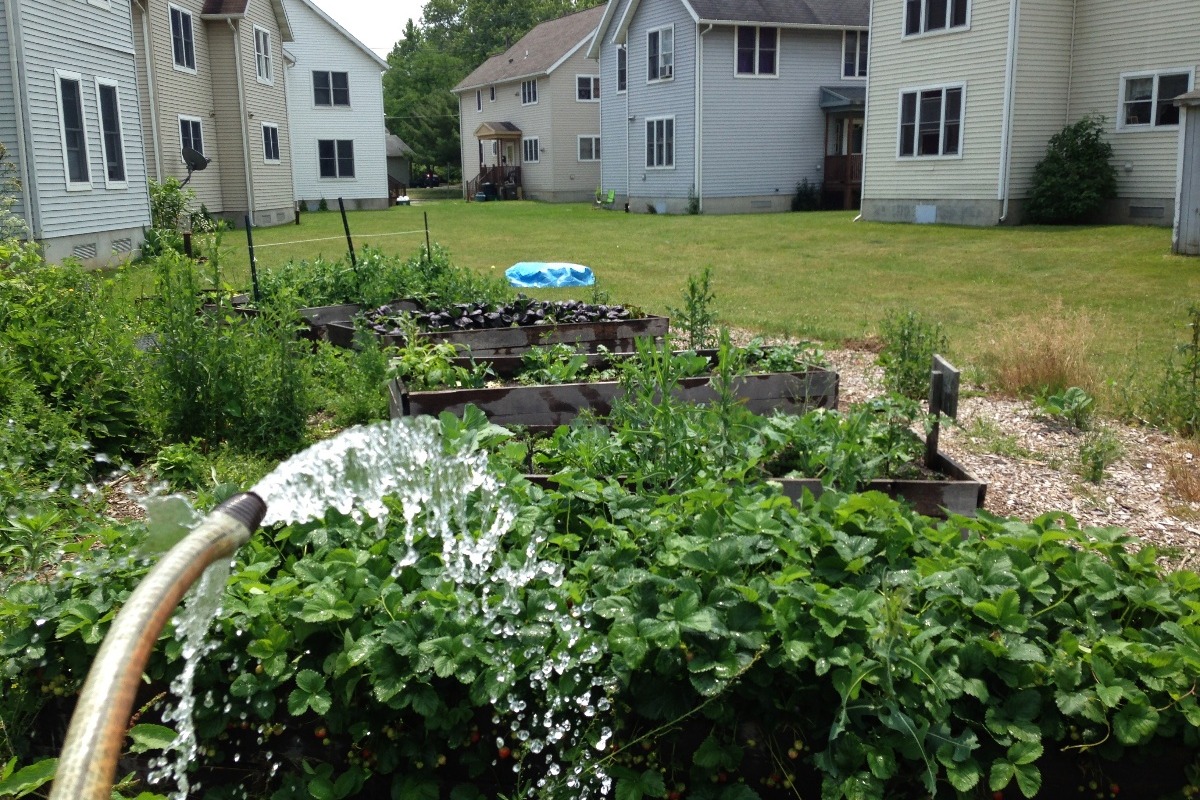 Jemila organized the building of raised garden beds at several homes
Jemila was the driving force behind the donation and shipment of the first digital mammography machine from Ithaca, New York to Liberia, Africa's John F. Kennedy Hospital in 2006. In addition to co-founding Congo Square Market, she founded Tompkins County's first homeless and transient youth outreach program offering participants paid internships at local businesses, as well as support in navigating networks to access employment, education, and housing opportunities.
"I'm scared… I feel very alone and scared and I don't want to be on the street"
Despite her dedication to social change, hard work, and accomplishments, today Jemila is in a very hard place.
The work opportunity she had lined up for her relocation to New Orleans fell through; she received none of the funds raised by the organization (despite the contributions from friends and colleagues intended to help her get settled). Despite her best efforts and ongoing eagerness to work, Jemila hasn't had any steady income since her unemployment ended in the fall of 2016.
She devoted time and energy to her older brother as he suffered and passed away from pancreatic cancer. Her mother suffered from several heart attacks; Jemila spent six months sleeping at her mom's bedside, holding her as she transitioned. She lost her father to cancer related to asbestos exposure, and had to miss his funeral as well as the funeral of her aunt (who had been her mom's last living sibling) due to lack of funds needed to travel.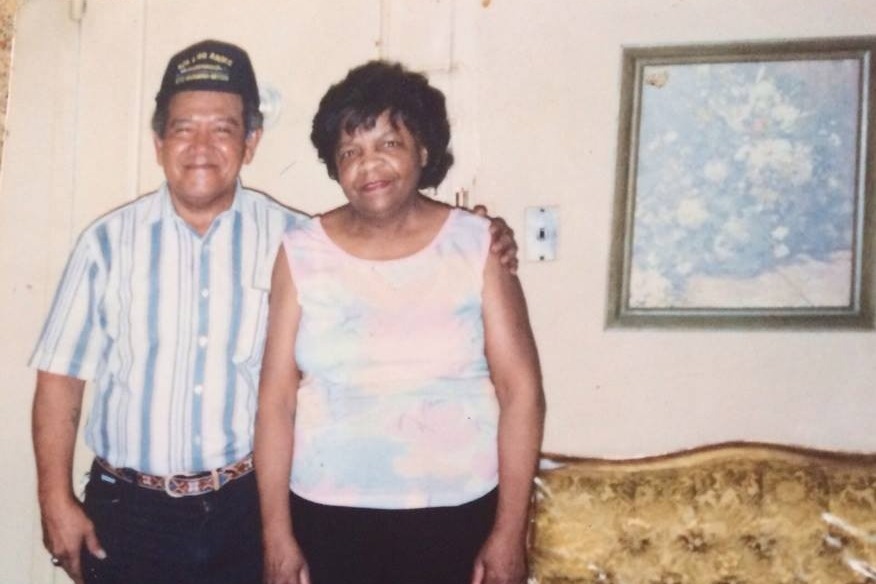 Jemila's mom and dad


Jemila with her mom and her brother Bernard
Jemila tells me about how during her childhood and early adulthood, things were very different regarding sexuality and gender identity — and that growing up as a Black person surrounded by mostly European/White classmates and teachers, she felt pressured to not complicate her already difficult life by publicly identifying as gay or lesbian. Any attempts to live her truth came with a price — for instance, being denied involvement in her mom's funeral due to the homophobia of other family members. While Jemila clearly comes from a place of compassion and forgiveness, I could tell from her voice and choice of words that it took tremendous courage for her to revisit her painful past and its ongoing ramifications.
And Jemila's pain is not just emotional: Every day she suffers intense spinal pain and is in need of two spinal procedures (a medial branch block and radiofrequency ablation) which will hopefully postpone what appears to be inevitable spinal surgery.  It has been almost two years since her application for disability was denied; it's currently under appeal.  I could hear the sadness in her voice as she explained that she really needed to get her car repaired so that she can get to medical appointments — especially since her car was recently hit by at an intersection, damaging the front. It requires substantial repair she can't afford, and is in part held together with coat hangers and duct tape. She also can't afford the vitamins and healthy food that could help her manage the pain from her arthritis.
Part of the damage to Jemila's car
At 57, Jemila now feels very alone and overwhelmed with pain, and is in dire need of immediate help if she is going to survive her current difficulties.
"There is a power far greater than us that is the source of our love"
Any donations to this GoFundMe will be put toward:
- (Extremely modest) living costs
- Car repairs, insurance, tickets, car payments, and gas
- Supplements and healthy food
- Eyeglasses and possible cataract treatment
- Shoes and sneakers (particularly important since she's already had to have foot surgery)
- Clothing (Jemila hasn't been able to buy any new clothes since 2008)
- Legal assistance to help resolve her application for disability
- Student loans
"So I've learned that maybe I just have to ask because I sure don't want to give up"
Thank you so much, dear friend, for reading this far. If you, like me, think Jemila deserves some comfort in life, some new shoes and new glasses and a functional car and a roof over her head, please consider donating even $5. Even the smallest contribution will make a huge difference.
Whether you can afford to donate or not, I would be so grateful if you would consider telling people you know about this fundraiser. Share it on Facebook or Twitter, email it to a friend or family member, call up someone you know who might be able to help. Jemila is a wonderful person and she needs some love.
You have the power to make a real difference in someone's life.
Thank you for any assistance you may be able to give.

Organizer and beneficiary
#1 fundraising platform

More people start fundraisers on GoFundMe than on any other platform. Learn more

GoFundMe Guarantee

In the rare case something isn't right, we will work with you to determine if misuse occurred. Learn more

Expert advice

Contact us with your questions and we'll answer, day or night. Learn more