Help Fund DEATHSWORD A Haunted CRPG
Hi! My Name is Rani and I'm working on a new video game project called DEATH SWORD. I know the name kinda sounds like something a 14 year old would come up with, and that's actually part of the point. The game itself is an Adventure RPG along the line of games you would have seen on the Apple ][ or Tandy or Commodore 64, but as you quickly learn while playing it, the game itself is haunted.
The game was rated "Most Innovative" at the
2017 Intel Buzz Indie Gamedev Showcase
in Portland, Oregon. We're planning on showcasing at other events soon and will keep everyone posted!
There are two main modes to the game, the game itself, and a story mode that advances the further you get into the game. At the beginning, all you as the player know is that this game was found in a creepy storage locker and the previous owner seemed obsessed with finding out about the person who created it. As you play the game, things start to "break," which brings further revelations about the game's origin. Or maybe you are actually going crazy while playing the game.
Even characters in the game itself seem aware that things are amiss.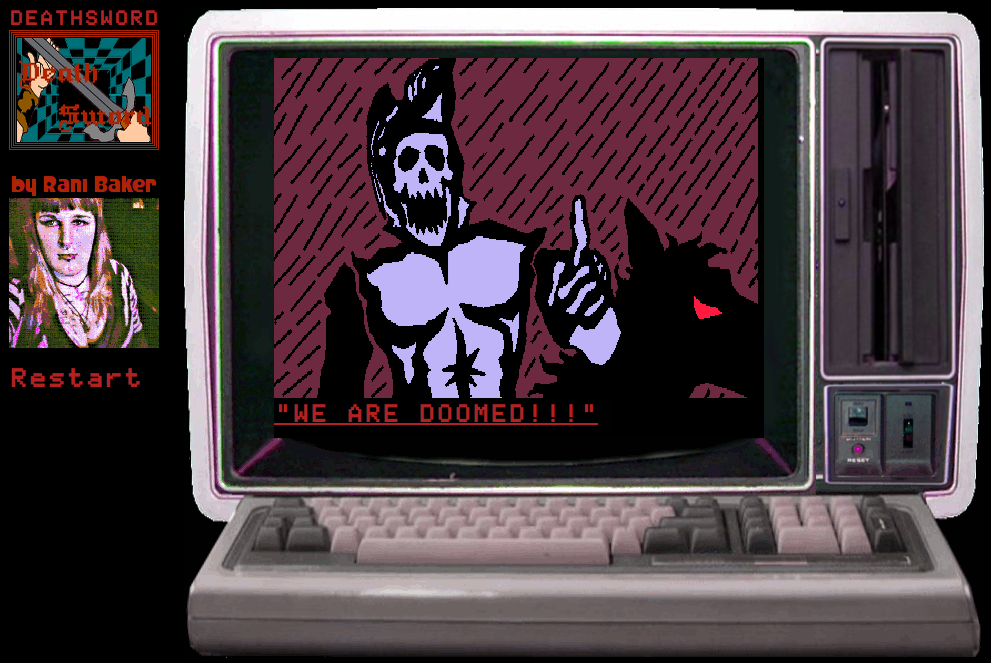 You learn very quickly that the game was created by a teenager in a small lonely Texas town in the 1980s, but you still find yourself puzzling over everything else. Who was this person? What happened to them? Why was the previous owner so obsessed about them, to the point of collecting photos and newspaper clippings? Why does the game seem to know you are playing it?
You also don't have to take my word for it. Here's
a gameplay video
of Death Sword by Mikey Blighe, and gaming podcast Misanthroplay hinted about
an entire episode on my games
(including Death Sword) in their Aug 31 podcast.
I currently have a demo of the game available on
GameJolt
and
itch.io
. You can get as far as Chapter IV, which I figure is enough to give you the general gist of the project.
For some background on myself and my previous projects, I created the game
NEVER GO TO WORK
,
which was reviewed in Boing Boing
and got a sponsorship from the
Interactive Fiction Fund
. I also released a demo for another project,
LITHIUM
, which caught the attention of
PC Gamer
magazine.
Now lets talk about the goal of fundraising for the game. Of course, ideally I want to finish the game by the end of this summer. Right now I'm building it in
Twine
, which is great because nearly anyone with a browser can play it, but has it's own hiccups. I would like to also put together a multi-platform release developed in
Stencyl
. Once at least the Twine version is complete, I'd like to start working on a limited print box version of the game, much like a 1980s CRPG release with a fancy box and map and various instruction documents and such. As we get closer to the development of such releases, I'll have a better idea what I can promise as far as donor rewards. Never put together a fundraiser like this before, so pardon any clumsiness.
This is gonna take some time to put together and I want to make sure there is interest in this project proportionate to the work I'm putting into it. I will have to maneuver it around other freelance and commissioned projects and work that pays my bills. I gave this fundraiser a goal I think is relative to the time I will need to set aside to complete it.
I'm really stoked about this idea, and I hope you are too. Honestly anything you can provide will help and will give me a better idea what projects of mine people prefer to see more of.
Organizer