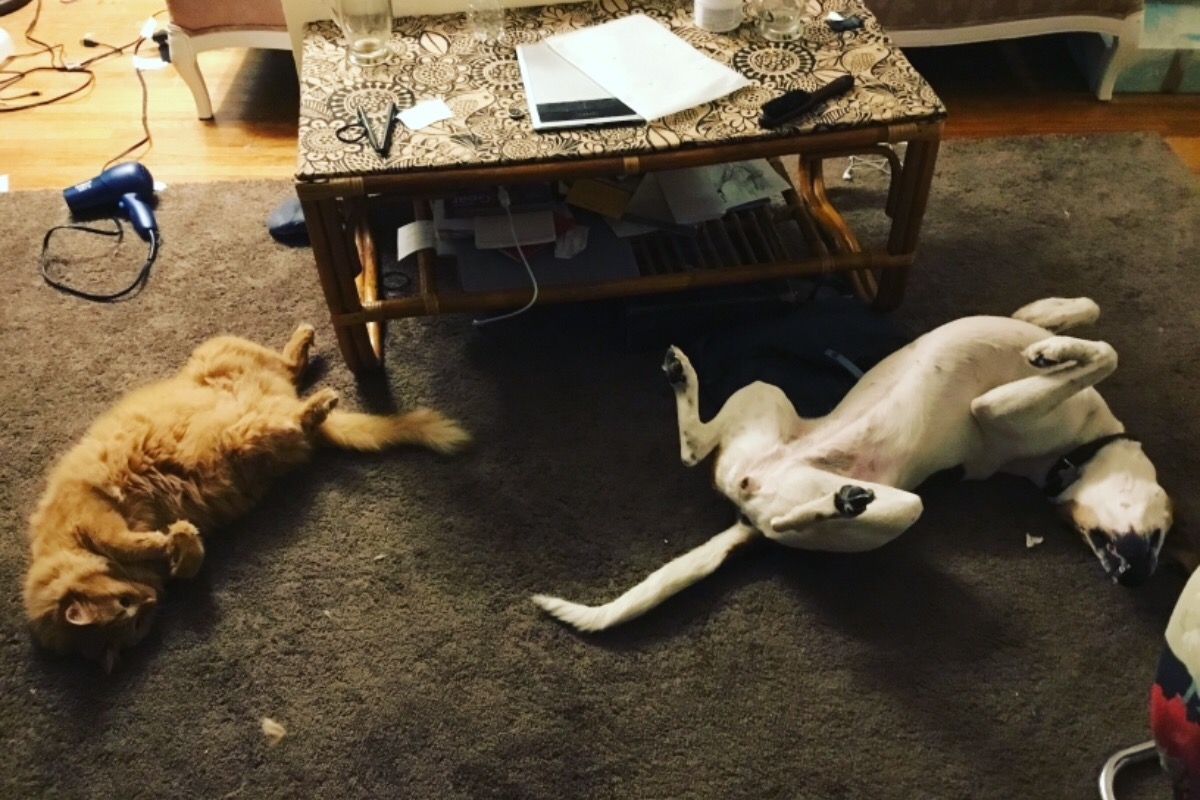 Fran began feeling unwell in late March for reasons still unknown. She experienced abdominal pain and minor nausea, accompanied by an unusual, high-pitched bark that sounded hoarse. She began drooling copious amounts of thick mucus, which was extremely out of the ordinary for Fran, since she usually does not salivate very much at all.
Starting on the weekend of March 31st and April 1st, she vomited several of her meals. That was indeed concerning, but it was a possibility in my mind that she had simply eaten too quickly and had upset her stomach that way. She then had several incidents on April 2nd where she collapsed or fell for no visible reason, and it was at that point that Tanya and I realized there was something very wrong and that Fran needed to see a vet.
We took her in for some x-rays during the afternoon of April 2nd, and she had to be carried out to the car and then into the clinic. After her first appointment, it was clear her situation was worsening, and she became unable to keep down a small meal or even water without vomiting it back up. While at Vet Partners of Minneapolis, she was cared for by Dr. Lloyd who performed the radiograph on her digestive tract. The initial x-rays showed a dilated stomach.
The doctors suspected that a foreign object was the cause of this dilation, so an exploratory surgery was done there to attempt to discover and remove the object. However, nothing was found inside her during the operation, so she underwent blood work and tests for pancreatitis and Addison's disease,  all of which came back negative and completely normal.
Post operation, she has deteriorated rapidly and developed pneumonia as a complication from surgery. She is now unable to walk, and sitting upright has become increasingly difficult for her. Lying down is dangerous, as she is not able to breathe freely due to the fluids present in her lungs. The doctors at Vet Partners were not confident in her recovery, so they recommended that she be transferred to a 24/7 animal hospital.
She is now in the ICU of the University of Minnesota Veterinary Hospital, where she is undergoing more tests to discover the cause of these issues that have all become quite urgent. Fran's medical bill is now upwards of $3000, and we still have not been given any explanation for what is wrong with her. She is expected to remain in the care of the University doctors for the next few days while they take more radiographs and test her for foreign objects in her trachea and esophagus, as well as a number of other diseases they are suspicious of, including Myasthenia Gravis (a neuromuscular disease which causes the body's immune system to attack junctions where neurons and muscles interconnect).
The past week has been the most difficult period of my entire life, and I have no prediction for what the following days will hold. The doctors and technicians have all been immensely understanding and compassionate, but no one has been able to provide us with any answers about why Fran isn't well. It is an emotionally exhausting experience to care so much for a living creature and to have no ability to restore her well-being.
Tanya and I love Fran very much, and even though we have only known her for a little less than two years, it's difficult to remember what life was like without her. Anyone who has met Fran can testify to her unwavering eagerness and zeal for life. She has been a literal ray of sunlight in our lives since that day in the fall of 2016 when we drove down to Red Wing to meet her for the first time. She is always happy and playful, and immediately trusts everyone she meets (which has given me some cause for concern in the past). She has transformed our lives into more active, adventurous, sunshine-filled versions of what they were before. We are determined to do whatever it takes to get her back to her old playful, happy self.
Our funds are extremely limited however, and as Fran's medical bills continue to climb and her immediate care becomes more urgent, we have serious doubts about how to make ends meet during this time. For the time being, we have enough available credit to pay for the past week and possibly a day or two more, but paying back what we have spent of the credit card companies' money is a big question mark at the moment. I have applied for Care Credit as well, which should provide us with additional credit that can be repaid within a six month period, so that also lessens the need for immediate cash, but again, our ability to repay this accumulating debt is minimal. I am going to give this campaign a window of one month to raise the funds we have deemed necessary to pay for Fran's care.
We are reaching out to friends and family members who feel comfortable enough to give any amount of money to help cover these bills, which will allow us to keep her in the care of people who do have the ability to make her well again. Thank you for going out of your way to read this.

Organizer
#1 fundraising platform

More people start fundraisers on GoFundMe than on any other platform. Learn more

GoFundMe Guarantee

In the rare case something isn't right, we will work with you to determine if misuse occurred. Learn more

Expert advice, 24/7

Contact us with your questions and we'll answer, day or night. Learn more