Fighting cancer with Odett
(English - Versión en español más abajo)
Odett Perez is the mother of two and grandmother to one and a half grandchildren (one of them is still in the womb). She's also my auntie. 



She lives in Venezuela, a beautiful but troubled country in South America where many things are scarce (medicines, water,  food, gas/petrol).
In December of 2019 she started experiencing pain in her rib cage . Doctors said it was stress related so she went home with a wrong diagnosis. Then Christmas holidays came and everything closed for a few weeks. Then COVID19 happened, so many medical institutions have been closed for months now.
Her situation has gotten worse with time and now she's experiencing intense and constant pain every day. She was taken to the emergency room and she was hospitalized in April for one day -this is all the insurance company covered- due to the pain, and she finally got a exam that shows a tumor in one of her lungs that is compressing the nerves and is causing the pain. She needs to undergo surgery immediately to have it removed and study its composition to see if she will need to start chemotherapy as well. The insurance company does not cover these procedures, and this surgery will be the first step to her safe recovery ( and is also to save her life). The surgery cost is around 11.000 Usd. 



As many of you may know, salaries in Venezuela are very low (approx. 5 Usd a month -yes, five dollars-), so these costs are extremely difficult (impossible) for our family to cover. The restrictions for COVID19  are also a significant issue, since most institutions and public hospitals are closed or open only for specific emergencies due to the virus. 

Many things can wait during quarantine, but cancer is not one of them and that is the reason why we are now recurring to our friends, family and all the good people around the world to humbly ask for help in these challenging times, either with a donation or sharing this story. We will be forever grateful to anyone who helps us keep Odett singing in the karaoke in our next family gatherings when we can go back to celebrate life. We trust this is something that we can overcome and we are also grateful for the opportunity to come even closer as a family. 

We have lost family and friends over cancer before and we know this is something we need to attack right now before it's too late if we want to have a chance in winning this battle. If we add the pandemic situation we can certainly say that this is an extreme situation and it requires extreme solutions, so we´re now counting on anyone who can help us save her life. 

If you know any international institution or person that could help somehow, we would also appreciate it very much. 

With all the hope and love in my heart (and my family´s), 

Noryan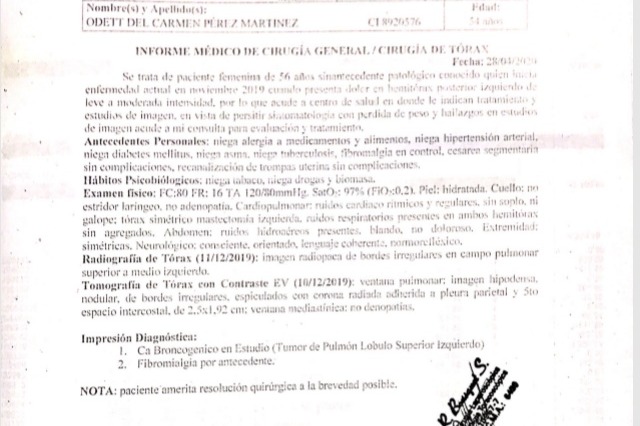 (Español)

Esta es Odett Pérez. Tiene dos hijos y un nieto y medio -el segundo todavía está en la panza. Tiene una familia grande y entre esa familia estoy yo. Odett es mi tía materna y mucha gente dice que medio me parezco a ella. Ya quisiera yo. 

Mi tía Odett, igual que toda mi familia, vive en Venezuela, un país hermoso y caótico donde hay mucha escasez de alimentos, insumos médicos, agua, gasolina y pare de contar. Aún así, nos encanta cantar, bailar, reírnos y pasarla bien en cualquier situación porque disfrutamos la vida. 

En diciembre del año pasado (2019) Odett empezó a sufrir de unos dolores muy fuertes en la zona torácica y el médico que la vio le dijo que probablemente era a causa del estrés, cosa que es muy posible porque los niveles de estrés en Venezuela son muy altos (hay que hacer cola para comprar cualquier cosa y la inflación es insólita). La mandaron a su casa con unos calmantes y ya, pero los dolores no cedieron, así que ella insistió hasta que le hicieron una tomografía torácica justo antes de las navidades. Después de la tomografía todo cerró por las vacaciones decembrinas (en Venezuela diciembre se extiende muchas veces hasta finales de enero) y después de eso todo permaneció cerrado por las medidas contra el COVID19. Entre tantas cosas cerradas estaba también la clínica donde estaban los resultados de aquella tomografía. 

 
La situación fue empeorando durante estos meses y ahora Odett tiene dolores cada vez más intensos, más frecuentes y prolongados. En abril tuvo que ir de emergencia a la clínica y la hospitalizaron por un día por el dolor (eso fue todo lo que alcanzó a cubrir el seguro médico) y después de mucho presionar y discutir, finalmente le entregaron los resultados de los exámenes que le habían hecho en diciembre. Estos exámenes reflejaron que hay un tumor en uno de los pulmones que presiona nervios y genera el dolor. Lo más probable es que este tumor haya crecido durante los últimos meses, así que se requiere cirugía urgentemente para remover el tumor y hacerle los exámenes pertinentes para ver si será necesario hacer quimioterapia. 

La aseguradora no cubre nada de esto y el presupuesto para la cirugía es de unos 11.000 dólares. Esta cirugía es el primer paso para la recuperación de Odett, pero también puede salvarle la vida. 

Como muchos de ustedes saben, los salarios en Venezuela son excesivamente bajos (el salario mensual es más o menos 5 dólares -sí, cinco-), así que para nuestra familia es prácticamente imposible cubrir esta cirugía. Además, los hospitales públicos están trabajando a medias por las restricciones del COVID19 y en algunos hay que esperar meses para tener acceso al servicio. 

Sabemos que muchas cosas pueden esperar durante la cuarentena, pero el cáncer no es algo que espere y por eso recurrimos ahora a nuestros amigos, familiares y todas las personas maravillosas que puedan ayudarnos en este momento tan difícil. Puede ser donando o compartiendo esta causa con otros. Agradecemos sinceramente a cualquiera que nos ayude a ver a Odett cantando en el karaoke la próxima vez que nos reunamos a celebrar en familia y tenemos la confianza plena de que podemos superar este obstáculo y salir más fortalecidos como familia después de esta tormenta. 

Ya hemos perdido familiares y amigos muy queridos por el cáncer en el pasado y es por eso que sabemos que necesitamos actuar ya, inmediatamente, si queremos tener una oportunidad contra este monstruo tan grande. Si a esto le agregamos la situación de la pandemia, podemos decir que esta es una situación realmente extrema y que requiere medidas más extremas para salir victoriosos. Contamos con nuestros familiares y amigos entonces para ayudar a salvar la vida de nuestra Odett.

SI alguien conoce algún ente internacional, institución o persona que pueda ayudar a esta causa, por favor no duden en contactarnos y les agradeceremos siempre. 


Con todo mi corazón y mi esperanza (y la de toda la familia), 


Noryan
Donations

Fundraising team (3)
Noryan Yvyana 
Organizer
Raised $1,043 from 16 donations
Ivanhoe East, VIC
#1 fundraising platform

People have raised more money on GoFundMe than anywhere else. Learn more

GoFundMe Guarantee

In the rare case that something isn't right, we will refund your donation. Learn more

Expert advice, 24/7

Contact us with your questions and we'll answer, day or night. Learn more