Help Fix Our Windows While We Have No Shows
May begins. We're at one of our favorite camping events, enjoying casual selling and socializing on one weekend before our major renaissance faire season takes off. We've just finished several busy shows that kick of our season, and we're ready for a busy couple of months. We're hanging out with friends we only see once or twice a year when festival season rolls around. We're busy, but optimistic.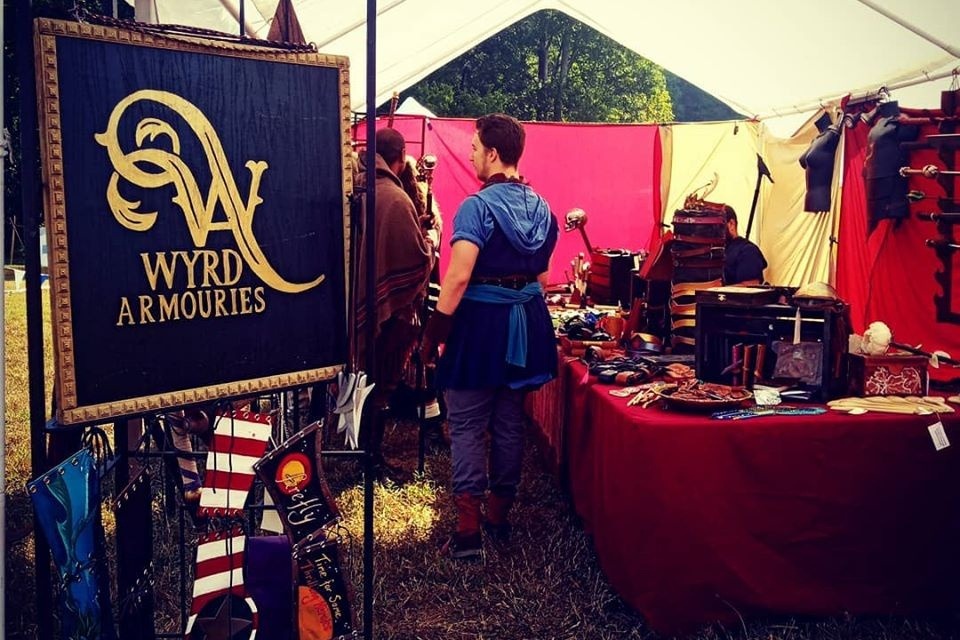 That would be any other
May
...
Instead, we're partially working from home, partially working from our studio on a now very, very quiet downtown street, trying everything can to make ends meet. We're scraping by, and just when we think we have a tentative handle on it...
Someone smashed two of our storefront windows.
We've been working hard to restore our old 1930 department store building. We've even been using this unexpected open time to make more repairs and build out our front so that someday soon, when we can open again, we can actually open the front.
Instead, we now have to scramble not just to pay our bills, but to replace two massive broken windows.
These beautiful display windows are part of what drew us to buy and renovate this building. We dreamed of creative displays, helping bring the arts and handcrafted goods to our old historic street. Now that they are broken, they (and the entire 1930 window bracket system that was built into the brick) need to be replaced.
We have received a couple of quotes, so it looks like replacement is going to cost us between $1500 and $2000 out of pocket.
This is at the worst possible time.


While we have done what we can to keep things afloat, that did not take into account such an added cost. So, we are creating this fundraiser under GoFundMe's #SmallBusinessRelief program.
In a usual year, we would have been entering our busiest season right now. We could have managed this cost, though we would still have been angry about whoever did this. This year, with no faires or festivals until Fall at the earliest, we really need help.
Here's what we've done thus far, and how else you can help.


We totally understand that not everyone has money to spare, so if you can't donate directly there are other ways you can help!
But first of all, a huge thank you to the community around us that responded when I initially announced on Facebook what had happened at our studio. You all shared our vandalism around an the initial response was a huge help that restored my faith in people. Here's what you managed:
- $400 in direct donations already received. Thank you!
- Awesome community contact, from help spreading word and additional offers of assistance from friends, neighbors, and our city. Thank you!
- A big uptick in our online sales. I'm going to be busy making things for a while. Thank you!
But we have a chunk of fundraising to go, so here's what additional help we can use:
- Share this fundraiser anywhere you think is appropriate!
- Visit our
online store
  and buy yourself or someone you know something cool - or a cloth mask! We've put our sewing machines that usually would be making costumes right now hard to work making masks.
- Stay in contact, and come visit when we are able to open!
What if we raise more than we need?
That would be awesome, wouldn't it?
What's listed as a goal for this fundraiser is just what it will take to replace our windows. Any extra we raise will go towards paying already overdue bills and help us handle the financial uncertainty with our usual method of income shut down.
Please, help us come back from this even stronger than before, so we can see you at amazing faires and festivals next May!

Fundraising team: Wyrd Armouries (2)
Cynthia Abernathy 
Organizer
Raised $311 from 5 donations
Eden, NC