Help Evabeth conquer cancer!
Evabeth's story started with a moment that every parent can relate to: The 5 year old was monkeying around with a friend in a tree, and took a short tumble. Being the sweet and spunky girl that she is, she quickly bounced back to her feet and continued playing on the beautiful late November day.
Later that day, however, worry set in when Evabeth's family noticed blood in her urine. Evabeth was brought to the emergency at the hospital that night. Doctors and medical staff at the hospital were naturally concerned, but alleviated the family's worry somewhat by ruling out a critical injury as it was not a big fall. However, they believed the fall could have potentially triggered an existing condition.
An ultrasound was recommended, and in the blink of an eye, Evabeth's entire world changed. The ultrasound revealed a tumor on Evabeth's kidney. Suddenly, Evabeth went from being a little girl in senior kindergarten with a love for ballet, gymnastics, and playing with her best friends,  to a child diagnosed with a Stage 3 kidney cancer, and her kidney needed to be removed immediately.
As Evabeth's parents, Stephanie and Wayne Fast, grappled with the devastating news, they did their best to stay brave for Evabeth, and her siblings Jaden and Merrick. Any hopes of taking their daughter home and resuming their normal lives disappeared as preparations were made for Evabeth to have surgery.
Within 48 hours of the tumor's discovery, Evabeth had her kidney removed. Just over a week later, on December 1, 2017, the 5 year old began chemotherapy and radiation. Chemo has been tough on Evabeth, but she is staying strong thanks to love from her family and excellent healthcare support at McMaster Children's Hospital in Hamilton, Ontario.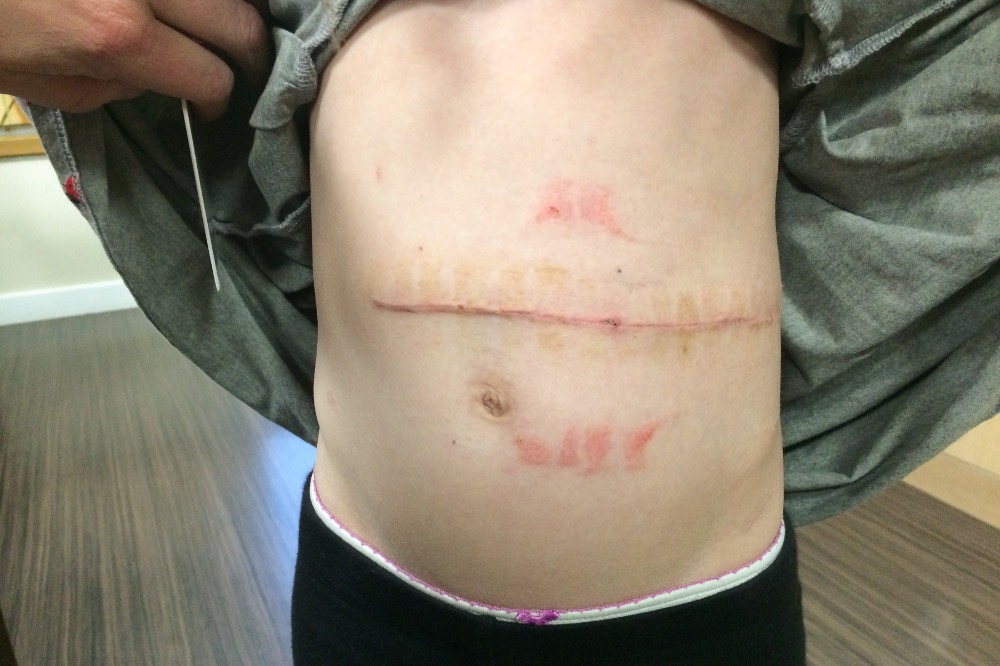 Evabeth will be receiving oncology treatment for the next 6 months. Evabeth's mom has taken a leave of absence from work, and has applied for EI benefits for Parents of Critically ill children. The application is still being processed, and even if received, it does not fully cover the lost income and expenses incurred while Evabeth is receiving treatment. The family needs to travel an hour each way from the small town they live in, to Hamilton to receive treatment.
This fund was started to help support Evabeth and her family with the financial burden they will face over the next 6 months as Evabeth continues her treatment. Evabeth's greatest battle isn't a financial one, she's fighting to conquer cancer, but any support for Evabeth and her family is greatly appreciated.
The entire Fast family is eternally grateful for the care and support received thus far from the McMaster Children's Hospital, the Hamilton Ronald McDonald House, the Pogo-Pediatric Oncology Group of Ontario, and the Help a Child Smile organization. The Fast's would never ordinarily ask for help, and would rather be in the position to help others. The Fast family would like to give back to this community that has helped them, and any funds collected above the $8000 goal will be donated to these organizations.
Doctors aren't entirely certain what caused Evabeth's kidney tumor to start bleeding, but Evabeth's family think it might have been Grandma up in heaven who kicked Evabeth out of that tree to let everyone know something was up.
Please help sweet Evabeth conquer cancer so that she can get back to climbing trees and playing with her siblings!

Organizer and beneficiary
Jessie Arthur
Organizer
The Lake, ON
Stephanie Gaspich Fast
Beneficiary