Help Erin Ivey bring solace to this wild world
We are living in a world turned upside down by COVID-19. Music is a kind of medicine and I believe we need it now more than ever.
Shelter-in-place orders required me to cancel all my upcoming performances. The proceeds from those shows and house concerts were going to support the last phase of my new album project.
Will you help me complete it?  CLICK "READ MORE" BELOW to get more information about this project, see pictures from the studio, and learn about the rewards I have prepared for you.

WHY NOW?
As I launch,
GoFundMe is offering a $500 matching grant
, which is a big factor in deciding to continue the effort and move it online.
I admit this feels a little strange, knowing how people are suffering right now. A lot of people are out of work and uncertain about the future. I've been working on these songs for 6 years and the recordings are now complete.
My goal is to finish the project and get this music out as soon as possible to help those who might need its message.
FINDING SOLACE IN THE WILD
The album is called, appropriately,
Solace in the Wild
. It offers original songs of resiliency, hope, realism, and dreams. Explores sources of joy and jealousy. Provides a respite in the midst of it all, come what may.
HOW YOU CAN HELP
Asking for money is always a little uncomfortable. Now, it is even stranger. If you ARE in a position to contribute, I want to bring you along on this journey forward and I am grateful for contributions of any amount. 
GoFundMe is not typically a tier-based platform, so I created my own reward tiers (below) to thank you for your contributions. They are ways I hope will make you feel like part of the project you are bringing to life, even though we are physically isolated.
Given our current situation, I don't know if it's realistic to expect this project will reach its goal. But
with the matching grant
and being so close to the finish line with healing music that speaks to these times, I want to at least have tried.
We don't know what the future holds, but making plans anyway is giving me hope.
REWARDS
As I mentioned, GoFundMe is not typically a tier-based platform, so I created my own. Each tier also includes the rewards from the previous tiers: 
-
$25+
Access to the
digital album
as soon as it is available (earlier than public release) AND invitation to a
private online album listening party and Q&A in late April
with me (Erin) and producer Chuck Pinnell 
-
$45+
Everything above PLUS
2 physical CDs or 1 Vinyl Record
as soon as they are ready (I'll follow up with you for your format preference and mailing address) 
-
$85+
Everything above PLUS a
digital lyrics & chords songbook
AND
instructional videos
to play the songs on guitar (if you're not into songbooks and chord charts, I'll double your physical rewards instead! These will make great gifts.) 
-
$125+
Everything above PLUS a
private online workshop about The Joy of Singing
(I'll talk about body and breath work for general health, warm-up exercises, vocal techniques, and Q&A) - This is transferable, if you want to gift the experience to someone else. 
-
$225+
Everything above PLUS a
half-day online songwriting workshop
(I'll focus on writing lyrics, generating ideas, creative habits, exercises, and tools I use. We will write as a group and individually, but you only have to share if you're comfortable, lurking is cool too.) - This is transferable, if you want to gift the experience to someone else. - AND
handwritten lyrics from a song of your choice
, dedicated to you 
-
$420+
Everything above PLUS a
private online performance tailored to you and a small-ish group of friends!
-
$1000+
Everything above PLUS
Executive Producer credit
on the album with your name in the liner notes, and a
limited edition print of album art
by Dave McClinton--which is going to be really beautiful
WHERE WILL THE MONEY GO?
Finishing this album project requires collaboration with other independent craftspeople, so
your support ripples out to the arts community
in the following ways: 
-
First, funds will be used to pay a visual artist in Austin for all the album artwork and graphic design ($2,400). 
-
Then, to an independent lathe-cutter in Memphis for vinyl cutting by ($600). 
-
Remaining funds will pay for manufacturing of CDs and vinyl records in whatever quantity I can afford, depending on contributions.  
-
If this project gets fully funded, it enables me to make merchandise to sell in the future, which is a critical source of income.
LISTEN TO A SAMPLE
Click here to listen to a song
  called "Dust Bowl." It is about holding onto silver linings when they can be hard to find.
It was inspired by Ken Burns' documentary about the Dust Bowl in 1930's America, which resonates a lot with what we're going through today.
Solace in the Wild
is an Americana album and my first full-length release in 6 years, created with an incredible band and very special guests.
PICS FROM THE STUDIO

View from the control room into the vocal booth
Chuck Pinnell works out a guitar part.
Kris Afflerbaugh's newborn son Silas asks to hear more bass solos.
Peter Stopschinski contemplates a new arrangement.
Steve Schwelling prepares to play with feeling.
Peter, Erin, and Kris listen back to the last take.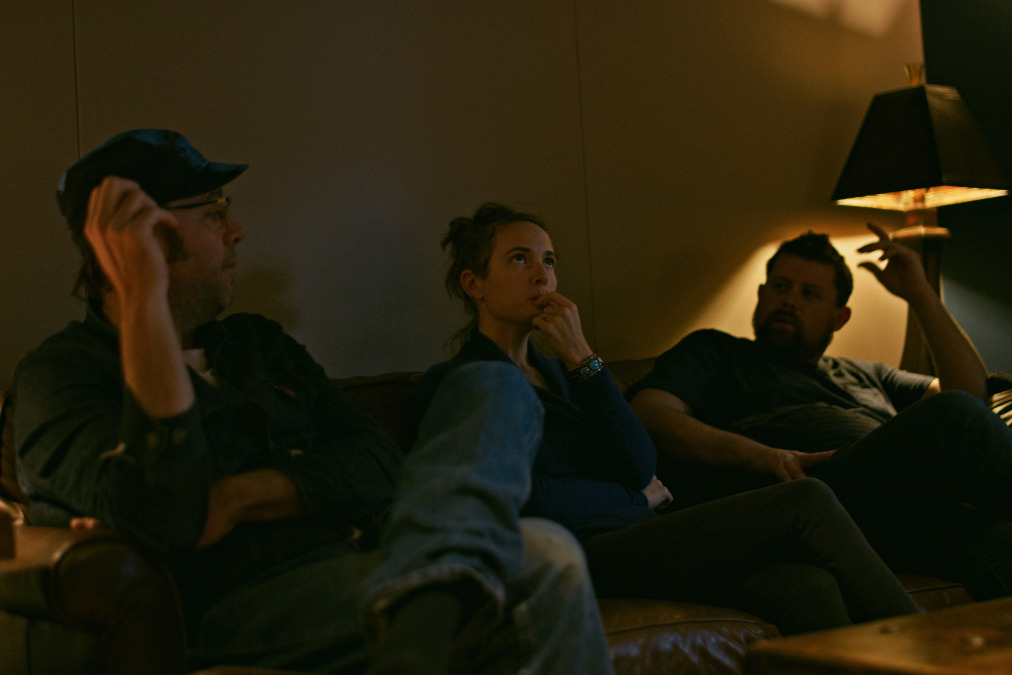 Lots of listening.
Erin learns how to use Facebook live! (Turns out it's not that hard.)
COLLABORATORS
This album was conceived by producer/guitarist Chuck Pinnell. After writing and arranging songs together for 6 years, we recorded 10 of them with our wonderful band in 3 days at Blue Rock Studio in the wilderness of Wimberley, Texas. We spent the last year slowly and meticulously crafting the mixes with engineer Patrick Conway. They were recently mastered by Michael Romanowski at Coast Mastering.
The players:
Erin Ivey on voice, acoustic guitars, and mandolin
Chuck Pinnell on acoustic guitars, ukelele, and mandolin
Kris Afflerbaugh on upright and electric bass
Steve Schwelling on drums and percussion
Peter Stopschinski on piano and glockenspiel
Rich Brotherton on electric guitars, cittern, lap steel, and additional engineering
Warren Hood on voice and fiddle
Noelle Hampton on background vocals
Dan Dyer on background vocals
Cam Rogers on handclaps and moral support

PAYMENT OPTIONS
If you want to contribute outside of this platform, that's cool, too! I'm on Venmo @ErinIveyMusic or paypal.me/ErinIveyMusic. You can also mail a check to PO Box 151798, Austin, TX 78715. Please reference "
Solace in the Wild
" and make sure to let me know your email and shipping address!

THANK YOU for visiting my page here.
Please reach out if you have any questions or want more information about this project. I'd love to hear from you. I'm at [email redacted] and
I look forward to hearing from you and maybe working together to bring this project to completion and out into the world!

xo
Erin



P.S. If you are able to donate, GDPR regulations prevent GoFundMe from sharing your email address with me. So, I'll contact you through their system to get your contact info for reward fulfillment. THANK YOU!
#SmallBusinessRelief
#SolaceintheWild
#musicismedicine
#Austin #music #artist