Help Erin Fight Neuroborreliosis
"Never lose your sense of haha." This is my favorite quote from my Mommom (grandma), and something I've lived by my entire life. I believe this sentiment is the best medicine. However, in the past two in a half years I have become very ill, and I'm finding it difficult to keep on smiling (but still trying my best). Below is my journey.
I'm a mom of two really awesome and creative boys, Elliot (17) and Olliver (7). I was 4th grade teacher for ten years, and wrote on the side in hopes to be published in due time, before CVID and Neurological  Lyme Disease happened. I absolutely loved teaching and counseling students. I made a difference in their lives and they definitely made a difference in mine. My life was a pretty social one – taking my boys Disney, yoga, dancing, gaming with my boys, writing, fun.
My journey before knowing exactly what I had was filled with visits numerous specialists and specialized hosptials, including Mayo and Cleveland Clinics. During that time, I was also diagnosed with epilepsy, porphyria, ms- the list could go on. I was blessed to have found a few neurologists that realized my symptoms could by Lyme-related. Sure enough, I tested positive for not only Lyme, but a few co-infections that also came from the same tick bite. I was actually tested for Lyme Disease in the first year of me becoming ill, and the test came back positive by CDC standards. But because I did not recall a tick bite, the doctor said it was a false positive and did not give me the IV medication that could've prevented many of the issues that I have now.
This disease took away my independence, house (I now must live with my parents), retirement/savings, ability to work, my ability to thrive, and the one that hurts most: the ability to be active with my boys. I've lost almost everything, but I absolutely refuse to give in.
We now know I have Chronic Neuroborreliosis and Babesia, which cause debilitating neurological and gastrointestinal symptoms, for over two in a half years now. The severity of my symptoms is caused by an immune deficiency called CVID. I do not make the enough antibodies to fight infections. So infections become severe and long-lasting. While my brain and gi tract have been hit the hardest, I've also had some serious issues with my heart, bladder and liver. Due to the extensive damage that Lyme has caused, treatment has been extremely difficult.  My two LLMD's (lyme doctors) and two neurologists continue to try various protocols and like me, are not giving up. 
Currently, we are trying to raise money for my monthly health expenses, which inlude health insurance, co-pays for visits, tests and medications. And in August of 2017, I'll be getting either a picc or port to begin more extensive IV antibiotic treatment for at least a year. 
The below photo was taken before I became ill. It's a reminder of what I'll get back to - building Legos with my Sweet Ollie.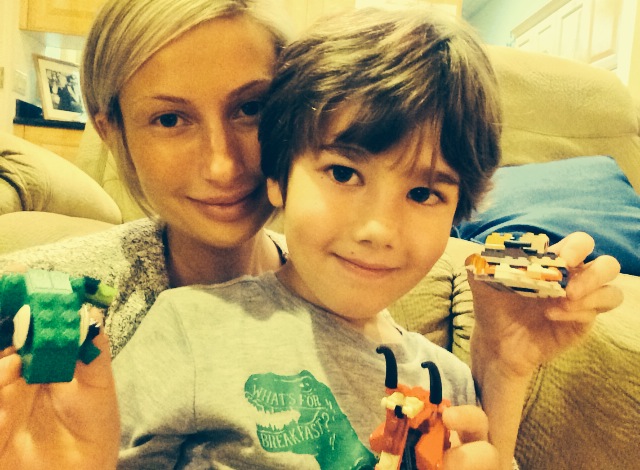 As difficult as this is for me to do, I must continue to reach out for help. I cannot afford the care that I desperate need in order to treat Lyme Disease. I want to get back to keeping up with my boys, teaching kiddos, living independently and enjoying an active life again.
I appreciate your taking the time to read my story. Any contribution you can make is extremely helpful at this time - prayers and well-wishes included. They all mean so much to me and my boys.
Thank you with all my heart.Erin
Below are details of my experience:
Symptoms
Seizures
Slowing brain waves
Tremors/spasms
Brain lesions
Heart and breathing irregularities
Multiple episodes of passing out
Falling
Chronic and Hemiplegic Migraines
Severe cognitive impairment
Memory loss
Physical weakness
Hair loss
Light and sound sensitivity
Specialists
Primary Care
Neurologist (3)
Cardiologist
Infectious Disease
Hematologist/Oncologist (2)
Urologist
Gastrointestinal (3)
Neuro Psychologist
Neuro Ophthalmologist
Rheumatologist
Diagnosis
Epilepsy
MS
Neuro Lyme Disease
Porphyria
Anemia
Tests
Lumbar punctures
CT scans
MRIs
MRAs
EEGs 
Holter Monitoring (repeat tests)
Colonoscopies and other GI tests
Numerous Urology tests 
Ongoing and repeated blood tests
Numerous hospital stays and emergency room visits
Even though I have a long way to go and have been through a lot, I have the utmost faith that I will overcome this disease, be able to raise my boys, and be healthy once again - I will get there! Thank you so much for taking the time to read my journey, and please share my story.
God Bless You.
Erin
Organizer
Erin Sumner
Organizer
Longwood, FL