Dear Friends, the objective of this fundraiser is to save Dioni Lozada in Venezuela. 
Dioni suffers from a rare condition that has generated tumors in her face, neck and back of her head, they have disfigured her as well as seriously compromised her ability to breathe and eat.
In the attached files we make available to the interested parties the medical reports that corroborate the veracity of the aforementioned and that the patient is held in the Central Hospital of Valencia, under the attention of  Dr. Loydesther Colina Torres, BucoMaxilofacial Surgeon, Dr. Jose Marcano, Neurosurgeon, Head of Service, Dr. Gabriela Jimenez. For Resident Neurosciences. Dr. Glenda García. Head and neck surgery. Oncologist surgeon. All of them are doing everything possible to give Dioni the opportunity to live. 
The situation of the health sector in Venezuela is known by all, so it is urgently required to obtain all the medical and surgical material as well as the medicines for her operation and for her subsequent postoperative process. All this has a high economic cost which neither Dioni nor his family are able to cover. 
We have created a Gonfundme account so that everyone with the desire to help can do so by making a donation that will be transferred to the account of Dioni Lozada's brother so that he can have all the costs covered as soon as possible. 
God bless your hearts, each contribution is one more breath of hope!
SPANISH 
Amigos de Dioni Lozada nos hemos reunido con un solo objetivo… salvarla. 
Dioni padece de una rara condición que le ha traido como consecuencia que su cuerpo ha generado tumoraciones en su rostro, cuello y parte trasera de la cabeza que la han desfigurado además de estarle comprometiendo seriamente su posibilidad de respirar y de comer. 
En los archivos adjuntos ponemos a disposición de los interesados los informes médicos que corroboran la veracidad de lo antes descrito y que la paciente se encuentra recluida en neurocirugía 4 piso habitación 1 cama 3 del Hospital Central de Valencia, bajo la atención de los siguientes médicos: 
Dra. Loydesther Colina Torres,  Cirujano BucoMaxilofacial.
Dr. Jose Marcano, Neurocirujano, jefe de Servicio,
Dra Gabriela Jimenez. Por Neurociencias Residente.
Dra Glenda García. Cirugía de cabeza y cuello. Cirujano Oncólogo. Servicio de Cirugia A.
Todos ellos están haciendo todo lo posible por dar todas las oportunidades de vida para Dioni, a ellos les agradecemos enormemente todo su profesionalismo y humanidad entorno a este delicado caso. 
La situación del sector salud en Venezuela es por todos conocida,  por lo que se requiere con urgencia extrema conseguir todo el material medicoquirúrgico asi como las medicinas para su operación y para su posterior proceso postoperatorio.  Todo esto tiene un alto coste económico el cual ni Dioni ni su familia están en capacidad de cubrir, y es por ello que algunos de sus más cercanos amigos acudimos a la comunidad internacional, a la solidaridad mundial para que unamos esfuerzos para que así podamos reunir entre todos los recursos económicos que con urgencia necesitan.
Dioni quiere vivir, quiere poder ver crecer a su único hijo, quiere tener la oportunidad de seguir soñando y trabajando en su gran pasión la Cocina. 
Dioni necesita de nuestra ayuda urgentemente para poder ser operada. 
Dioni se encuentra en Venezuela en el Hospital Central de Valencia, junto a su hermano Pedro que se ha hecho cargo de cuidarla. Pueden contactarle para corroborar toda la información aquí suministrada al +58 416-6769171. 
Hemos creado una cuenta Gonfundme para que todo aquel que en su corazón sienta el deseo de ayudar lo pueda hacer realizando su donativo el cual será transferido a la cuenta del hermano de Dioni Lozada para poder tener lo antes posible todos los costes cubiertos. 
Dios bendiga sus corazones solidarios, cada uno de sus aportes son un aliento más de esperanza… el color de la esperanza que tanto Dioni ha mencionado en sus campañas para luchar contra su enfermedad la cual la lleva en este deterioro desde hace mas de 3 años. 
Dios les pague tanto amor, tanta solidaridad y este hermoso acto de humanidad de dar para que otros puedan vivir.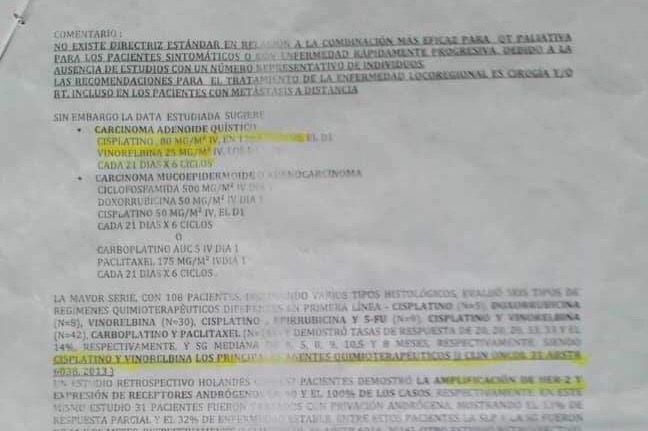 Donations

Organizer
#1 fundraising platform

People have raised more money on GoFundMe than anywhere else. Learn more

GoFundMe Guarantee

In the rare case that something isn't right, we will refund your donation. Learn more

Expert advice, 24/7

Contact us with your questions and we'll answer, day or night. Learn more