Help Me Create An Accessible Home
I'm Cal, a disabled university graduate from Edinburgh who lives with a condition called muscular dystrophy and uses a powered wheelchair. I need support with most aspects of daily life but, like the typical 28-year-old, strive to experience the rite of passage that is moving out of my parents' home and into my own place. Please support my fight for independent living by helping raise £60,000 for an accessible flat with an open-plan, wet room and staff room for my PAs, close to my family and support network.
The right to independent living is enshrined in the UN's Convention on the Rights of Persons with Disabilities and incorporated into UK law, yet a
2018 inquiry by the Equality and Human Rights Commission
 found that only 0.7% local authority housing and 1.5% of housing association properties in Scotland are wheelchair accessible. Across Scotland and the rest of the UK, the shortage of accessible social housing and backlog in the allocation system has many disabled people living in accommodation detrimental to their physical and mental health, and stuck on waiting lists for years, even decades.
I applied for social housing in January 2020 and was told the council would have to carry out a needs assessment to assign me a priority level for accessible accommodation. Two years later, this assessment had still taken place and, even if it had, I would have faced
at least three years on the waiting list
, as figures obtained by Lothian MSP, Jeremy Balfour in 2020 show, following an FOI request. 
On the advice of Housing Options Scotland, I decided to pursue independent living using the Scottish Government's
LIFT Open Market Shared Equity scheme
, purchasing a 60% share of a home with a mortgage and large cash deposit, and the Scottish Government holding the remaining 40% under a shared equity agreement. However, due to Edinburgh's lack of accessible and affordable private housing stock, I must crowdfund the deposit, adaptations and assistive tech. If LIFT's valuation limit and 'price thresholds' prove too difficult to navigate in today's competitive property market, Plan B is to purchase a 25% share of an accessible housing association flat outright, with housing benefit covering the HA's occupancy and service charges.
* * *
After raising an incredible £52,000 to buy a quarter share of a housing association flat in Edinburgh, I'm leaving behind the #HelpCalMoveOut campaign and embarking upon my independent living journey. The first step is to maximise the accessibility of my future home, transforming it into the ultimate platform for independence and career development, with the following adaptations:
- In the main bathroom, I'll remove the bathtub and install a shower tray, anti-slip vinyl wet-floor, the Closomat toilet from my parents' home, as well as tile the walls and replace the sink, converting it into a wet room suited to my needs.
- In the main bedroom, I'll lay laminate wood flooring (matching the living room/kitchen) for increased wheelchair access and install the ceiling track hoist from my parents' home, enabling my PAs to get me in and out of bed. I'll also lay the same floor in the staff room and flatten the doorway thresholds throughout the flat.
- In the kitchen, I'll take down the section of plasterboard wall separating the kitchen and living room (and the cabinets attached to it), between the pipe box and back wall, where the fridge is located, for a more accessible and open plan.
- In the garden, I'll remove the white gravel and section of astroturf, which are difficult to navigate with my powerchair, put down white paving, with large planters containing evergreen, low-maintenance plants against the brick walls on either side, and ornamental grass along the borders, creating a space that supports my mental health through all seasons.
Any remaining funds will contribute towards assistive tech, including smart lights, blinds, plugs and thermostat, all of which can be controlled via smartphone or laptop. Please donate and share on the socials to help me create the accessible smart home of my dreams.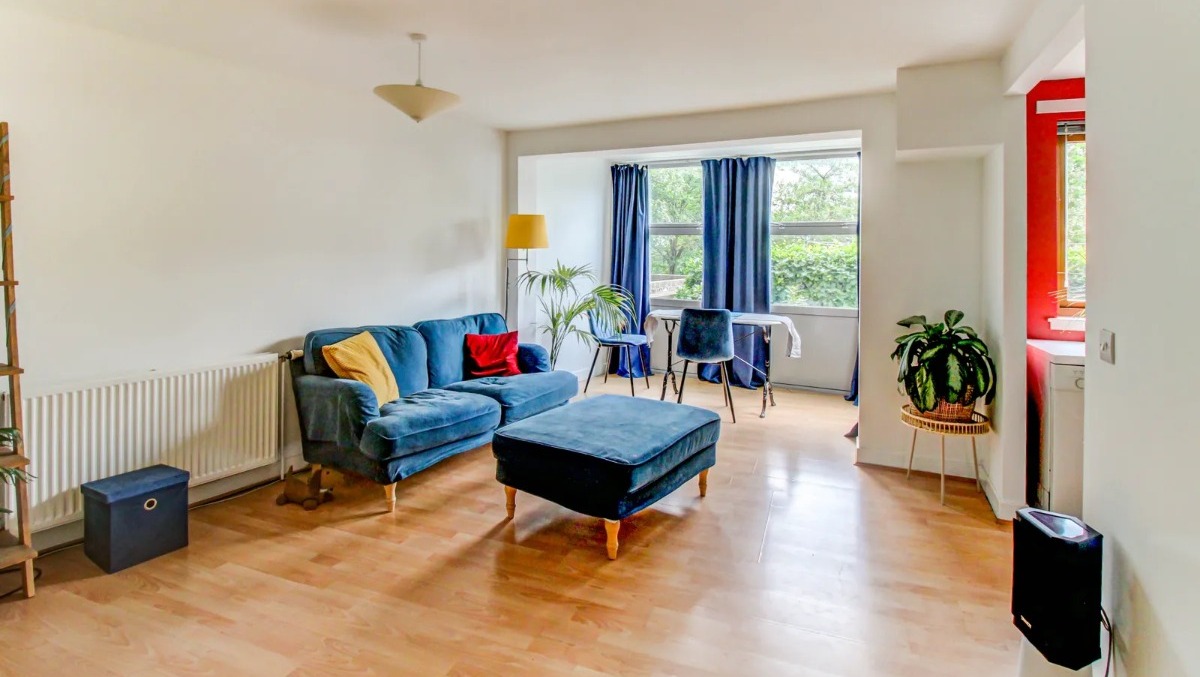 Media Coverage
5 News :
https://www.youtube.com/watch?v=zSsWMx5PCXU
BBC Scotland News:
https://www.bbc.co.uk/news/uk-scotland-edinburgh-east-fife-61246102
Edinburgh Evening News (1):
https://www.edinburghnews.scotsman.com/news/people/calum-grevers-who-has-muscular-dystrophy-speaks-out-about-fight-to-find-accessible-home-in-edinburgh-after-launching-fundraising-campaign-3442554
Edinburgh Evening News (2):
https://www.edinburghnews.scotsman.com/news/people/edinburgh-housing-calum-grevers-who-has-muscular-dystrophy-smashes-target-in-fight-for-accessible-home-3525255
Edinburgh Live (1):
https://www.edinburghlive.co.uk/news/edinburgh-news/disabled-edinburgh-man-launches-appeal-19754918
Edinburgh Live (2):
https://www.edinburghlive.co.uk/news/inaccessible-edinburgh-flats-left-disabled-23074595
Habinteg:
https://www.habinteg.org.uk/latest-news/14-months-1000-strangers-30000-to-helpcalmoveout-1835
Scottish Housing News:
https://www.scottishhousingnews.com/articles/housing-options-scotland-to-assist-with-disabled-man-s-home-ownership-dream
Scottish Sun:
https://www.thescottishsun.co.uk/news/7975430/disabled-scot-home-nightmare-social-housing
STV News (1):
https://www.news.stv.tv/east-central/help-me-buy-the-home-that-would-transform-my-life
STV News (2):
https://www.news.stv.tv/east-central/i-cant-wait-to-start-living-like-other-adults
Vice:
https://www.vice.com/en/article/dyp8az/how-disabled-people-are-shut-out-of-housing