Please help us to preserve Street Dance Culture
<There are 5 updates as of 4/15/2022 added below. Pictures and Japanese version follows.>

We are Cebo and Shinobu, a Black & Japanese interracial family with four daughters who are also dancers. We are seeking to raise funds to help with the creation of a Street Dance Studio in the NY area for the community to have a place to teach, learn and preserve the culture.
The Street Dance community brought us together, the culture fostered our love. That love helped us to create the Street Dance organization named Next Generation NYC. For more than 30 years we have been committed to supporting the culture. That support had us move our family to Japan in 2003 to help teach about the culture and the respect it should be shown and not just copied and appropriated. We teach about the history, the importance of listening to the music, feeling the music, and dancing to the music. We brought our students and teachers from Japan to NY so that they may experience the culture first hand. It was then we realized there was a deficit in the very culture we are fighting so hard to preserve. We decided to create a home for our culture in NY.
Why we need help:
After a long search, we finally found a space in West New York, NJ (Unfortunately NYC is way out of our budget). While finalizing our contract, we were told that the building is not supposed to have two different businesses, and the owner was not aware of the issue. So our original timeline for opening was set back 6 months as we had to wait to obtain the new permit. In the meantime our costs have almost doubled due to supply shortages, and we have to pay our business loans without any income from the studio.  


How your funds will help:
Funds will help towards the loan payments during the set back and finishing the studio build-out, which includes walls, hardwood floors, mirrors, equipments like monitors for hybrid classes and lockers. Our plans for the space are; four studios, a lounge area, changing rooms, and a small office.  We understand the pandemic has made times difficult for many people and we truly appreciate any donations you can provide.

(Please see the 3rd update below for the detail of our goal amount.)
Our Mission:
Our mission is to empower the Street Dance community through cultural education, professional development, and mentorship by providing a safe space for our students to grow and thrive.
Street Dance culture is a form of expression that was born under oppression. It is a way for Black and Brown people to express themselves, to be heard, and to elevate their way out of difficult conditions. Its culture has spread rapidly and can now be found in music, movies and clubs across the globe. However, in spite of this people in our community continue to struggle with ongoing issues of injustice and inequality.
We have seen that Street Dance can change lives. It can overcome cultural barriers and unite people as a universal language when it's taught correctly. We will be teaching the entire culture of street dance from the history and name of basic steps, to creating full stage productions.
In the future, we want to offer free classes and after school education at the studio for those who can't afford it while we provide stable jobs for our teachers. To achieve these goals, we are currently in the process of obtaining 501c3 status for our non-profit the Next Generation Foundation.
Thank you for your support and commitment to the Art!

Picture: January 2022. We were finally able to start buildout after the long set back.
*********
<2/2/2022 Update 1>
Thank you everyone from the bottom of our hearts! Tears came to my eyes when I woke up this morning and saw how quickly everyone has come to support us. We are overwhelmed with gratitude and truly appreciate each and every one of you. 
As this is our first experience with GoFundMe, we were advised to start with a lower goal to cover the cost of materials, so we took the advice and started with half of our original goal. But the truth is we still need help to cover the costs for construction because we are already paying business loans while there are not income from studio. With this in mind, we have revised the goal. We thank you again for all of your kindness and understanding. We can't wait to see you at our new home!! 
Picture: Walls are up! 
**********
<2/7/2022 Update 2>
The buildout is being delayed a few days because of weather and health issues with our contractor, but we should be able to start painting the walls soon.  However, the owner hasn't fixed the leak from the roof yet.  We were told that it has to be done in a decent temperature... 
We appreciate any continued donation which will go towards the part of the second month rent because of the delayed opening of the studio.  We are hoping we can finish the buildout as soon as possible and obtain a final permit so we can start working to archive our purpose for the culture!!
Picture:  Cebo is working late after teaching dance classes. 
**********
<2/24/2022 Update 3>
The water leak from the ceiling is finally fixed and walls are painted!!  
We are updating our studio website!!  Please check www.NXGNstudios.com
The heating system in the studio is not working now and some of the toilets are not flashing.  We found out that our contractor doesn't clean the floor or dispose garbages so we had to pay $800 just to dispose the garbages.  We were also told that the labor cost to put windows on each studios are included but the window materials are not!  These things are so unexpected and we are so frustrated how some business works in the US.
Cebo is working so hard every day.  Meanwhile, I (Shinobu) got sick and went to emergency room.  There are a lot going on but we are trying our best!!
Picture: Cebo and his brother cleaned the floors and putting the cushions on the concrete floor.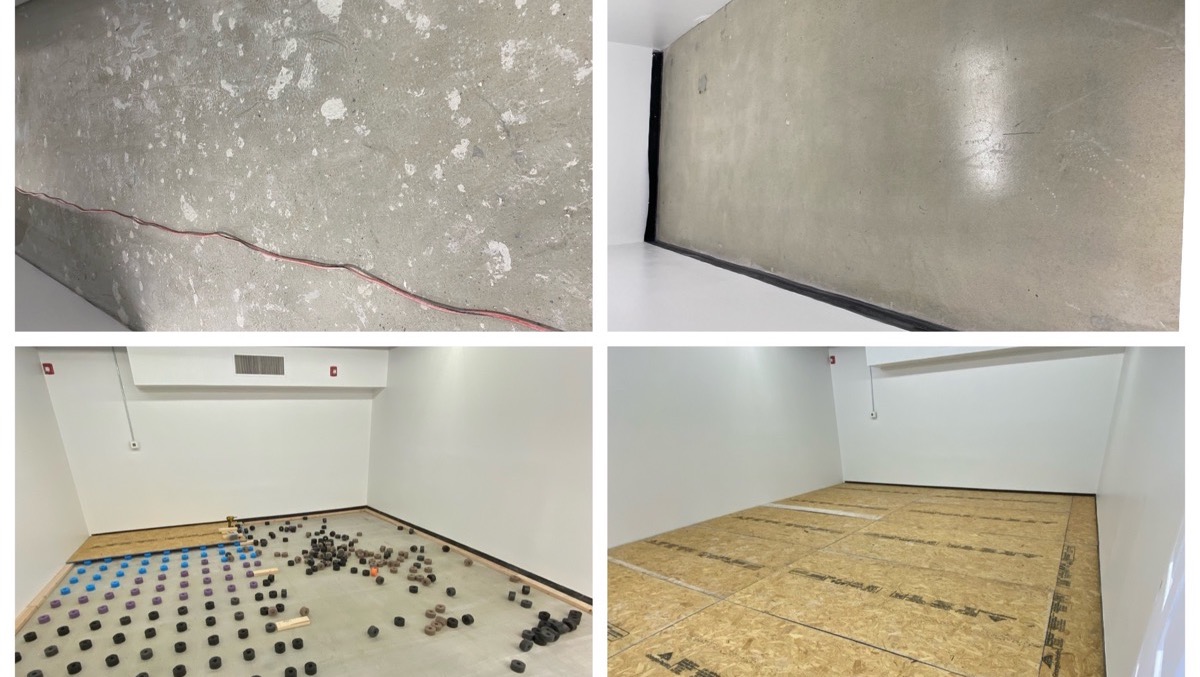 <3/29/2022 Update 4>
There were a few incidents in the studio since the last update.  The ceiling was not fixed and our brand new floor was ruined, so  Cebo and his brother had to fix the floor.  Then we had an accident with water pipe.   Thankfully, it was fixed quickly by our friend's help.  
We are waiting for the 3rd permit.  This time is for signage.  When Cebo asked the permit office back in January if we need a permit for the sticker advertising on windows, a staff said we don't need a permit for that.  So we put stickers on the windows.  This month another person said "I don't know who told you that but you need a permit for that."  Then few days later we were told that we are only allowed to put stickers on the small area (in red circle on the picture) even though all other stores have nothing but bunch of stickers on the windows. We had to remove most of the stickers, submit the form and pay extra fee.  This could be done at once in January with the other permit if we were given a right information.  
We asked when can we expect for the permit.  The reply was "as I already told you, we'll contact you when it's ready."  So we don't know how long it will take.   Many business owners around us told us that it will take longer if we make them mad.  So all we can do it to wait.  
**********
<4/15/2022 Update 5>
After we removed the stickers on the left side and middle, we were told by the owner that we can request Certification of Occupancy without any signage to open the studio.  So we removed all of the stickers and asked for CO (which we already submitted application few weeks ago).  Then we were told that since they already received the signage permit application so we have to wait.  Now we had to put the stickers back on and re-order signage.  
They sounded very annoyed when we asked if it's done, they told us they'll contact us when it's done but they never did.  The permit was granted on 4/12, two weeks after we submitted.  We found out from different division when we called about CO.
Then we were told we have to wait for fire inspection.  It took several days just to make an appointment.  The permit office is the slowest place on this earth.  We found out that the top and the person in charge are a couple and having personal problem.  So they are making us go through a hell.  How is that fair for us?  We pay tax too.  This is just crazy.
**********
<4/29/2022 Update 6>
We are finally open after 9 month of struggle!! Thank you, thank you, thank you for your support!! We made it!!  And the real challenge begins from here!!  
Here is the detail for the GoFundMe goal amount as of 4/29/2022).  We removed furniture because someone offered us to donate them (thank you).  
The amount of loan payment during the set back (September 2021 to May 2022) = $12,400
Small part of the buildout + equipments + extra materials = $12,400
Very unexpected garbage disposal cost = $800
3rd permit for the signage/stickers after receiving wrong information from the city = $900
Bills due on 4/30 = $9,500 
Total $36,000
We haven't reached the goal so we'll keep this open.  Thank you from bottom of our hearts!!
**********
Other Pictures:
From right, Cebo (father), Shinobu (mother), Myka (daughter #4), Miyabi (d #1), Cocoro (d#3), Tomoe (d#2). Our daughters are also professional dancers who danced for Janet Jackson, Alicia Keys, and many more artists.  But they are still struggling make living because the pay for street dancers are very low.
Cebo @US Open/Arther Ashe Kids Day powered by Next Generation, bringing opportunities to the dancers of next generation. He also emceed, danced with Blanco Brown, and choreographed for Meg Donnelley.
Graduation for kiNEXTions kids program at Next Generation studios in Japan. They learned dance, culture and history.
With Don Campbell. We brought our students and teachers from Japan to NY so that they may experience the culture.
Kids from our kids program in NYC. Unfortunately the studio Cebo was teaching as a contractor closed down in 2020.


**********
2022年3月30日の情報を最後に追加しました。


<NXGNによる、NYとその近郊のストリートダンス・コミュニティを支えるプロジェクト>

日本の皆様、弊団体の活動に関心をお寄せくださり、ありがとうございます。
このプロジェクトは、過小評価され常に厳しい状況に置かれているNYとその近郊のストリートダンス・コミュニティを支えるために始まりました。この地区のコミュニティを活性化することは、私達日本人にこの素晴らしい文化を世界中に伝えてくれた彼らへの恩返しでもあります。
今コロナの影響でストリートダンス・コミュニティは更に打撃を受けていて、彼らがダンスを伝え続けられる場所を必要としています。賃貸額が世界有数の高さであるNYにスタジオを開くことは残念ながら不可能ですが、私達は昨年の夏にNYから車で約20分のWest New Yorkという地区にようやくスペースを確保することができました。
援助が必要になった理由:
私達が借りるのは2階建ビルの2階部分で、1階は家具店です。2階部分の商業許可を取る手続きをしている内に、このビルは1階と2階を別々に貸すことが禁止されている物件である事が判明しました。私達の不備ではないことで追加の許可を取るのに6ヶ月を要し、その間にコロナの影響でアメリカの物価が高騰。スタジオ内装費が当初の予定の倍になってしまいました。今年に入ってようやく許可は取れたものの、契約前から続く天井の水漏修理が終わるのを待っている状況です。
寄付金の用途:
寄付金は、高騰したスタジオの内装工事費と設備費(壁、床、鏡、配線工事、防犯機器)として使用します。スタジオ4部屋、受付とラウンジスペース、更衣室、小オフィスを設ける予定です。
スタジオの目標:
ストリートダンス・コミュニティが自らの歴史と文化に誇りを持って継承するための場所を設け、技術だけでなくプロ意識や自尊心の向上を促すとともに、経済成長を助成する。
年齢や性別、人種に関わらず、全ての人が自分らしくストリートダンスを楽しめる場所を提供する。
ストリートダンスの正しい知識と自己表現の喜びを伝え、文化への理解を深めるとともに互いの違いを認め合いつつ尊重することの大切さを教える。
危険が多いアメリカで、子供達が安全に過ごせる場所作り。
プロフェッショナルの育成、次世代へのメンター制度の提供、表現力や協調性の育成。
経済的にクラスを受講できない子供達への支援。
アメリカの低所得層の間で取り上げられる健康問題にも取り組み、ダンスを通じて健康な体作りを促進する。
プロジェクト・キャスト:
ニューヨークのストリートダンサーCebo(シーボ)、日本出身のShinobu(シノブ)が責任を持って遂行します。私達は日本にストリートダンスのムーブだけはなく歴史と文化を伝えるために日本にスタジオを開き、今年9月で17年を迎えます。また、このプロジェクトに賛同する現地のオリジネーターやプロフェッショナルダンサー達が新しいスタジオで彼らの文化を伝え、近い将来には講師や生徒の交換留学も企画しています。
米国内スタジオ開設の背景:
ストリートダンスは迫害と差別が色濃く残るアメリカで生まれました。過酷な生活を強いられていた黒人の人々が自由を感じるための手段であり、自分の存在をダンスや音楽で表現し、声なき叫びを届ける手段でもありました。この文化は今世界中で人々に笑顔と感動を与え、芸術文化として確立されつつありますが、一方で、この文化を産み出したアメリカの黒人の人達は今も差別や偏見に苦しんでいます。私達は、差別を無くすためには歴史と文化を正確に伝え続けることが重要であると考えます。
ストリートダンスやブラックミュージックなどの黒人文化が好きな方、人権や差別問題に関心がある方、是非サポーターになってください。あなたのご協力が、このプロジェクトを推進する大きな力となります!
寄付方法:
1. Donate Nowをクリック
2. 寄附金額を入力
3. GoFundMeサイト運営費への寄附額を%で設定してContinueをクリック
4. 寄附方法を選択
 カードの場合、Billing Addressはカードに登録のご住所です。
 CW はカード裏のセキュリティコードです。
 MM/YYはカードの有効期限でMMは月、YYは年です。
5. 英語で氏名と住所を記入
 ZIP/Postcodeは郵便番号、Regionは例えば関東、関西など、Cityは市です。
6. Confirmで決定します。
恐縮ながら寄付サイトが英語なのでわかり難いと思いますが、どうぞ宜しくお願いします。
**********
2022年2月27日の情報
先週やっと雨漏り修理が完了しました。
内装工事では日本の業者さんとのやり取りのようにいかないことが多々あり、内装の小窓は取付作業は込みだけれど窓自体は自分で入手してくれと今更言われたり、内装工事で出たゴミは自分で処理してくれと言われて別途ゴミ処理料金がかかったり、、、他にも、HomeDepotからの資材が届かない、冷房システムが故障、トイレが詰まっていたり、アメリカは本当に色々なことが起こって驚くことの連続です。
でも来週は最終承認審査が入るので、何事もなく承認されて無事に事業を始められることを祈っています。
私は昼の仕事の後に夜中までウェブサイトを作ったりしていて、先週体調を崩して救急室にお世話になってしまいました。シーボも朝から夜までダンスレッスンを教え、その後にスタジオで明け方まで掃除したり床にクッション材を敷いたりしているので心配ですが、頑張っています。
ウェブサイトも更新中なので是非見てみて下さいね。
www.NXGNstudios.com
**********
2022年3月29日の情報
今月初め、2月下旬に修理したはずの屋根からまた雨漏りし、張ったばかりの床材が台無しになりました。シーボと弟がまた徹夜で張り替えをしました。
前回お知らせしていた最終承認審査はすんなり通り、もうすぐオープンできると思っていた矢先、市から「窓に貼っているステッカータイプの広告は看板と同じ扱いだから許可を取るように」と言われました。1月にこの件は市に問い合わせて不要と言われたことを話すと、「誰に聞いたのか知らないけど、必要だから。」と。しかも、周りの店舗は窓に沢山広告を貼っているのに、うちは半分以上を剥がすようにとの指示で、かなり狭い範囲にしか広告を貼れません。
どのくらいの日数で許可が降りるのかと問い合わせると、「準備できたらこっちから連絡する。」という返答。周りの店舗オーナーの人達から、市の担当を怒らせると許可が降りないから気を付けるように言われ、黙って待つしか無いようです。
**********
2022年4月15日の情報
やっと看板許可がおりました。そして次は消防署の審査が入ります。市の担当の反応が本当に遅く、このアポを取るためだけに数日かかりましたが、18日に審査です。近所の店舗オーナーで市の担当部署の人たちをよく知っているという方がいて、その人曰く、担当者2人は結婚しているカップルで、現在離婚の手続き真っ只中なので、ものすごく機嫌が悪いそうです。それって私達に関係ないから私情を仕事に持ち込まないで欲しい(涙)。
**********
2022年4月29日の情報
ついにオープンすることができました!サポート下さった皆様、本当に感謝しています。ありがとうございます。まだ必要額に到達していないので、このままにしています。引き続きよろしくお願いします。
Fundraising team (2)
Shinobu Fujiwara Carr
Organizer
North Bergen, NJ
Cebo Terry Carr
Team member