Help Bryan with his Cancer treatment
Hello, i'm not good at asking for help but this situation has gotten to the point that I have to admit I have no other choice.
I was recently diagnosed with Stage 3 Colon Cancer, and don't currently have health insurance. I have been working with the hospital to get any help I can with bills, and believe I might be on a path to getting coverage soon. But in the meantime have already amassed over $10,000 in medical debt and the treatments haven't begun for the Cancer. With many more bills to come, along with missed time from work my family and I need help.

I'm trying to focus on getting healthy again so that my Wife and kids and I can all get back to our normal life. The finances of the situation are definitely adding stress to all of our lives. We are doing the best we can to stay positive and just work through all the steps that are needed to get past this.
Currently have the surgery scheduled for October, and will be out of work for awhile after that while I recover.
We greatly appreciate anyone that can donate anything, or even anyone that can just help spread this Go Fund Me to others.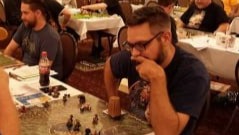 Fundraising team (3)
Bryan Mitchell
Organizer
Raised $8,391 from 46 donations
Franklin, IN
Jonathan Peletis
Team member
Raised $5,120 from 39 donations
Jennifer Mitchell
Team member
Raised $400 from 4 donations
This team raised $9,419 from 54 other donations.